How Many Times Was Peyton Manning a 99 Overall in Madden?
Peyton Manning never gets the respect he deserves when it comes to Madden. When people talk about the greatest quarterbacks in Madden history, former Atlanta Falcons star Michael Vick always, and rightfully, gets honored for his deep arm and game-breaking speed.
But while Vick was a cheat code, Manning frustrated Madden players the same way he did against opposing defenses.
Just how good was Peyton Manning in Madden, and how many times did he earn a 99 overall? Let's take a look back?
Peyton Manning's first 99 overall was in Madden NFL 2006
Peyton Manning was a 97 overall as early as Madden NFL 02, but it took him a few years to join the elusive 99 overall club. EA Sports teased Manning and football fans by listing him as a 97 overall in Madden NFL 2005.
Peyton Manning was the league's co-MVP in 2003 and led Indianapolis to the playoffs yet again. Manning's 97 overall was the highest of any quarterback, even above Patriots star Tom Brady, but it still wasn't a 99.
Everything changed a year later in Madden NFL 06. Peyton Manning was, again, the game's highest-rated quarterback — Minnesota's Dante Culpepper was second at a 98 overall — in a game that featured the controversial QB vision cone.
Manning's 99 overall made him the first quarterback since Madden moved to the then-next generation of consoles (PlayStation 2, Xbox, and Nintendo GameCube) to achieve a 99 overall.
Manning was one of the few 99 overall mainstays throughout the 2000s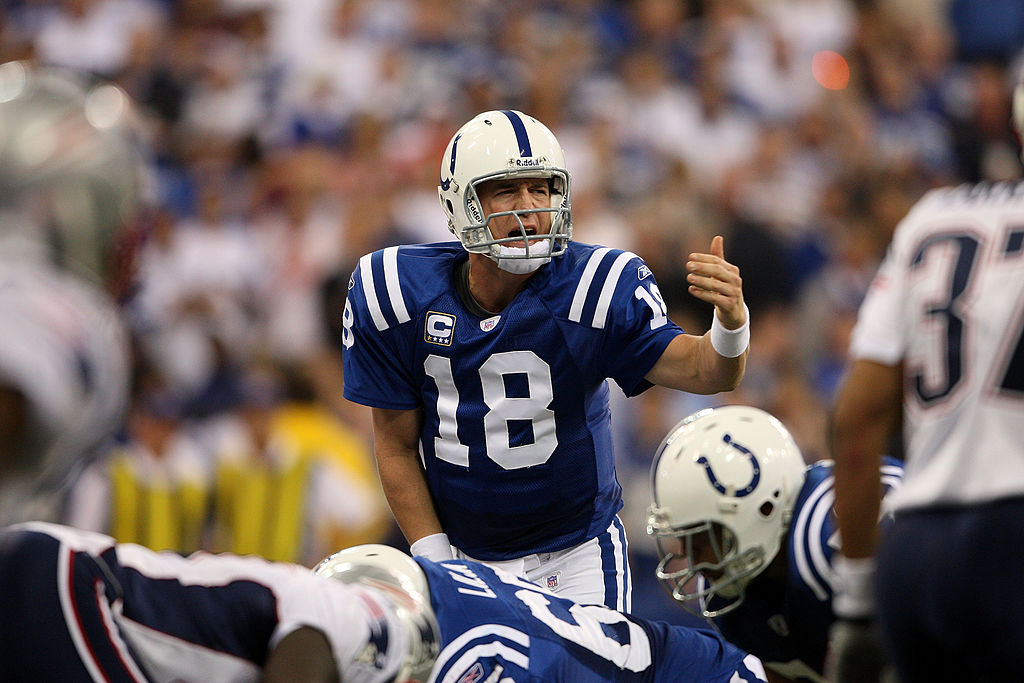 When Peyton Manning finally joined the 99 overall club, he was there to stay. Manning was a 99 overall every year from Madden NFL 06 to Madden NFL 11. Across that same stretch, the only other quarterback to have a 99 overall was Tom Brady in Madden NFL 08 and 09.
The NFC didn't have a 99 overall quarterback until New Orleans' Drew Brees joined Manning with a perfect rating in Madden 11, months after Brees' Saints beats Manning's Colts in the Super Bowl.
Peyton Manning was the only player to have a 99 overall every year from Madden 06 to Madden 11. Baltimore Ravens safety Ed Reed had a perfect rating in Madden 07, 08 and 11. Chargers tight end Antonio Gates topped the ratings in Madden NFL 07 and 09.
Broncos cornerback Champ Bailey (Madden 07–08), Hall of Fame receiver Randy Moss (Madden 06 and 09), and Chargers running back LaDainian Tomlinson (Madden 08–09) each had multiple 99 overall seasons.
Peyton Manning never earned a 99 overall with the Denver Broncos
By the time Peyton Manning began his stint with the Denver Broncos in 2012, he was 36 and coming off a significant neck injury. Aside from kickers and punters, Madden has traditionally avoided giving older players a 99 overall.
Tampa Bay Buccaneers quarterback Tom Brady is a notable exception and was a 99 overall in multiple Madden games in his late 30's and early 40's.
Madden NFL 13 launched with Manning possessing a 93 overall to start his first season in Denver.
Peyton Manning was a 97 overall in Madden NFL 25 (the 2013 season) and threw for an NFL-record 55 touchdowns that year. The historic campaign only netted him a 98 overall at the launch of Madden 15.
Manning opened at a 92 overall in Madden NFL 16 and only saw his overall decrease throughout the year as he battled injuries.