How Matt Rhule Can Save Face and His $62 Million Amid Reports of Buyer's Remorse by the Panthers
The Carolina Panthers are in disarray right now, with questions emerging around Matt Rhule's ability to lead an NFL team. The second-year head coach appears to be on the hot seat, and rightfully so. Given Rhule's massive contract, ownership will likely give him a little more time to right the ship. However, there's little margin for error.
The former college coach must prove he's not like the other guys who have failed at the next level.
Panthers owner David Tepper 'embarrassed' by Matt Rhule contract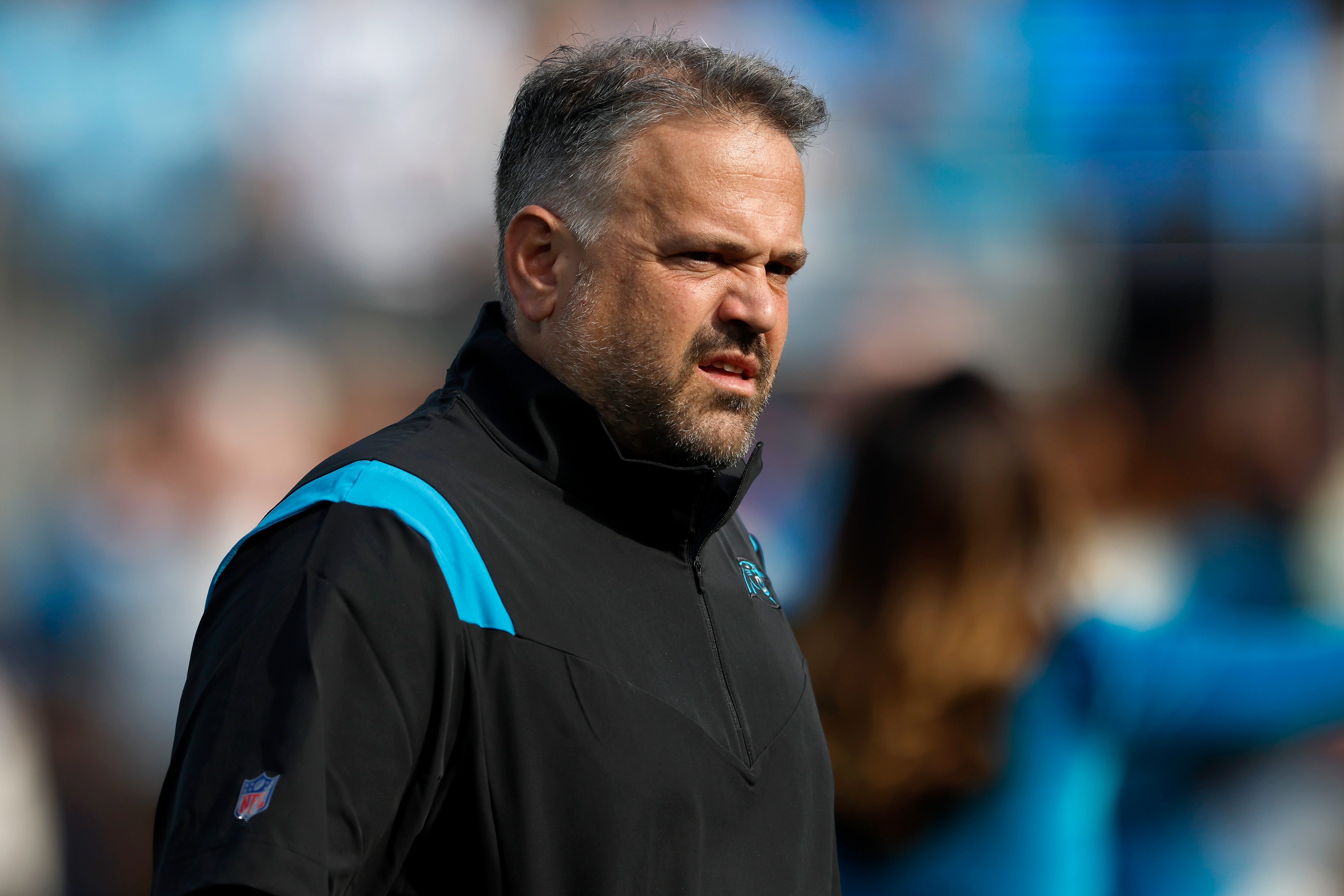 The Carolina Panthers made headlines when they hired Matt Rhule, signing him to a seven-year $62 million contract. It sounds as if owner David Tepper is already regretting the decision.
According to The Athletic, sources say Tepper is "unhappy and embarrassed." The Panthers' majority owner had high expectations for Rhule when he hired him. Otherwise, he would not have offered him such a lucrative deal.
The front office took a significant leap of faith with Rhule. He came over after serving as the head coach at Baylor for three seasons.
Carolina finished the 2020 season with a 5-11 record, placing third in the NFC South. The Panthers are 5-10 through 15 games in 2021.
Rhule and company got off to a hot 3-0 start, but they've since fizzled out in a major way. The Panthers have lost 10 of their last 12 games. Now, they're left searching for answers to some fundamental questions.
Carolina's front office appears to be adding Matt Rhule's NFL coaching future to that growing list.
The second-year head coach needs help to turn the franchise around
Matt Rhule is struggling big time. There's no doubt about that. The Carolina Panthers' front office hoped the team would take a step forward in 2021, but instead, it's taken a step back.
The front office gave Rhule a great deal of power when they hired him. He reportedly has the final say on all roster decisions. It's easy to look at Rhule, but what about the people who gave him that power?
David Tepper and new general manager Scott Fitterer deserve some of the blame as well. Rhule's only NFL experience before joining Carolina was one season as the New York Giants' offensive line coach in 2012. It's unclear why the organization had so much faith in the former Baylor headman.
Turning the Panthers into a playoff contender won't be an easy fix. The issues extend well beyond Matt Rhule.
The front office has yet to properly address the team's nagging quarterback problem, for starters. Carolina acquired Sam Darnold from the New York Jets after the 2020 season. The Panthers hoped the change of scenery would revive the USC product's career. Unfortunately, the first few weeks were fool's gold.
Tepper also decided to bring Cam Newton back to Carolina, another failed experiment. The Panthers won't contend until they find a reliable signal-caller like Newton once was.
Not to mention, superstar running back Christian McCaffrey can't seem to stay on the field. Righting the ship is easier said than done.
Could Rhule be another failed college coach in the NFL?
The Carolina Panthers took a massive risk by giving Matt Rhule such a robust contract in length and dollar amount. They gave him a shot even though he pretty much lacked an NFL pedigree.
Rhule spent four seasons as the head coach at Temple before leading the Baylor Bears from 2017 to 2019. The second-year head coach brought in his own coaching staff, including former LSU offensive coordinator Joe Brady. Carolina showed Brady the door 12 games into the 2021 season.
College coaches usually have autonomy within their program. One source suggested that Rhule likes to micromanage. It's unclear how the players as a whole feel, but we saw how that worked out for Urban Meyer in Jacksonville.
After a second straight losing season, the pressure is mounting for the former college coach.
According to NFL Network insider Ian Rapoport, the Panthers will likely bring Rhule back for a third season. Carolina is in the rebuilding phase, but the roster features talent on both sides of the ball.
If the team doesn't show improvement in 2022, the front office will undoubtedly lose patience with its head coach. David Tepper seems to be realizing that he made a mistake, but pride will likely keep Matt Rhule in town for at least one more year.
All stats courtesy of Pro Football Reference.