How Mike Tyson Forgot He Made $3 Million for a Single WrestleMania Appearance
Mike Tyson is one of the most famous boxers in the history of the sport, but he has ventured outside of that profession and into other areas of sports and entertainment over the years. Whether it's appearing in the film The Hangover or starring in his own Scooby Doo-esque animated series, Tyson has become a mainstream celebrity.
So when he does something outside of boxing, he gets handsomely rewarded for his time. That was the case when Tyson made an appearance at WrestleMania XIV in 1998. He received millions of dollars for that show, but he almost forgot about it.
Mike Tyson's boxing career
In his prime, Tyson was the best boxer of his generation, but he found success in boxing before he turned pro. He was the gold medalist in the heavyweight division at the 1984 Summer Olympics in LA.
After turning pro, Tyson went 50-6 — and half of those losses came in his final four fights, when he was past his prime — with 44 knockouts. He was also the undisputed heavyweight champion, among a number of titles he held during his career. But, of course, he was a magnet for controversy — notably biting Evander Holyfield's ear during a 1997 fight.
Mike Tyson and professional wrestling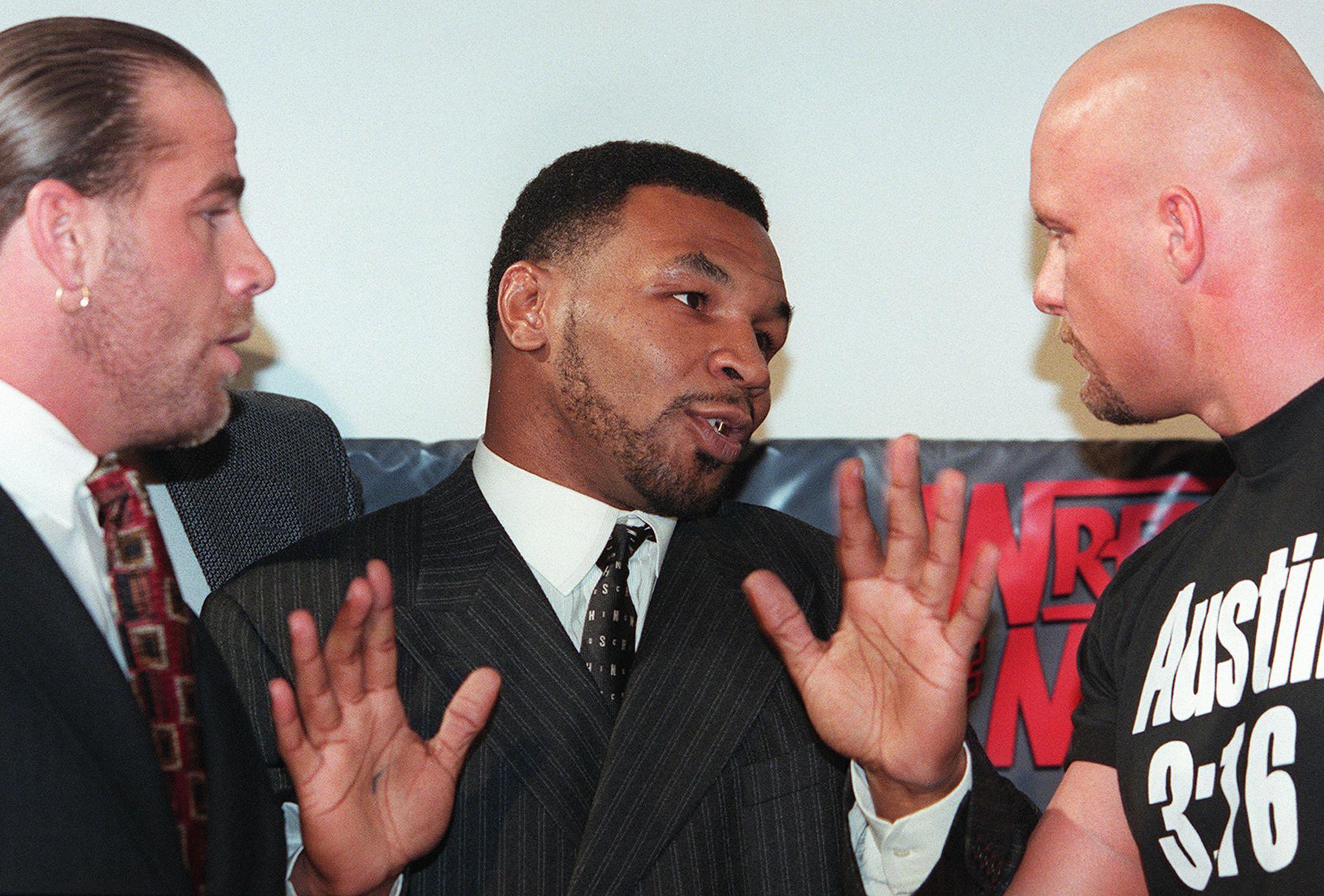 RELATED: Mike Tyson Is About to Really Upset WWE Owner Vince McMahon
WrestleMania is the biggest event of the year for Vince McMahon's World Wrestling Entertainment (WWE), and there are always celebrities at the events to try to draw more attention to the WWE's biggest pay-per-view of the year.
Celebrities have ranged from such out-there selections as Liberace at the first WrestleMania to famed baseball player Pete Rose and Donald Trump, years before he became president.
In 1998, Tyson was the headline celebrity at WrestleMania XIV. He was tabbed to be the "ring enforcer" for the main event between stars Shawn Michaels and Steve Austin. He was even featured on the event's promotional poster.
As a major part of the show, Tyson got a major payday for the appearance. He made $3 million, which he almost forgot about when asked about it by GQ Sports.
But he quickly remembered and recalled that he "was broke," and that was a "big thing" that he did in order to make "a lot of money." He didn't get to keep much of that $3 million, though, because he used the majority of it to pay bills — which were piling up due to financial issues he has had at times in his life.
Financial problems and comeback
RELATED: Roy Jones Jr. Prepared for Anything Mike Tyson Throws His Way
At a financial conference in Las Vegas, Mike Tyson was said he didn't think he'd make it through his 30s because he "went crazy" with his money, leading him to have financial troubles.
He declared bankruptcy in 2003, which was a huge fall from grace considering he earned more than $300 million in his career — including $30 million or more for individual matches.
At the time of his bankruptcy, the boxer reportedly had $23 million in debts. Although he was getting big checks, he was surrounded by people who were taking advantage of him.
But he was able to make it back financially with the support of his friends and family. Part of that monetary comeback included appearing in The Hangover, writing an autobiography, and performing a one-man show based on his life in Vegas. His comeback trail included becoming a popular figure in the sports and entertainment industries once again.