How Much Did LeBron James' Future in Los Angeles Play a Role In the Lakers' Silent Trade Deadline?
Despite having the most underwhelming season in the NBA, the Los Angeles Lakers stood pat at the NBA trade deadline. The Lakers and LeBron James were rumored to be involved in a few different moves, but nothing came to fruition.
Now LeBron needs to find a way to carry Anthony Davis, whatever is left of Russell Westbrook, and the rest of the LA roster to the playoffs (and maybe even, in some miraculous Disney-movie type run, to the second round!)
Even though LeGM is heavily involved in decisions, Lakers' actual general manager Rob Pelinka has the last word on what happens with the team, which means it was his call not to make any deals.
How much did James' future in LA — or possibly lack thereof — have to do with the franchise's silent trade deadline?
LeBron James and the Lakers can't find a way out of their rut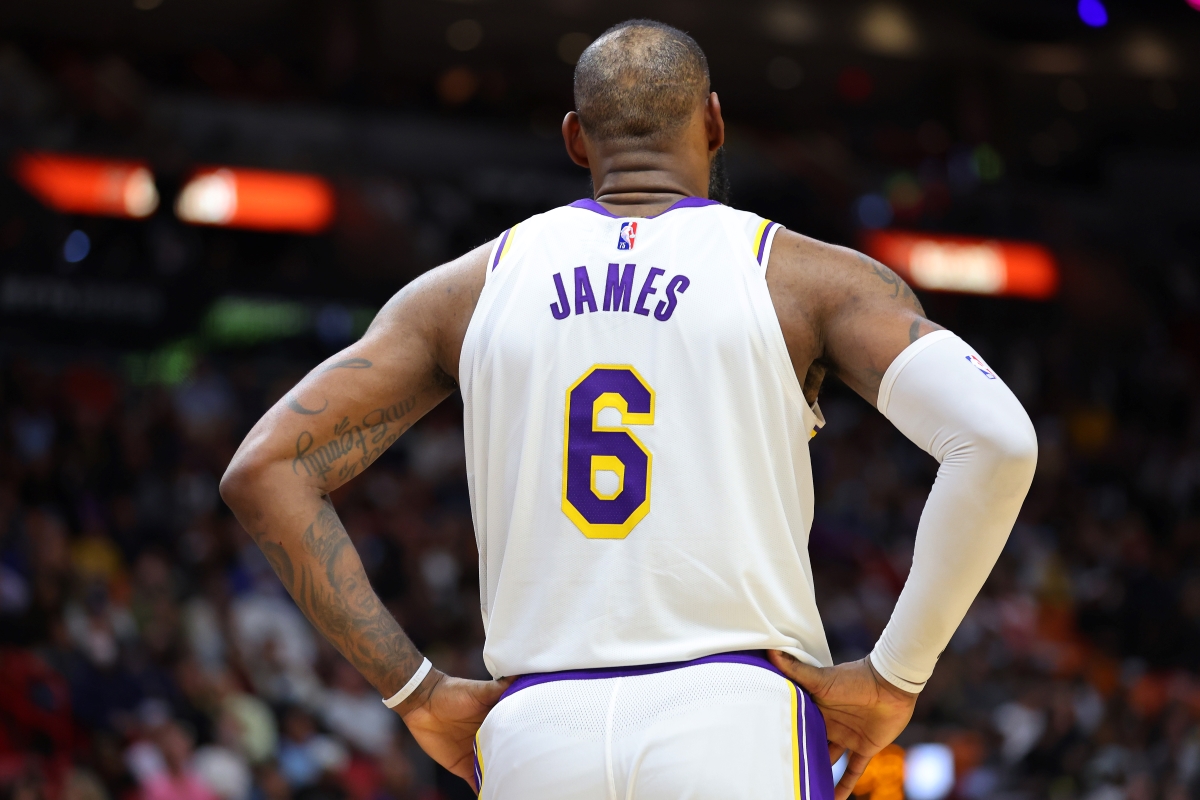 A loss to the Golden State Warriors on Feb. 12 dropped LA to 26-31 on the year. The team is ninth in the Western Conference standings — if the season ended now, they'd be in the bottom half of the play-in tournament.
Not exactly where they were expected to be when Bron and Pelinka went out and got Westbrook before the start of the season.
AD has missed 21 games this year. Head coach Frank Vogel experimented with a lineup that features James at center, which has worked to a certain extent. But understandably, a group that features a 6-foot-9 37-year-old at the five isn't great defensively or on the glass.
The Lakers are 26th in the league points allowed and 13th in rebounding. With Dwight Howard the only true center in the rotation and Davis having missed almost a third of the season, the roster balance is out of whack.
Coupled with Westbrook's unbelievable decline, LA could have used an infusion of basically anything at all at the deadline. But everything was quiet on the western front.
LeBron is well into the twilight of his career, but his team has little-to-no (mostly the latter) chance at winning another championship this year. So why didn't the franchise make any moves to help?
Post-deadline rumors surround the Lakers' unwillingness to include a future draft pick
LA's best trade chip was a 2027 first-round pick. Because of the win-now moves the organization has made for LBJ, there aren't any other picks available for the team to deal.
Talen Horton-Tucker is the best young player, but he's had a down season and his value has taken a nosedive. So the Lakers didn't have much in the way of trade assets to make a move.
Still, rumors persisted about a possible swap of Russ for John Wall. The Houston Rockets, though, weren't willing to make that deal without that 2027 first-rounder included.
That trade wouldn't have been a game-changer, but getting off of Westbrook's contract and the presumed better fit of Wall next to LeBron could have made a difference.
Another Lakers trade rumor popped up the day of the deadline involved a move for New York Knicks' wing Cam Reddish. A three-and-D player would have been at least part of the tonic that could cure some of the team's ills. But again, LA was quiet.
The franchise simply refused to include that 2027 pick. It's highly unlikely James will still be a Laker in five years, and that asset marked the best chance to acquire anything helpful in the immediate.
It appears Pelinka was holding onto that pick knowing the team might need it and that its future value would outweigh its present value. That means he chose a future asset over one that could help Bron-Bron this year.
Did LeBron's future plans factor into LA's silence?
For the reasons outlined above, the clear answer seems to be yes.
"We just didn't find a deal that made sense," Pelinka said via NBC Sports. "[I] had conversations with LeBron and Anthony about it and I would say there's alignment here. And that's all that matters," he added.
But ESPN's Dave McMenamin heard the opposite.
"I am told from a source familiar with LeBron and Anthony's thinking that is 'totally false.' That there was no conversation between Rob Pelinka and LeBron and Anthony Davis on Thursday. There was no go ahead of an okay to have inaction at the deadline."
Uh oh.
A disconnect between the Lakers' two stars and the team's front office isn't a great sign, for the present or future. And the lack of communication between LeBron and Pelinka is even more worrisome.
Surely the four-time MVP would have sent that future first-round selection somewhere to find help for this season. What sense would it make for him to hold onto a pick that won't convey until he's 42 years old?
LeBron's future in LA played a significant role in the Lakers' lack of moves at this year's deadline, and his contract is up after next season.
The franchise's silence and refusal to trade that pick is proof they're preparing for a future without The King.
All statistics courtesy of NBA.com.
RELATED: NBA Trade Deadline: The 3 Most Impactful Under-the-Radar Moves Made on Deadline Day