How Much Do UFC Referees Get Paid?
Three people are always inside the octagon during every single UFC fight. Two are fighters, and the third person in the octagon is the referee. Officials have a tough job and can make or break a fight. But, while some fighters get paid millions, this isn't the case for UFC referees.
What does a UFC referee do?
A UFC referee has a lot of stuff to keep track of. Their job inside the octagon is to ensure that the two fighters are following the rules. But that's far more complicated than in other sports. In the UFC, there isn't actually a unified set of rules. There technically is a "unified" ruleset, but not every state that the UFC visits follows those rules. 
The best example is Nevada, where many UFC events are held. According to MMA Fighting, Nevada has adopted most of the "unified" rules, except for one crucial rule about "downed fighters." As a result, refs officiating a fight in Nevada need to remind the fighters about the specific rules.
Additionally, UFC referees must know how to actually fight. If they don't understand this, then they may make a bad call that can hurt a fighter's game plan. And, if they don't know how to fight, then the ref can allow one fighter to do too much damage to the other. 
Hard times as a UFC referee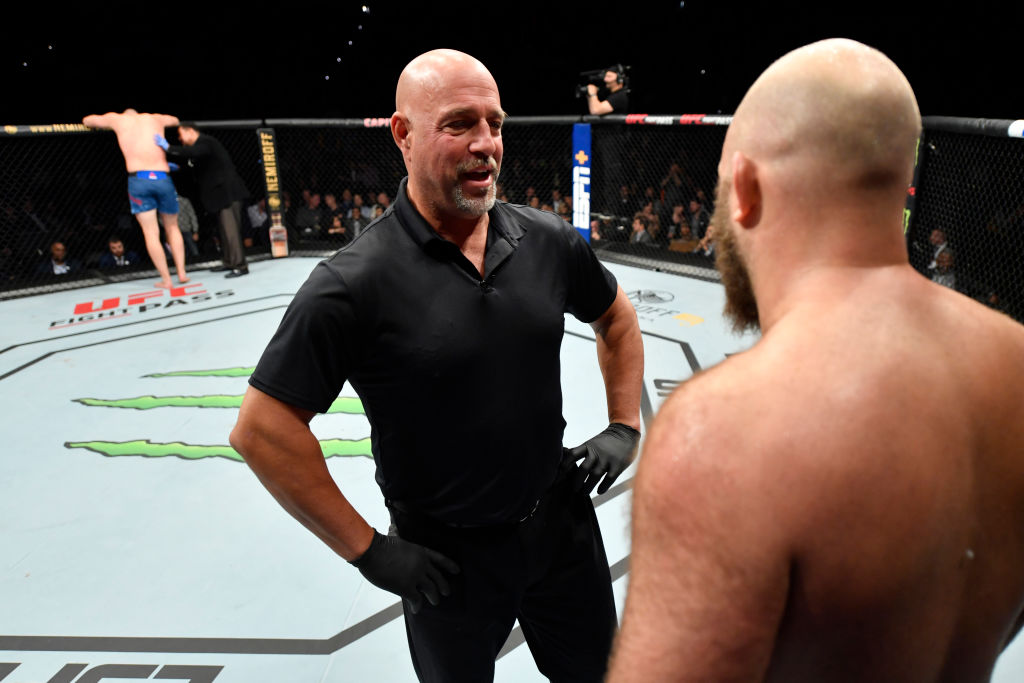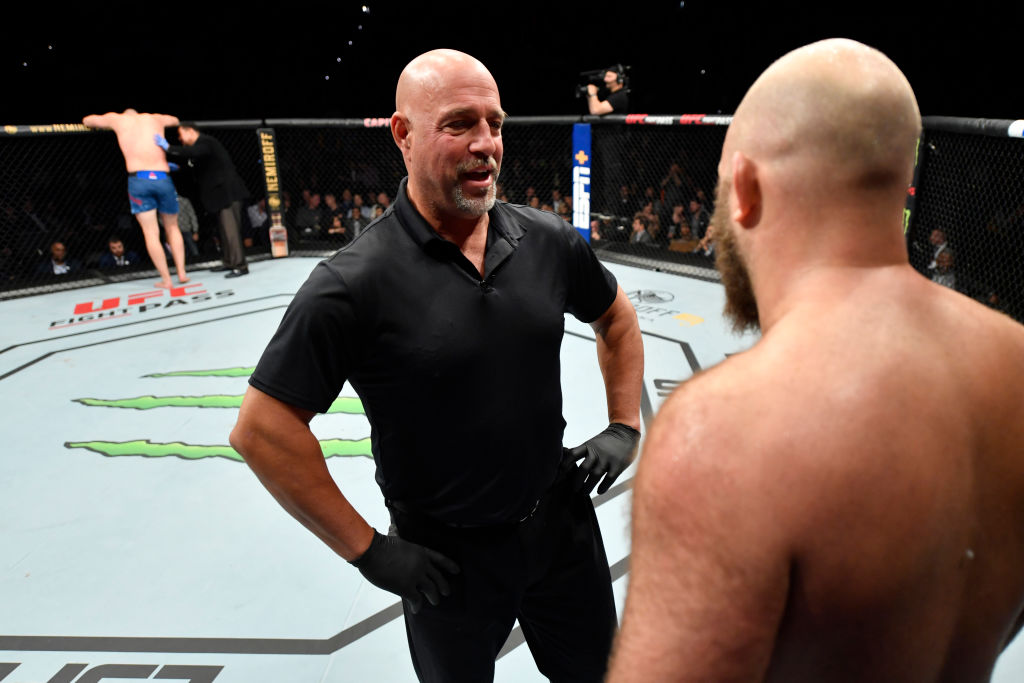 On top of that, refs are also standing in between two people who are trying to beat each other up. This has led to some refs getting accidentally hit by a fighter. Some fighters also get so emotional and out of control that they try to hurt the ref intentionally. Both of these things rarely occur in the UFC, but in smaller MMA organizations, it's not horribly uncommon. 
Plus, sometimes a ref can make a mistake that ends the fight prematurely. Officials aren't allowed to restart a fight after it's called off, so when this happens, it sucks for everyone. The two fighters are angry that the fight ended early, the fans are angry that the ref made the mistake, and the ref is disappointed because they messed up and will get the blame for it. 
When done correctly, a UFC referee's job isn't noticeable. But when it's not executed well, everyone sees. Despite this job's importance, refs don't actually get paid much. 
How much a UFC referee gets paid
The good thing for refs is that, unlike fighters, they aren't exclusively contracted to the UFC. This means officials can work at other MMA promotions, too. But, the UFC is the biggest MMA organization, so refs who work UFC events get paid the most. 
Combat Museum says a UFC referee can make about $500 for refereeing a single fight. Refs can work multiple fights per event, so how much money a ref makes per event will vary. Additionally, the important fights will pay more. For example, according to Combat Museum, John McCarthy, who refereed Conor McGregor's championship fight against Jose Aldo, received $1,900.
UFC referees' pay can vary by state, too. For example, in California, the law says the minimum pay per fight at a UFC event is $650 per referee in a regular fight. Once again, the minimum pay is higher for the more important matchups. When all is said and done, Combat Museum a referee can make a decent living working as a full-time referee.
Follow more updates from Sportscasting on our Facebook page.