How Much Does Joey Chestnut Weigh?
For years, Joey Chestnut has been the most dominant competitor in all of sports on the Fourth of July. He seems to win the Nathan's Hot Dog Eating Contest year after year after year. However, he doesn't just show up and eat. Chestnut has it down to a science, and even trains for his competitive eating career. Because of this, Chestnut might not weigh as much as you think, especially considering how much he eats. 
Joey Chestnut is the king of the hot dog eating contest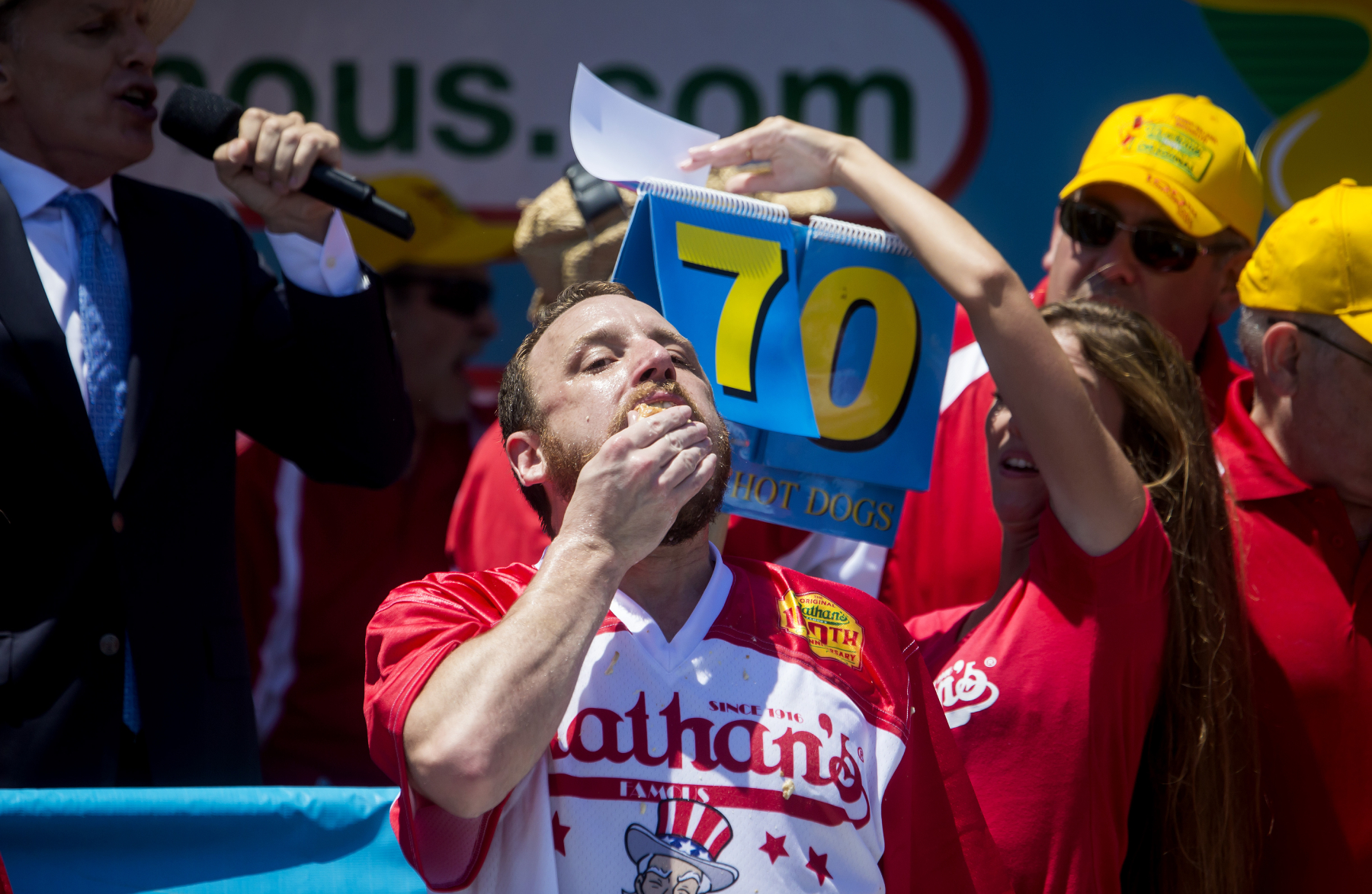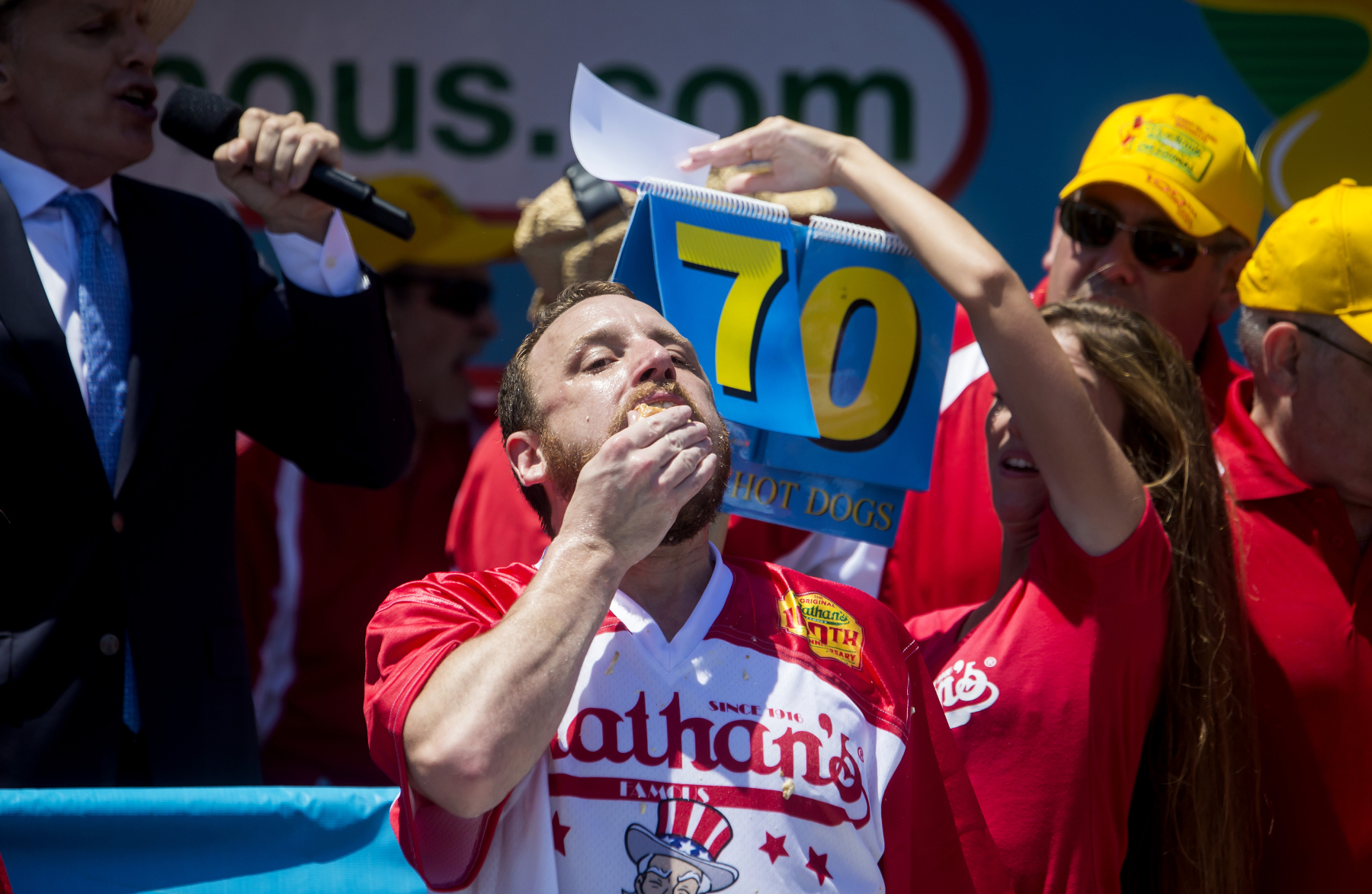 Joey Chestnut has been the most dominant eater in the world for over a decade.
Takeru Kobayashi won the Nathan's Hot Dog Eating Contest six straight years from 2001 through 2006, eating as many as 53.75 hot dogs in one contest, according to the contest's site. However, Chestnut won the contest for the first time in 2007 when he shattered Kobayashi's mark by eating 66 hot dogs. 
Chestnut then continued to win every year for almost a decade straight as he won the event eight years in a row through 2014. He ultimately ate as many as 69 hot dogs during that stretch. 
Matthew Stonie, however, won the competition in 2015, but Chestnut reclaimed the title in 2016 when he ate 70 hot dogs. He has now won the competition every year since, winning 12 total, and eating a world record 74 hot dogs in 10 minutes in 2018. 
This is not just a one-day-a-year thing for Chestnut, though, as it is a lifestyle. He holds many other world eating records for other foods as well.
Because of this being a lifestyle, Chestnut also trains relentlessly. So, even though he takes in a lot of calories, he might not weigh as much as you think. 
How much does Chestnut weigh?
Some of Chestnut's workouts might look a little strange to some people. On an ESPN 30 for 30 (in the video above), some of his workouts were featured. In one, he chewed on a ball; in another, he lifted a sack of weights attached to a mouthguard.
He, however, does some more normal workouts too. According to Showbiz CheatSheet, Chestnut runs to burn off the calories. Running also helps him train for eating as it teaches him how to control his breathing.
Additionally, here is a quote from Chestnut, where he talks about his training regimen.
"I do a practice contest, and then recovery is important. As soon as I can start eating, I try to eat vegetables, fiber," Chestnut said, according to ESPN. "And then once I feel like the food has moved and digested, I'll have one good day of protein, whether it's fish or turkey, maybe chicken. And then I go back and do a fast, where it's all liquid. It's a cleanse, pretty much, a two-day cleanse. And then when I'm at the weight I want and I know I'm empty, then I can do another practice."
With Chestnut doing so much training, he weighs around 230 pounds, according to his bio on Major League Eating.
Chestnut looks to win his 13th Nathan's Hot Dog Eating Contest
Despite COVID-19 canceling a lot of Fourth of July events, the Nathan's Hot Dog Eating Contest is still on. It will just look a little different this year.
The competitors will be on a stage in a warehouse where they will be seated six feet apart and separated by plexiglass dividers, according to Yahoo. There will also be no fans in attendance. 
Maybe being inside, though, will help Chestnut eat more hot dogs? 
Fans can watch Chestnut go for his 13th crown at Noon ET on July 4 on ESPN.