How Much Money Does Deshaun Watson Make From Nike and His Other Endorsements?
The 2021 NFL offseason began with Deshaun Watson looking for a trade from the Houston Texans. The headlines surrounding Watson have since taken a much more serious turn. After seeing 22 women file lawsuits against Deshaun Watson for allegations of sexual misconduct, Nike suspended its sponsorship with him. Beats by Dre also reportedly ended its relationship with Watson.
So, since one sponsor has reportedly walked away completely, while Nike and others could also do the same, how much money does Deshaun Watson make off of those endorsements?
Deshaun Watson made millions off endorsements in 2020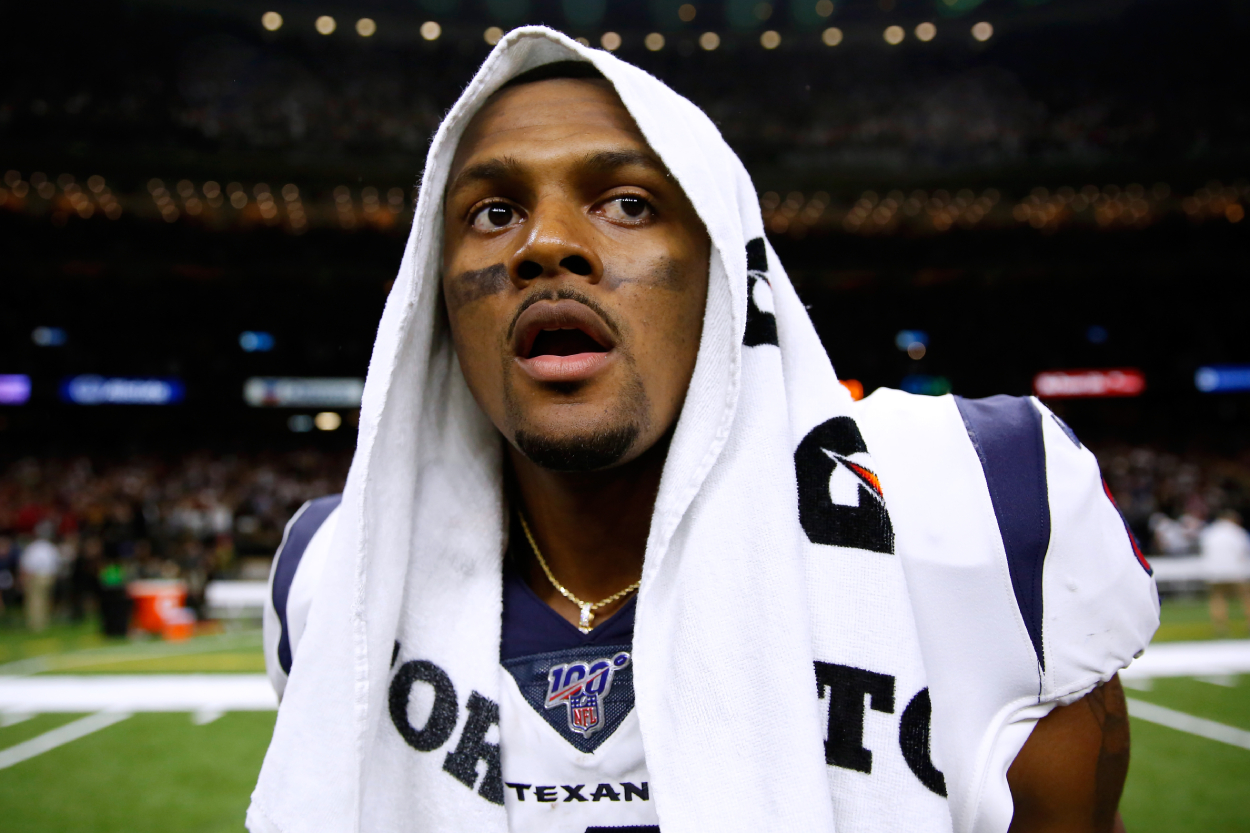 Deshaun Watson had one of the top salaries in the NFL in 2020 with the Houston Texans. Watson earned an estimated $29.35 million on the field. This came after he signed a four-year $156 million extension with the Texans last year that tied him to the team through the 2025 NFL season.
While $29.35 million is certainly a large amount of money, Watson also made a significant amount of cash off the field. According to ProFootballTalk, Watson's endorsement deals have included Nike, Beats by Dre, Rolex, and other local sponsors like H-E-B, Lefty's Famous Cheesesteaks, and Reliant Energy. 
Forbes reported that Watson's 2020 off-field earnings reached an estimated $8 million. So, how does this compare to other quarterbacks? According to Forbes, Dak Prescott reportedly made the same amount as Watson off the field last year, while Drew Brees reportedly made $14 million, Tom Brady made an estimated $12 million, and Aaron Rodgers reportedly made $9 million.
That number for Watson could be drastically different in 2021, though.
Nike suspended its relationship with Deshaun Watson
According to ESPN, Nike suspended its deal with Deshaun Watson on Wednesday. Beats by Dre then reportedly ended its relationship with him soon after. This comes after 22 women recently filed lawsuits against Watson for allegations of sexual misconduct and inappropriate behavior allegedly taking place during massage and therapy sessions.
"We are deeply concerned by the disturbing allegations and have suspended Deshaun Watson. We will continue to closely monitor the situation," Nike said in a statement, according to ESPN.
Watson has denied the allegations. His attorney, Rusty Hardin, also said that it is his belief that "any allegation that Deshaun forced a woman to commit a sexual act is completely false," per ESPN. The NFL has already started an investigation into Watson's alleged actions, and the Houston Police have also opened an investigation, ESPN reported.
In addition to the 22 women who have filed lawsuits, Ashley Solis spoke to the public about her allegations.
"I got into massage therapy to heal people," Solis said, per ESPN. "To heal their minds and bodies. To bring peace to their souls. Deshaun Watson has robbed me of that. He took that away from me, he tainted a profession in which I take enormous pride."
According to ESPN, 18 women also gave statements through Hardin, claiming that they have worked with Watson in the past and he "never made them feel uncomfortable." Hardin's firm also claimed that Tony Buzbee's firm, which represents the plaintiffs, allegedly "sought $100,000 in hush money on behalf of Ms. Solis to quietly settle the allegations the month before he filed the first lawsuit," per ESPN.
The quarterback's NFL future is unclear
It's hard to say what Deshaun Watson's NFL future looks like with there not yet being a clear resolution regarding the sexual misconduct allegations. Before this, he had proven to be one of the most talented quarterbacks in the NFL. He earned three Pro Bowl selections in his first four seasons and led the NFL in passing yards in 2020. 
However, with the NFL investigating Watson's alleged actions, there is certainly a chance that the league could suspend him. He could also possibly go on to the commissioner's exempt list, which would essentially be paid leave while the NFL and authorities figure out the potential legal ramifications of the allegations.
This is all in addition to Deshaun Watson requesting a trade from the Houston Texans. If these allegations prove to be true, it's hard to see teams wanting to trade for him, but there is still a good chance that he could play for another team in future seasons. If he doesn't get traded, though, it's currently unclear if he would even want to play in Houston.
So, will Deshaun Watson get the trade he wants? Will he get suspended? Will he stay on the Houston Texans? None of this we know. What we do know, though, is that sponsors are now walking away from him due to the severity of the recent allegations. This could possibly lead to more doing the same thing.
Contract numbers courtesy of Spotrac