How Much Money Did Pat McAfee Make in the NFL?
Former Indianapolis Colts punter Pat McAfee has done wonders after his playing days ended. The eight-year NFL veteran has made a name for himself by becoming the host of The Pat McAfee Show that features guests from across the league, with Green Bay Packers quarterback Aaron Rodgers being a regular during the 2021 season. Now, McAfee signed a massive deal with FanDuel to continue to host the show, and it far eclipses the amount he made in the NFL as a player.
The Pat McAfee Show signs a massive deal with FanDuel
Yes, McAfee put pen to paper on a massive deal worth around $30 million per year to continue to host his show. That is a ton of money for anybody and he is sitting back living the life right now.
When McAfee shockingly retired from the NFL after the 2016 season, he joined Barstool Sports and began the next venture of his career.
Now, McAfee is getting rewarded with a ton of money. This new deal likely includes his producers and co-host AJ Hawk as well. Nonetheless, this could be the beginning of a new era in content production and sports gambling across the industry.
Moreover, this blows away the amount McAfee made during his time in the NFL.
How much did Pat McAfee make playing in the NFL?
According to Spotrac, McAfee earned just over $15 million during his NFL career. He signed a five-year deal worth $14 million back in 2016 but retired before that contract ended.
It's safe to say things are working out nicely for McAfee, who has indeed found his niche as a content creator with arguably the biggest show in the industry.
FanDuel doubled down and offered this absurd deal thanks to McAfee drawing traffic to their site, so apparently, it has been working thus far.
A $15 million punter — and an electric one at that — to the host of a show with a $120-million contract is a huge turnaround. Quite the story for McAfee, and this obliterates the money he made as a punter.
The show continues to reach new heights and will stick around for quite some time after a massive contract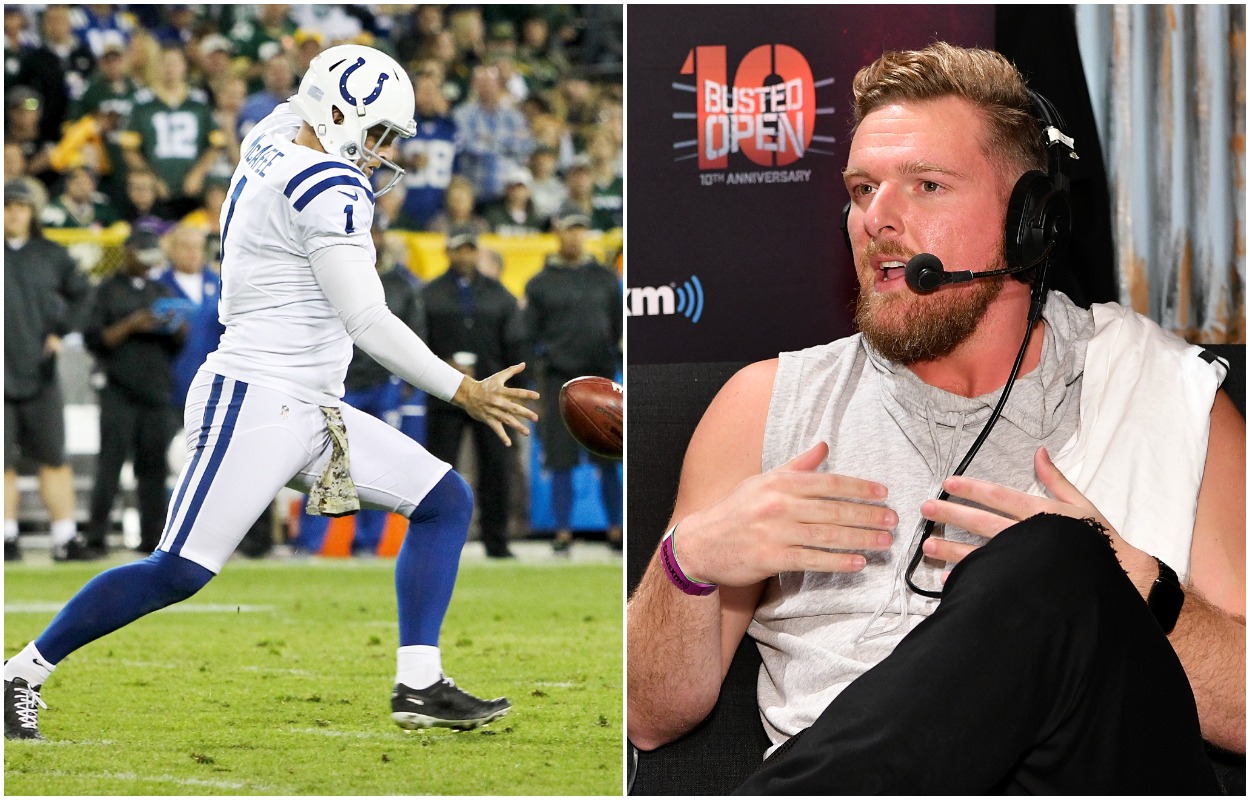 McAfee's new deal is a significant shakeup in the industry. For FanDuel to shell out that much money for a show such as McAfee's is unreal, and it could mean the start of more from others across the business.
The former Colts punter has quickly become a marvel and people tune in every week to see what he — and his star guests — have to say. In April, McAfee was already ahead of the game and things have escalated further since then with his show.
Things picked up ever more with Rodgers' regular appearances, including his famous one after he tested positive for COVID-19.
Nonetheless, McAfee's show has officially taken off and this eye-popping deal is further proof of how smart he was to walk away and begin his new venture.
This seems just the beginning of the Pat McAfee show, and with assurance for the next few years, it will be interesting to see how it develops and expands.
While $15 million is a lot of money, $120 million is far more, and McAfee will continue to make his namesake running the show.