How Much Money Does Chiefs Coach Andy Reid Make per Year?
Kansas City Chiefs head coach Andy Reid is one of the most successful coaches in the regular season. Some fans fret over his 2-5 record leading the Chiefs in the playoffs. But his 65-31 (.667) regular-season run since coming over from the Philadelphia Eagles is how he earns his sizable annual salary.
Reid makes enough to place him as the fifth highest-paid head coach in the NFL — which would also place him as one of the best paid in sports in general. Let's put together the pieces of his story to figure out how he came to earn that major stack of cash.
How Andy Reid became one of the most valuable coaches in sports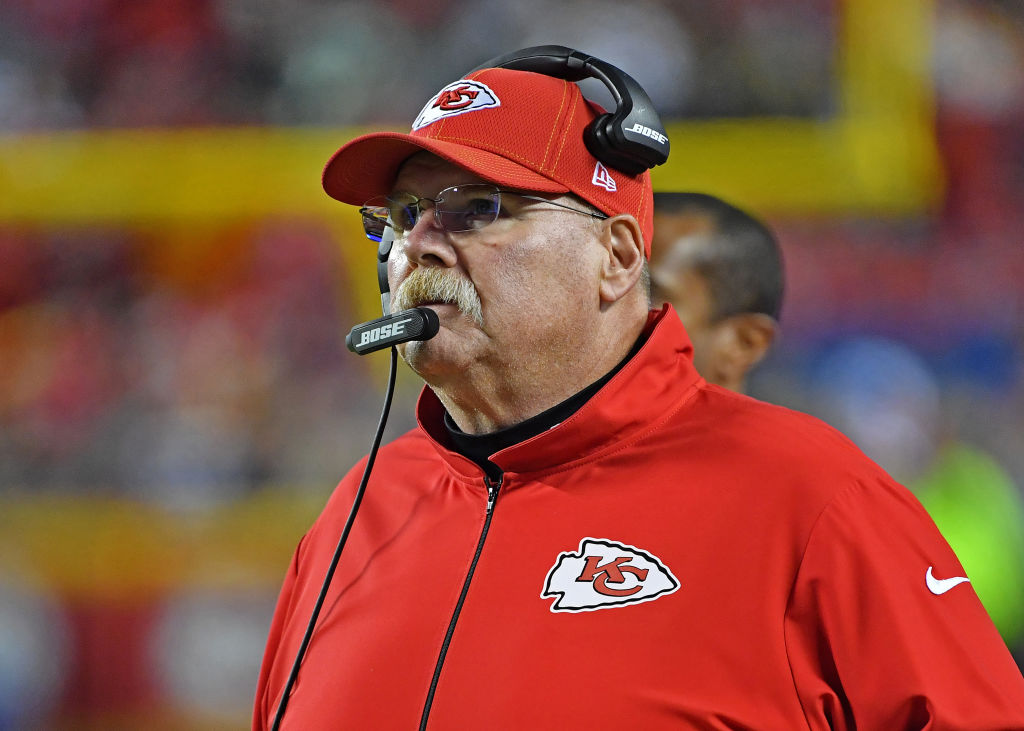 Andy Reid's background is crucial for understanding where he is today. His parents were an idiosyncratic pair, tied together mostly by their Lutheran faith. His father was a free-spirited artist, his mother a more logically grounded doctor.
Reid credits this unique upbringing with giving him a rare coaching style: balancing empathy and improvisation with a ruthlessly strategic approach when needed.
Reid came to football through youth sports, rather than family background. His run as an offensive tackle with Brigham Young University ended in the early '80s when he missed the NFL draft.
He spent the next decade of his career working his way up from an assistant coaching job at BYU to entering the NFL as an offensive assistant with the Green Bay Packers in 1992.
Reid parlayed that into his first head coaching position with the Eagles. He led that team on a run of mostly over .500 seasons, until a rough 4-12 season in 2012 brought his time to an end.
Kansas City leaped on the opportunity. He has never dipped below .500. While his lack of playoff success is making some fans nervous, Reid's overall success speaks for itself.
Andy Reid's current contract and net worth
Andy Reid's strong runs in Philadelphia and Kansas City make him a valuable — read: expensive — asset for any team. His blockbuster contract reflects this: five years, at $7.5 million per year.
His net worth is rumored to be around $20 million right now, which will obviously rapidly rise as he enjoys the fruits of another five years of one of the highest salaries for a coach.
Reid is not known for a notably lavish lifestyle. After meeting his wife he converted to Mormonism, and much of his time off the gridiron appears to center on the church and his family.
A tragic family life
Reid's childhood was a unique one that he mostly reflects on as idyllic. Unfortunately, going from a modest middle-class lifestyle to balancing membership in the millionaire club is a tough transition to handle. Especially in a profession as demanding as being a head coach in the NFL.
His own children have notably struggled with addiction issues for much of their adult lives. In 2012, the worst moment any parent can possibly experience became a reality for the Reids. Their oldest son, Garrett, died of a drug overdose.
Both Garrett and his younger brother Britt spent much of the 2000's running into trouble with the law. Garrett's death inspired change in the family. Andy pulled Britt closer to football, pushing him to develop as an assistant coach.
Britt blossomed under this renewed closeness with his family and impetus to meet lofty professional goals. He currently serves as the linebackers and outside linebackers coach for the Chiefs.
And his dad, despite losing masterful young quarterback Patrick Mahomes to injury for a chunk of the season, continues to lead the Kansas City Chiefs on an above .500 run at the halfway point of the season.
Not a bad way to earn a paycheck.