How Much Money Does John Madden Make From the Video Game Franchise?
Depending on your age, you likely know John Madden from one of three stages of his football career. If you're a baby boomer, you first learned about him as the Raiders' coach in the '70s. If you're a Gen Xer, Madden's broadcasting career was likely your first recollection. And if you're a millennial, you're most familiar with his long-running video game.
One of the most popular franchises in video game history, Madden Football has sold billions of dollars worth of games over more than 30 years. So how much money does Madden make from the series? Here's a look at the football commentator's video game earnings.
The history of Madden Football
The history of the game franchise dates back to 1982 when Electronic Arts (EA) founder Trip Hawkins was inspired to bring sports to computers when he saw Strat-O-Matic tabletop sports simulation games. According to SB Nation, he began developing a video game that year and sought a popular sports figure to endorse it.
Hawkins first approached legendary quarterback Joe Montana and Cal coach Joe Kapp. But he couldn't reach a deal with either man. Two years later, Hawkins approached coach-turned-broadcaster Madden to lend not only his endorsement but also his football expertise.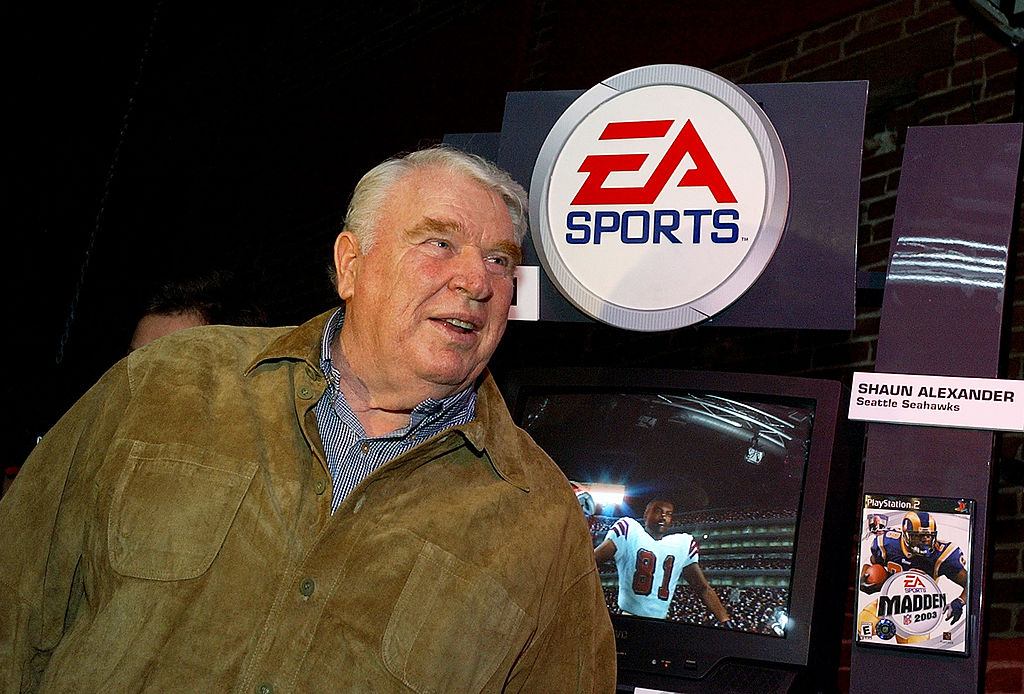 Madden liked the idea of the video game as a coaching and teaching tool, so he signed on with EA. He taught Hawkins and game producer Joe Ybarra everything they needed to know about the sport and its strategies.
The game's development took longer than expected because Madden refused to put his name on it unless it was real. "If it isn't 11 on 11, it isn't real football," he said according to SB Nation. The game finally released for the Apple II in 1988. Unfortunately, the underpowered hardware led to a disappointing experience for players.
Madden Football's evolution
In 1990, the game was ported to Sega's Genesis console. It took on a new look and style of gameplay, which made it appeal to a more mainstream audience, according to CNN. The first Genesis version outsold the Apple II version by a wide margin.
EA sold about 400,000 copies of the Genesis cartridge, far exceeding the company's expectations of 75,000 copies. As EA's first megahit, Madden Football continued expanding to different and newer platforms, thanks in large part to Madden lending his voice and commentary to the game.
Madden is no longer part of the game itself, but the football icon — retired from broadcasting for a decade — still lends his legendary name to the franchise, which has now sold more than 130 million copies.
How much money does Madden make from the video game franchise?
Madden has made more money from the games than he did from any other part of his career. His big payday came in the mid-2000s, amid rumors that EA was considering dropping his name from its future football games.
Instead, the legendary NFL coach signed a $150 million deal that allows EA to use his name and likeness in perpetuity. Madden also earns additional millions annually in royalties from the games. But he could've earned even more.
When the company's stock first went public, he was offered an opportunity to buy it for just $7.50 a share. Thinking EA was just trying to milk money out of him, Madden declined. He later called this decision the "dumbest thing [he] ever did in [his] life" — and for good reason.
EA's stock was priced at $70 by 1999 and reached an all-time high of close to $150 a share in July 2018 — thanks in large part to the franchise that bears Madden's name and will for the foreseeable future.