How Much Taller Is Logan Paul Than Floyd Mayweather?
Are you ready to watch the most bizarre fight in the history of boxing? OK, so there have probably been weirder fights throughout the sport's history, but it's pretty hard to find a stranger matchup than the one we're about to see between boxing legend Floyd Mayweather Jr. and YouTuber Logan Paul. Obviously, Mayweather has the advantage here; he is one of the sport's GOATs. However, Paul has the height advantage.
So, how much taller is Paul than Mayweather?
Floyd Mayweather Jr. and Logan Paul will fight in a boxing exhibition
Many of us have watched Mayweather compete in some pretty big fights against some pretty talented boxers over the years.
This isn't one of them.
Mayweather heads into the fight against Paul with a 50-0 record while Paul has only competed in one pro fight, one in which he lost to a fellow YouTuber in KSI back in 2019.
So, essentially, this is all about the money, as Mayweather is one of the most famous athletes in the world and always brings in a ton of money on pay-per-view. In fact, according to Sports Illustrated, he has brought in over $1 billion through pay-per-view in his career. Paul, on the other hand, has 23.1 million YouTube subscribers and 19.7 million Instagram followers. Paul's brother, Jake Paul, also has 20.4 million subscribers on YouTube and 15.9 million followers on Instagram.
To put it simply: This fight is all about the money. 
Mayweather told Sports Illustrated that he made $30 million in all the action leading up to the match and thinks the actual fight will earn him between $50 and $100 million.
No matter the outcome, they will both earn a significant amount of cash.
How much taller is Logan Paul than Floyd Mayweather?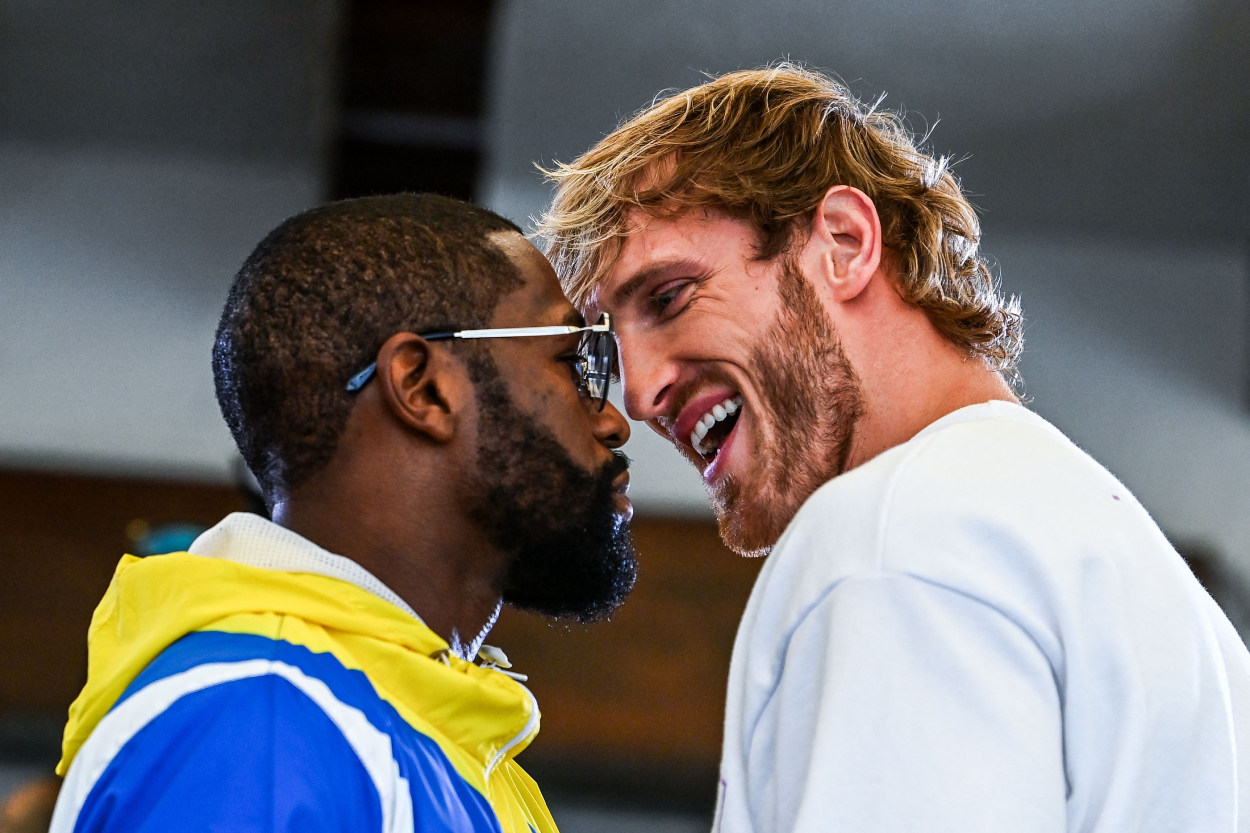 The only thing Paul has going for him in terms of being competitive in this fight is how much bigger he is than Mayweather.
According to The Athletic, Paul is 6 feet, 2 inches, while Mayweather is 5-8, meaning Paul has a six-inch height advantage. He also has a four-inch longer reach than the legendary boxer as his measures out to 76 inches, compared to Mayweather's 72.
Paul's most significant advantage measurement-wise, though, is his weight, as the YouTuber weighed 189.5 pounds before the fight while Mayweather weighed 155.
Mayweather, however, doesn't seem too worried about the size difference.
"He thinks sometimes that size wins fights," Mayweather said to Sports Illustrated. "Or weight wins fights. I don't care what anybody says. A fight wins a fight."
What are the rules for the bout?
With this being an exhibition, the rules for the Mayweather-Paul bout are a little different than the rules for a typical fight.
Per Sporting News, the official rules are as follows:
There won't be any judges.
There won't be an official winner.
Knockouts are still legal and at the referee's discretion.
It will be eight three-minute rounds.
The boxers will wear 10 oz. gloves.
They will not wear headgear.
The most peculiar rule is that there won't be an official winner, so, how does that work?
Sporting News reports that with this being an exhibition, there won't be an official winner since the fight won't count toward either Mayweather or Paul's professional win-loss records. They can, however, still technically say they won if they knock the other fighter out.
Paul seems to think there's a chance he can do that, too.
"He's not ready, he don't know what to expect," Paul said during the weigh-in, per Yahoo Sports. "And this is not the biggest fight of my life, this is the biggest fight of his life because he's got a lot on the line, everything to lose. I'm going to have fun."
He continued: "The fact I am even up here proves this is a simulation, none of it is real, the aliens are coming in June … just be ready … [June 6] I bring the simulation and beat the greatest boxer in the history of the planet."
This probably won't be an exciting fight, but, given their personalities, it should still be an interesting event. Get your popcorn ready.