How Much Will Dak Prescott Cost Jerry Jones If He Makes a Deep Playoff Run?
Kenny Rogers once sang, "You gotta know when to hold 'em, know when to fold 'em, know when to walk away." Unfortunately for Dak Prescott and Cowboys' owner Jerry Jones, none of this happened. Instead, a tense four-month-long negotiation broke down at the 11th hour, leaving both the young quarterback and notorious owner of "America's team" in the lurch.
It's easy to see the short-term effects. But if Jones isn't careful, Prescott could cost him a lot more down the road. 
The failed negotiation
Going into this off season, Prescott had high hopes. Despite never winning a Super Bowl, he hasn't ever had a losing season either. Each year, his game improves. One of these seasons, it's all going to fall into place making the Cowboys a serious threat. 
So what happened between March and the July 15th contract deadline? Not much. Rumor has it that Prescott had been holding out for his ideal contract, a four-year, guaranteed $123 million dollar deal. Earlier in the year, the Cowboys offered the young QB a $100 million dollar, five-year contract as Fox News reports. But Prescott felt he had enough leverage to hold out. And that's where the conversation stopped.  
How much will Dak Prescott cost moving forward?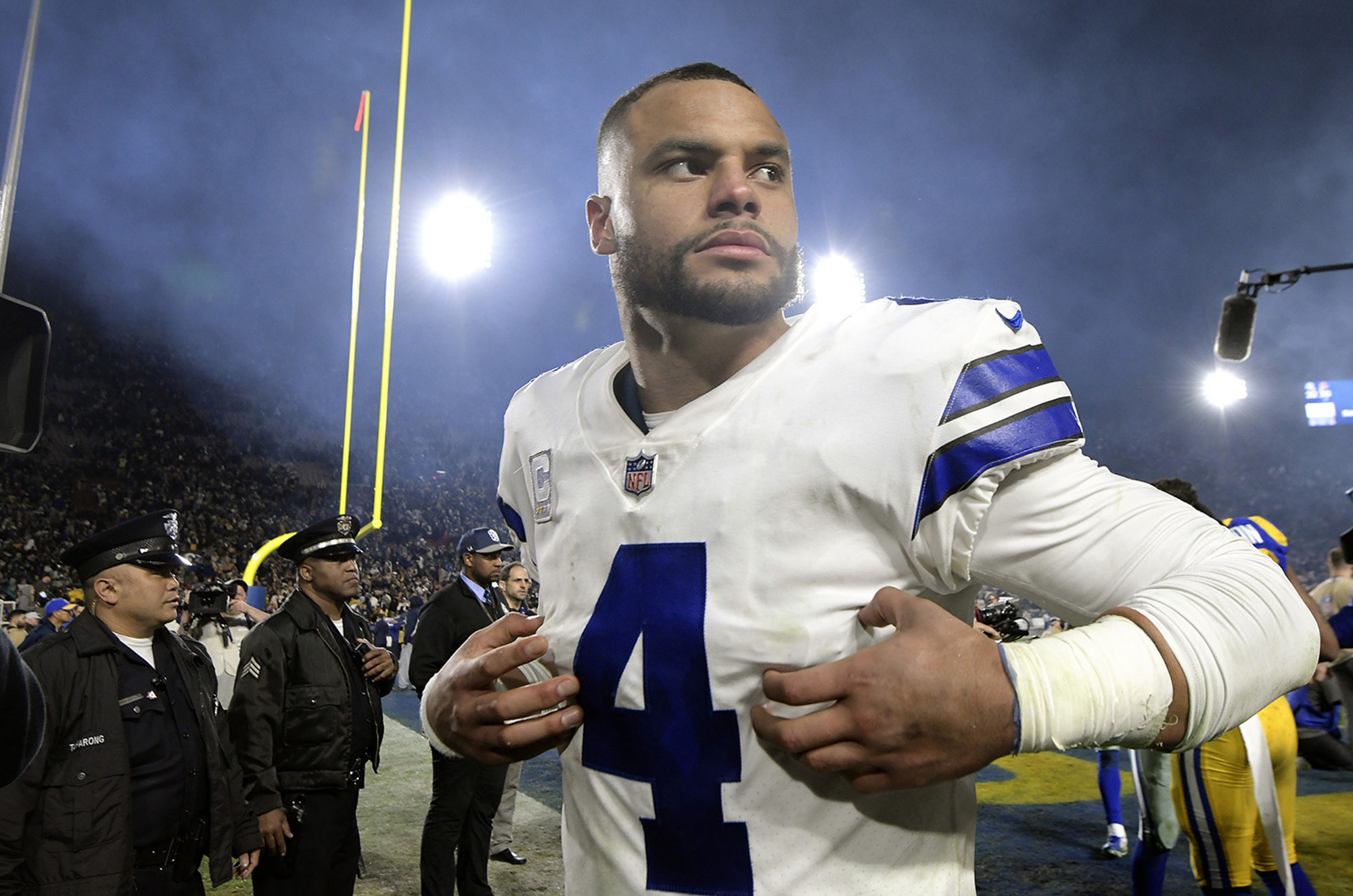 RELATED: Legendary Dallas Cowboys Tight End Jay Novacek Has Seen Some Tough Times Since Leaving the NFL
All said and done, Dallas' final offer would have amounted to an average of about $35 million per year. Prescott likely realized that accepting the franchise tag this year and next would give him an average salary of $34.5 million.
Why should Prescott commit to a five-year deal at half a million more when he could just play two years and be free afterward? That's especially poignant given that Dallas didn't commit to him. When the dust settled, Prescott took the franchise tag — a short-term, one-year contract set at a moderate amount. For Prescott, that means $31.5 million guaranteed this season.
Even with his phenomenal stats, which include a crazy 15,778 yards over the last four seasons, Prescott has never gotten the team to coalesce. It's certainly failed to impress Jones. That means it will take a significant season to change the owner's mind. But if he does — and that's a big if — it won't make a difference. From the Cowboys perspective, there's no happy ending to Prescott's story.  
A tale of three scenarios
RELATED: Tony Romo Made His Family's American Dream Come True By Playing For the Dallas Cowboys
Here's why Jerry Jones isn't happy with this arrangement: it's going to cost him more than he can afford no matter what happens. If Prescott figures things out this season and makes a deep playoff run, a couple things could happen. The Cowboys could offer the franchise tag again, which goes up with each consecutive year that it's offered. That means Prescott makes $37 next year. That's scenario one.
However, a lot is riding on what happens with the salary cap next year, according to Cowboys Wire. If history is any indication, it should go up to $215 million for 2021. Given the current state of the world, that's highly unlikely. With COVID-19 emptying stadiums and driving down franchise revenues, the cap will likely remain stagnant at $198 million, or even worse, it could lower to $179 million. That's scenario two and three.
In scenario two, the Cowboy can't afford a franchise tag let alone a contract for Prescott. With 55 other players vying for their own interests, the Cowboys just don't have the cap room. In scenario three, they would have to cut players or engage in some radical contract restructuring to bring their spending in line with the reduced cap. 
In other words, Jones and the Cowboys could've afforded Prescott this year. That option is off the table going forward. If Prescott bombs and has a bad season or even a moderate season without a Super Bowl, he'll likely be let go. Quite frankly, it's the only way forward for Jerry Jones at this point.