How the New York Yankees Become Legit Contenders in 2017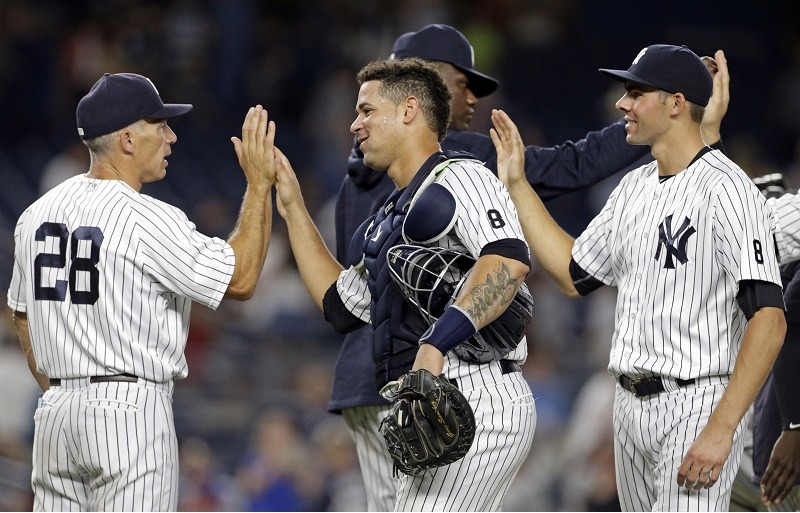 Originally published November 15, 2016
You know about the New York Yankees youth movement. It starts with Gary Sanchez, the star catcher who finished second in Rookie of the Year voting, and continues with Aaron Judge, first baseman Greg Bird, and pitcher Luis Severino. The front office loaded the farm system with budding talent at the trade deadline; then the departure of Alex Rodriguez and retirement of Mark Teixeira made the path even clearer.
That was how the season ended, but it's easy to forget how it began. In the offseason prior to the 2016 campaign, GM Brian Cashman and his squad signed a total of zero free agents to play in New York. For such a big-spending franchise, this move spoke volumes to Yankees loyalists and critics alike. The time had come for change, and Cashman was dead-set on starting the clock.
There was no last stand by A-Rod and Teixeira, no phoenix-like rise for Michael Pineda. Even Severino turned in a terrible performance for most of last season, so no one blinked when Cashman went to work and started dealing in July. The surprising part happened when the Yankees made a run for the playoffs. Talk about a distant "future" suddenly referred to the present.
In fact, Cashman could put together a playoff-ready team if he wanted to spend the Steinbrenners' money and deal some of the talent he acquired in 2016. Though it's a pretty big "if," here are four moves that would make the Yankees a playoff team and legitimate contender in 2017.
1. Add a power bat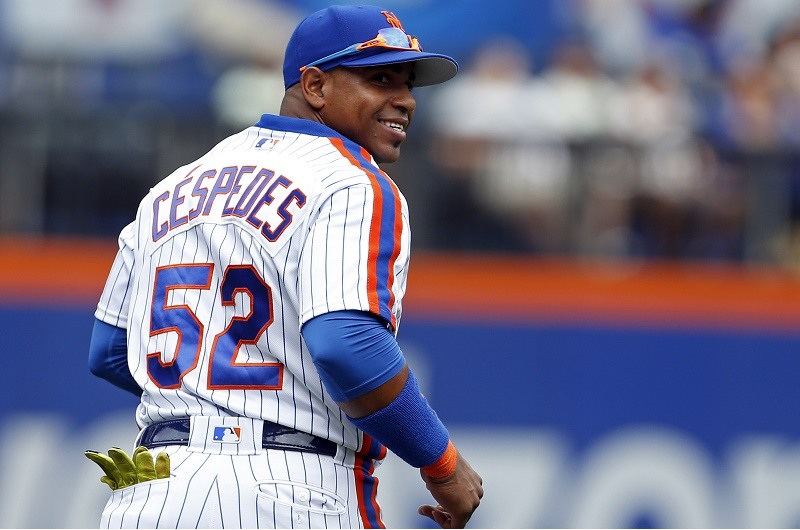 While Cashman has discussed the Yankees' need for pitching, the club is still short one power threat in the lineup. There is no telling what New York can expect from Sanchez or Bird in their first full seasons in the Majors, and no one else on the roster looks capable of slugging 30 home runs in a season. On the free agent market, power is everywhere. Signing Yoenis Cespedes might force the club to trade Brett Gardner, and signing Edwin Encarnacion might create gridlock at first and DH, but such a potent bat would transform the lineup immediately. This one costs money and a compensation draft pick.
2. Sign Aroldis Chapman or Kenley Jansen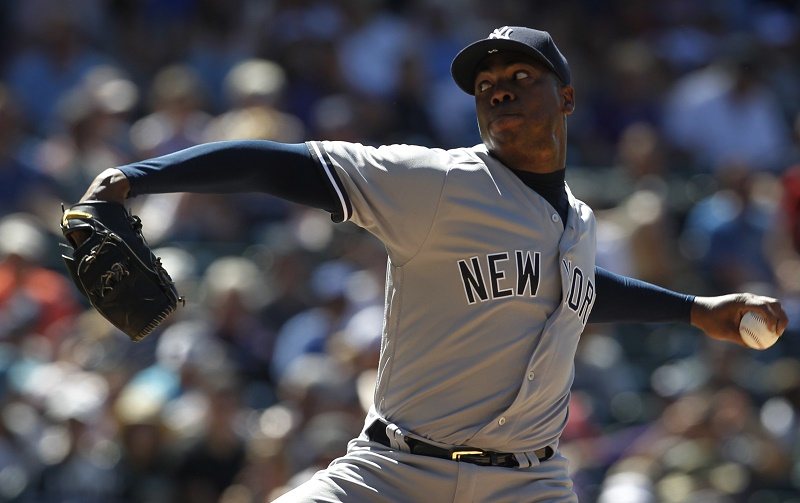 Say what you want about the early-2016 Yankees. (We'll do it for you: They couldn't hit or drive in runs, while starters not named Tanaka couldn't throw five quality innings.) What that group could do was trim the game to six innings with a lead. At that point, batters would face Dellin Betances followed by Andrew Miller and Aroldis Chapman. The formula worked so well it was scary. Unfortunately, the Yankees didn't have enough leads (see above). Signing a shutdown closer like Chapman or Jansen would make the pen a big strength moving forward. It only costs money (i.e., not even a draft pick) in Chapman's case.
3. Sign or trade for an impact starter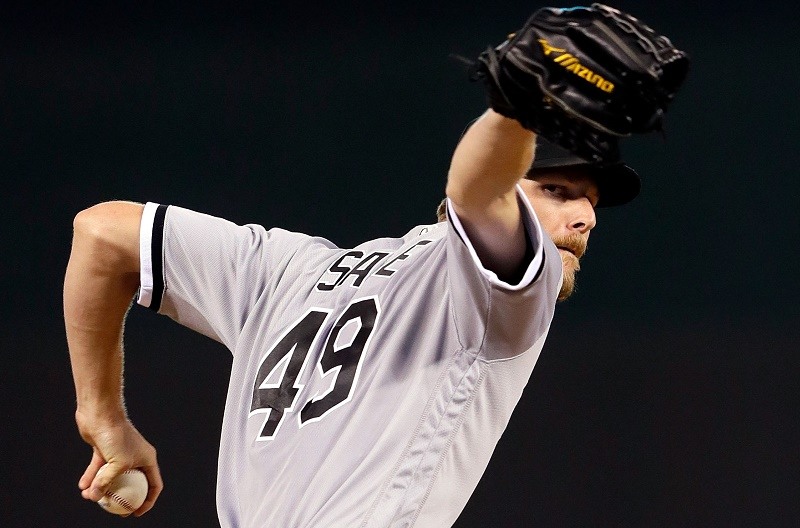 In his press conference at the conclusion of the regular season, Brian Cashman cautioned against the urge to take the revamped farm system and start dealing prospects to fill short-term needs. "You have to be one piece away," he said, "and I would not recommend that type of decision as we approach the 2017 season. I think that would be dangerous." Most fans taking a rebuild seriously would second this motion.
However, always take what a GM says with a grain of salt. If Cashman makes other deals and ends up with expendable prospects or position players, maybe trading for someone like Chris Sale or Jose Quintana becomes realistic. Otherwise, the free agent market for pitchers is not deep but starts with Rich Hill, a run-preventing lefty. A three-year deal would be very appealing for New York if scouts agree Hill is a solid short-term answer for the rotation.
4. Make Severino a reliever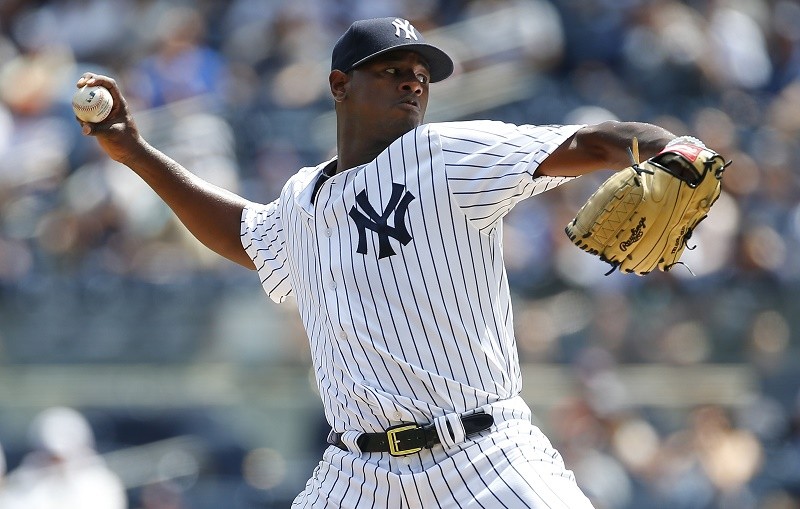 This one is free. No prospects would exit the system and it wouldn't cost the Yankees a dollar if management decided Severino would be a reliever starting in Spring Training. With a top-shelf closer, Betances as the setup man, and Severino pitching in the sixth or seventh innings (or both), New York could convert nearly every lead after five innings into a win. There are few MLB teams that could make such progress with a few corresponding moves. But the Yankees could do it now.
You can argue it devalues the long-term investment in Severino, ignores his potential, and forces you to keep looking for an elite arm. That may end up being true, but Yankees fans heard the same thing about another young pitcher with a devastating fastball-slider combination: Joba Chamberlain. We're not saying the same fate would befall Severino; we're just noting something from recent history. If Severino enters Spring Training with a viable third pitch, by all means start him. Otherwise, put him in the pen, where he posted the nastiest numbers imaginable late in 2016.
[Update 11/22/16: This article was updated to reflect the Brian McCann trade, which occurred three days after its original publication.]
Connect with Eric on Twitter @EricSchaalNY
Stats courtesy of Fangraphs and Baseball-Reference.com.