How Old is Drew Brees, and How Much is He Making as the Saints Quarterback in 2018?
Ever since arriving in the Big Easy in 2006, Drew Brees has been at the helm of the New Orleans Saints' offense. And this season, he's leading one of the most impressive teams in the league. Here's just a little bit of background on the well-known black-and-gold clad play-caller.
Is Drew Brees the oldest quarterback in the NFL?
No, but he's pretty darn close. At 39-years-old, Brees is the second-oldest quarterback currently playing in the National Football League. (Tom Brady is the oldest QB at 41 years of age.) After this birthday this January, he'll join a coveted list of pros who have played into their 40s. Only 20 quarterbacks before him, including Brady, have made that list.
Brees is, however, the oldest player on his team. Only a handful of players on the Saints roster are 30 years old or older.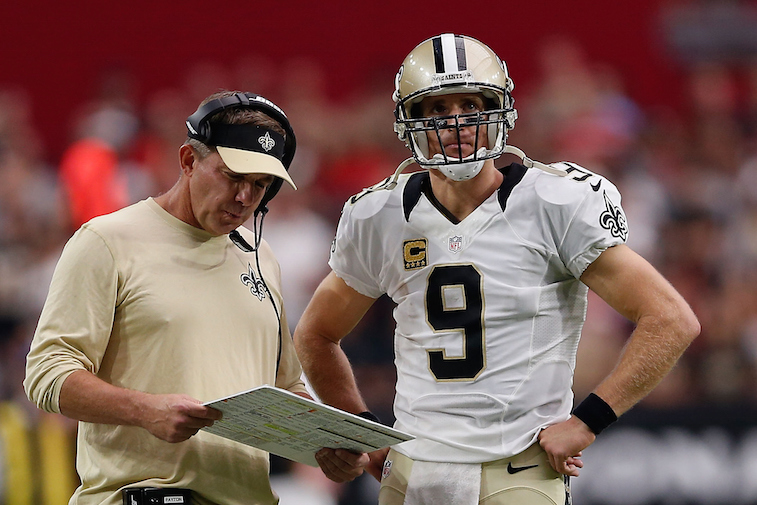 How much is Drew Brees getting paid this season?
Back in March of 2018, Brees and the Saints agreed to a two-year contract extension worth $50 million. According to Spotrac, No. 9 is earning a base salary of $10,200,000, a signing bonus of $13,500,000, and a roster bonus of $3,300,000 for the 2018 season. His earnings, which make him one of the highest-paid QBs in the league, carries a cap hit of $24,000,000 and a dead cap value of $45,000,000.
The monster deal is a far cry from what Brees made when he joined the league. As a rookie QB on the then-San Diego Chargers, the Austin, Texas native signed a four-year deal worth $3.6 million.
To top it all off, that $50 million is what he gets just for playing football! Forbes reports Brees makes an estimated $13 million from endorsements, having deals with Nike, Wrangler, and Verizon — just to name a few. Mixed with his new contract, Brees ranks 16th on the list of highest-paid athletes in the whole world.