How Old Is Suns Star Deandre Ayton?
The Phoenix Suns have become one of the best teams in the NBA. They went from not making the playoffs for 10 consecutive seasons to claiming the second-best record in the Western Conference in 2020-21 and reaching the NBA finals. A significant reason they have become as good as they are, though, is because of the play of Deandre Ayton.
Ayton has become a dangerous scoring threat in the post and an excellent rebounder, which has given Suns fans plenty to look forward to in terms of the team's future.
So, how old is Deandre Ayton and how does his age compare to the Suns' other stars?
What is Deandre Ayton's age?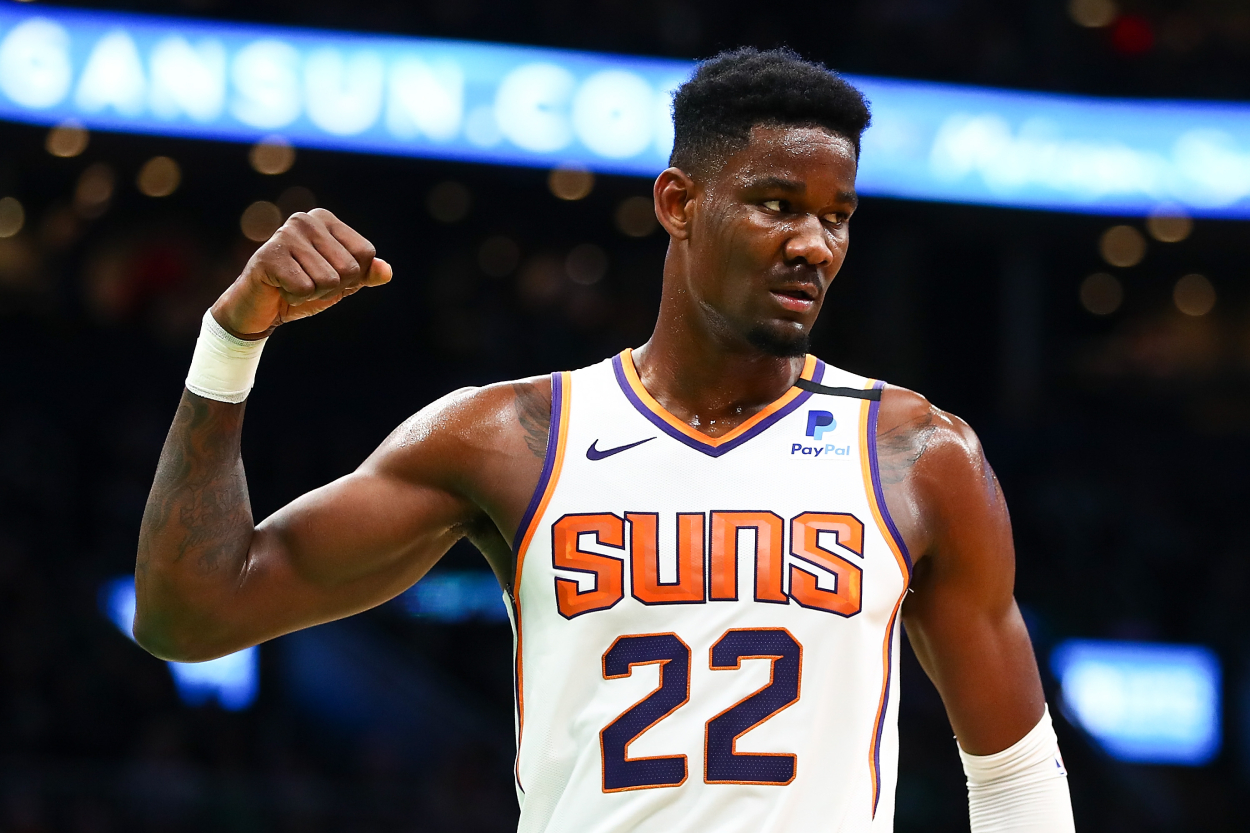 Prior to entering the NBA, Ayton was one of the best players in the country at Arizona. He averaged 20.1 points per game, 11.6 rebounds, and 1.9 blocks, which earned him Consensus All-American honors in 2017-18. He was also the Pac-12 Player of the Year that season.
Ayton's play then led to him staying in Arizona, where he also went to high school, as the Suns selected him with the No. 1 pick in the 2018 NBA draft. At the time he was drafted, Ayton was only 19 years old. His birthday is July 23, 1998.
So, Ayton played the 2020-21 regular season at 22 years old, and he turns 23 the day after what could be Game 7 of the 2021 NBA finals if the series lasts that long.
He has become a talented big man for the Suns
Ayton has certainly lived up to that No. 1 overall selection so far throughout his NBA career. He averaged 16.3 points and 10.3 rebounds in his rookie season, which earned him All-Rookie honors.
He then missed time in 2019-20, as ankle injuries limited him to only 38 games, but he was excellent when he was on the court, averaging 18.2 points and 11.5 rebounds.
However, in 2020-21, Ayton was a big part of the Suns becoming one of the best teams in the league. Phoenix went from going 19-63 in Ayton's rookie season, and 34-39 in 2019-20, to 51-21 in 2020-21. His numbers went down a bit in 2020-21, as he averaged 14.4 points and 10.5 rebounds during the regular season, but Ayton shot a career-high 62.6% from the field. He also had a career-high 0.9 box plus/minus, which ranked in the top half of the league.
Ayton, though, was ultimately even better for the Suns during their postseason run to the NBA finals. He averaged 16.2 points per game through the first three rounds to go with 11.8 rebounds, and he shot 70.6% from the field. Ayton additionally had a 3.2 box plus/minus during those postseason rounds, and scored the game-winning dunk in Game 2 of the Western Conference finals.
Despite only being 22 years old, Deandre Ayton has proven to be one of the best NBA players under the age of 25, which is also a trend the Suns seem to be following.
Deandre Ayton is a part of the Suns' youth movement
Ayton is not the only big-time Suns star who is 27 years old or younger. Other than future Hall of Fame point guard Chris Paul and forward Jae Crowder, the rest of the Suns' core players are pretty young.
Here's a look at Phoenix's top young players, their ages, and their 2020-21 stats:
Devin Booker, 24 years old: 25.6 points, 4.3 assists, and 4.2 rebounds
Deandre Ayton, 22 years old: 14.4 points and 10.5 rebounds
Mikal Bridges, 24 years old: 13.5 points and 4.3 rebounds
Cameron Johnson, 25 years old: 9.6 points and 3.3 rebounds
Dario Saric, 27 years old: 8.7 points and 3.8 rebounds
Cameron Payne, 26 years old: 8.4 points and 3.6 assists
Of all the players listed above, only Payne isn't under contract with Phoenix through next season. If the Suns can keep that core together, they have a chance to compete for NBA titles for years to come.
Deandre Ayton has become a top big man in the NBA. He has a chance to dominate in Phoenix for a long time.
Pro stats and ages courtesy of Basketball Reference; College stats courtesy of Sports Reference