How Should Jameis Winston Be Remembered in Tampa Bay?
The Jameis Winston era has officially ended in Tampa Bay. Winston, the former Heisman Trophy winner and No. 1 overall pick, bid farewell to the Buccaneers in a tweet Saturday. Winston was with the Buccaneers since 2015 and flashed across those five seasons, but leaves Raymond James Stadium with a complicated legacy.
How should Jameis Winston's time with the Tampa Bay Buccaneers be remembered? We have an idea.
Jameis Winston's career in Tampa Bay had its up and downs
Jameis Winston finished his Buccaneers career with 19,737 passing yards and 121 touchdowns in five seasons. That's the good part. Unfortunately for Winston and the Buccaneers, he threw 88 interceptions in 72 games, including 30 times last season. Winston has 11 career games with at least three interceptions. For comparison, new Buccaneers quarterback Tom Brady only has eight such games in 20 seasons and none since 2011.
It is impossible to discuss Winston's time in Tampa Bay, however, without mentioning the various controversies, he found himself in away from the field. Winston served a suspension to start the 2018 season because of his behavior toward a female Uber driver.
When talking with children earlier in his career, Winston said women should be "silent." The same immaturity problems Winston had at Florida State followed him to the NFL.
What is Winston's legacy with the Tampa Bay Buccaneers?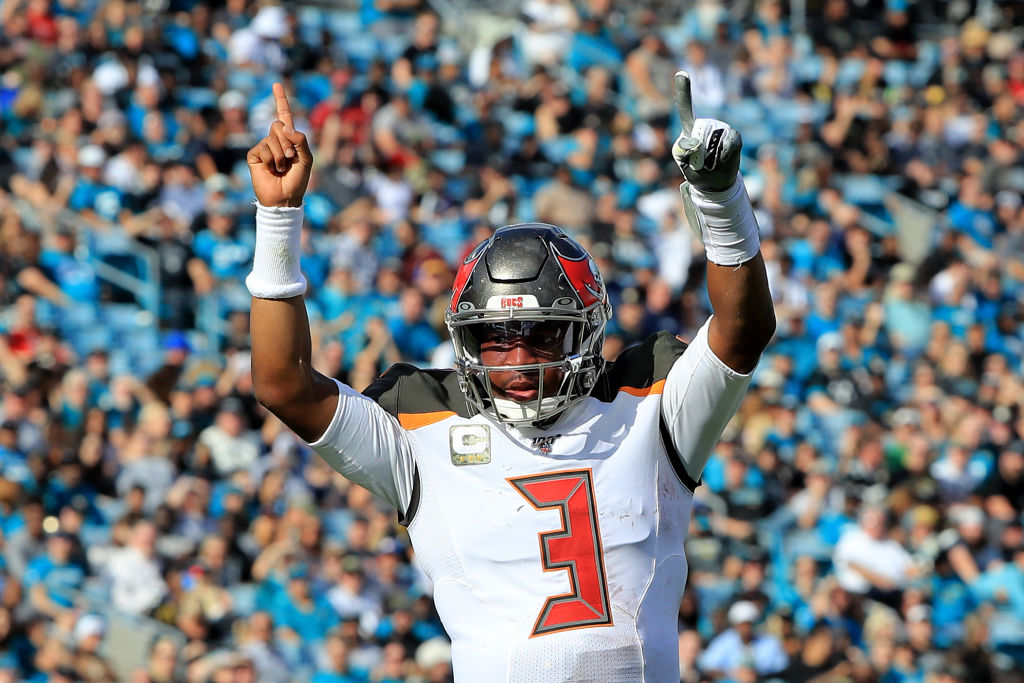 That Jameis Winston played all five years of his rookie contract and didn't earn a second contract, in theory, should put him into bust territory. But that idea is complicated by two things; the first being Winston was replaced by Tom Brady, who is arguably the greatest quarterback of all-time and is a first-ballot Hall of Famer.
The teams that didn't consider Brady were ones with young quarterbacks they'd just drafted, quarterbacks locked into long-term deals or on the verge of earning new ones, or teams who already had an older quarterback like Aaron Rodgers.
The second thing is Winston played better than the typical "bust" quarterback. Even with Winston's turnover-prone play, he still resembled a franchise quarterback at times in his career. That's not to excuse Winston's 88 interceptions in five seasons. Still, it is unfair to put Winston in the same category as JaMarcus Russell or Ryan Leaf, quarterbacks who clearly established themselves as busts.
Jameis Winston's extremely high amount of interceptions and lack of playoff success make this comparison a stretch, but there are similarities between him and Mark Sanchez. Both were top-5 picks who resembled franchise quarterbacks in spurts and played the entirety of their rookie contracts, although Sanchez missed his fifth and final season with the Jets because of an injury.
When the time came, their teams moved on because they already had another option in place: Brady with the Buccaneers and former second-round pick Geno Smith with the Jets. Sanchez, of course, avoids "bust" status because he won four playoff games and developed into an effective game-manager.
What team should sign Winston for 2020?
Almost all of the teams looking for starting quarterbacks have decided on veterans (Brady, Philip Rivers and Teddy Bridgewater) or will add one in the NFL draft. Jameis Winston's best option is likely signing with a "prove-it" deal team where he could either be the heir apparent to an older quarterback, like Ben Roethlisberger, or wait in the wings for a possible injury while rebuilding his value and reputation.
The New England Patriots are reportedly unlikely to pursue Winston as Brady's replacement. Had Chicago not traded for Jacksonville's Nick Foles, the Bears would have made for an intriguing option. While Arizona has former No. 1 overall pick Kyler Murray firmly entrenched as the long-term option at quarterback, Jameis Winston could benefit from a year working with head coach Kliff Kingsbury.