How Stephen Curry Made History in the 2015 NBA Playoffs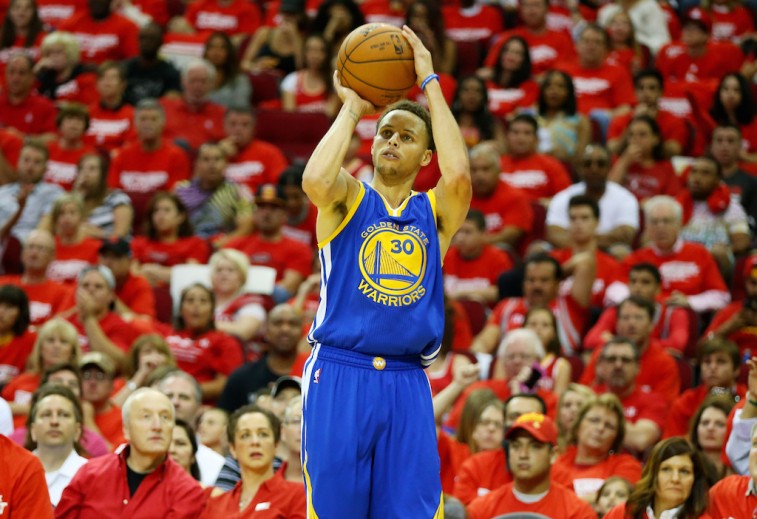 Heading into Monday night's Game 4 of the Western Conference Finals, the Houston Rockets appear to be on their last leg. Not only is this group down 3-0 to the No. 1-seeded Golden State Warriors, but they are getting thoroughly outplayed in almost every facet of the game. Golden State is putting up 108 points per game, while the Rockets have only averaged 94.7 a contest. The Warriors have been more offensively efficient, more dominant on the glass, and have done a better job of sharing the rock. But if we're being completely honest, the Warriors have something even more important going for them; or rather, someone.
These 2015 NBA Playoffs have belonged to Stephen Curry. The league's MVP has carried his incredible regular-season play into the postseason. After 13 playoff games so far, Curry is averaging 29.9 points, 5 rebounds, and 6.6 assists per game. He's shooting 47.5% from the field and knocking down 44.8% of his triples. And against the Rockets, the Baby-Faced Assassin has only increased his productivity.
Through the first three games in the conference finals, Curry has hit 61.3% of his shots and has made 58.1% of his three-pointers. His unbelievable series — and postseason — was on full display during Saturday evening's Game 3 blowout. The Warriors humiliated the Rockets on their home floor by a score of 115-80, and Curry unleashed his own form of individual domination. He dropped 40 points on 12-19 shooting and connected on 7 for 9 three-point shots. He was unconscious from the outside and Houston was powerless to stop him.
In fact, while we've mentioned that this postseason has been dominated by Golden State's crafty point guard, we may have left out one tiny detail. The 2015 Playoffs have been more than just grand for the Warriors' No. 30, they've also been historic.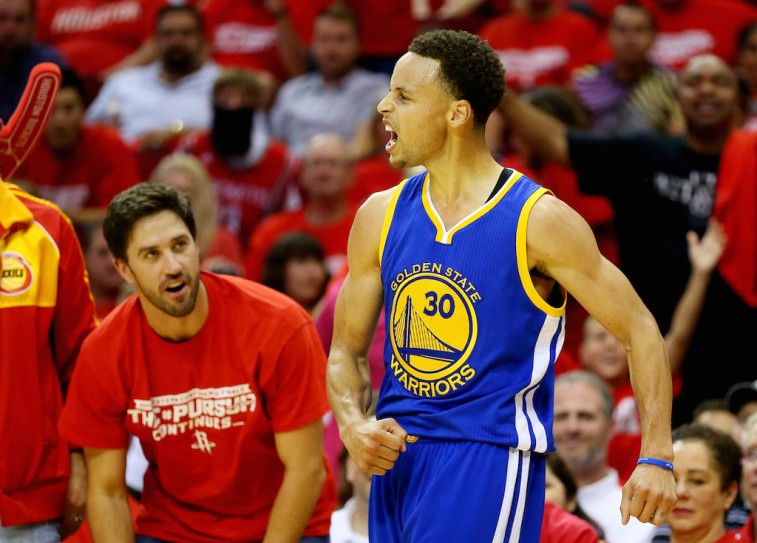 There aren't many players in the NBA who, when they release a shot, you automatically think it's going in. Chef Curry is part of that exclusive group. His stroke is so clean and so quick, that you can't give him any room. With just the slightest misstep by an opponent, Steph will step back and drill it in their face. Another past NBA great who had the same mentality was Reggie Miller. In the 2000 NBA playoffs, Miller set a record for the most three-pointers made in a single postseason, with 58. Unfortunately for the Hall of Famer, that mark was officially broken this postseason – by Curry.
That's how impressive this guy's been since the playoffs began. He's eclipsing some of the game's greatest shooters, and yet, there's more to it. Miller set this record in 22 games. For good measure, Curry decided he would topple the mark in 13 contests. In fact, heading into Monday's Game 4, Curry has connected on 64 shots from down town. Given the fact that his postseason run seems far from over, we won't be surprised if his overall numbers shift a bit. Still, if Curry keeps this up, there's no telling how many triples he'll end up hitting before these playoffs are complete.
There are some players in sports who do such incredible things that they continuously leave you in awe. Then there are some athletes who do these things on such a regular basis that, while you're still amazed, you're not that surprised. Stephen Curry is one of those people. With his fancy dribbling, incredible court vision, and unguardable shooting, he has turned the 2015 NBA Playoffs into his own personal playground. The Houston Rockets can try to stop Curry all they want, but, if history has shown us anything, that's not likely to happen anytime soon.
All statistics are courtesy of Basketball-Reference.com, NBA.com, and ESPN.go.com.