How Stephon Marbury Hit Rock Bottom During His 24-Hour Livestream: 'I Wanted to Die'
Former NBA player Stephon Marbury was ahead of the curve in all the wrong ways. In 2009, livestreaming was a novelty. The constant wave of video content produced and released directly by athletes didn't quite exist yet. Instagram wouldn't exist until the following year.
As the struggling New York Knicks point guard stared down the end of his career, he started up a livestream. It turned into a 24-hour marathon, variously entertaining and scaring his fans. This was the new frontier of the personal becoming public, and all eyes in the NBA world were on Marbury. This is the real story of what happened on that day.
Stephon Marbury's worrying 24-hour livestream
RELATED: What Happened to Former NBA Star Yao Ming?
The clip above encapsulates the manic vibe of Marbury's stream. He's charismatic, funny, clearly angling for a reaction. Yet, knowing it's part of a marathon, impromptu stream filled with sometimes incoherent ranting, it takes on a different character. It's hard not to crack a smile as Marbury shares an anecdote about a home remedy for sore throats, then swallows a hefty dab of Vaseline to give it go.
That harmless, goofy feeling is what Marbury himself focused on for years after the stream. Fans connected the dots on their own, reports the LA Times, thinking of his collapse with the Knicks, the recent death of his father, the unmoored feeling of washing out of the NBA. Marbury kept his lips sealed. When asked, he wrote it off as one long, goofy night.
The real story behind Marbury's public breakdown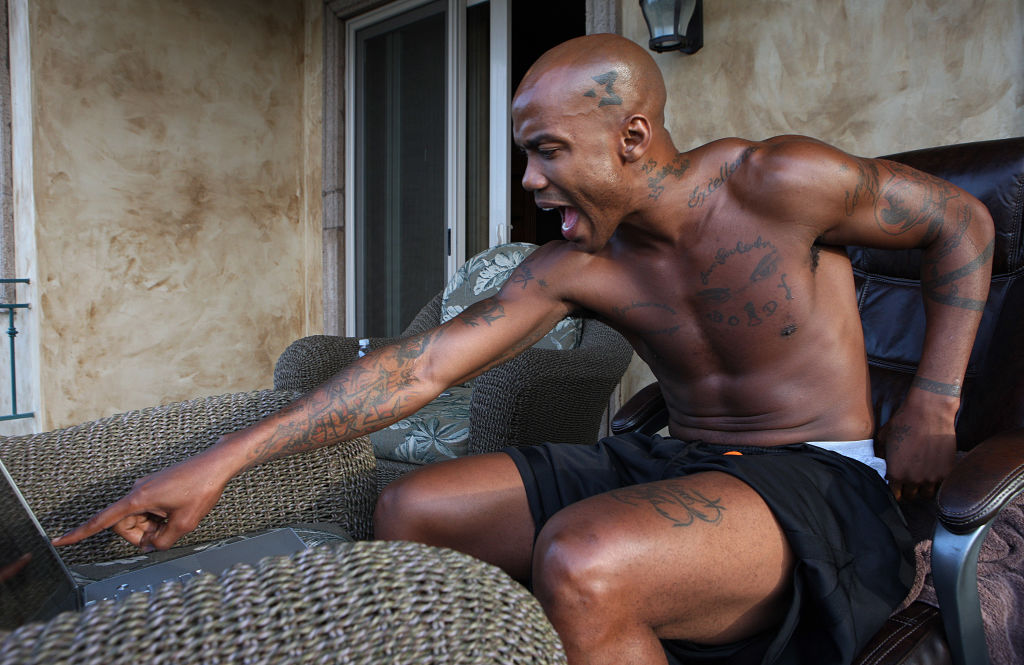 Eventually, Marbury became more comfortable talking about that 2009 breakdown, reports Sports Illustrated. In 2015, Marbury finally opened up with HBO Sports, confirming the above assumptions and then some. "When everything went on with the Knicks, and, you know, my father passed on, the [Starbury] brand was– it was basically losing life slowly," he said on HBO's Real Sports.
"I wanted to die," he continued. "I wanted to kill myself some days. I did. … It wasn't about basketball. It started to become about me. Because I was that depressed, and I was that sick." He spiraled into mental distress, both from outside pressures, personal demons, and the anxious prospect of not knowing where his future would go.
Said future panned out well. Better than almost anyone would've assumed. Marbury got a second shot at being a star, went for it, and achieved it.
Marbury after the Knicks: International stardom
RELATED: Dwyane Wade Left Jordan and Signed a Lifetime Shoe Deal With a Chinese Company
Marbury's fraught NBA career ended on his own terms. After agreeing to a buyout with the Knicks, he plied his services to the Boston Celtics. They offered him a one year contract, reports the New York Post, but he declined, saying he preferred to focus on his business interests. Now, we know he was also addressing his mental well-being during this time.
Somehow, between then and now, his basketball prowess earned Marbury a statue in his honor. He joined the Chinese Basketball Association and flourished. The strongest part of his run, with the Beijing Ducks from 2011 to 2017, led to three CBA Championship titles.
He played into his early 40s. Now, he still works in China, as a coach for the Beijing Royal Fighters. His deep connection to China also allowed him to give back to the NBA back in the United States.
How Marbury became an early COVID-19 whistleblower
He was much closer to the initial breakout of COVID-19 in China during the early months of 2020. Once the disease spread outward, becoming an international pandemic, he wrote a letter of warning to NBA Commissioner Adam Silver. Silver took him seriously and replied that he would take swift action to protect both fans and players from the coming pandemic.
This was likely part of why the NBA took the earliest and most drastic action of any league in American sports. But Marbury didn't stop with just words. He witnessed the Chinese response to the pandemic, and decided to apply that knowledge stateside.
He immediately leveraged business connections and his own resources in China to work out a deal to send 10 million masks to New York City. Despite his struggles with the Knicks, their "once a Knick, always a Knick" mindset made their fans some of his biggest contemporary stateside supporters. Clearly, that didn't escape Marbury's notice, and he paid it forward.