How Super Bowl Champ Ed McCaffrey Raised 4 Elite Football Players Including Christian
NFL fans know Christian McCaffrey as one of the best running backs in the league today. But what some people don't know is that he's not the first member of his family to play pro football. His father, Ed McCaffrey, had a long NFL career, and Christian isn't the only one of Ed's sons who plays football.
The elder McCaffrey has four sons who play the sport — and two made it to the NFL. Here's some background info on Ed that may help you understand how Christian got to be so good.
The McCaffrey family's sports background
Athleticism runs in the McCaffrey family. In addition to Ed being a Super Bowl-winning wide receiver, Christian's mother Lisa played soccer at Stanford, and his maternal grandfather Dave Sime was an Olympic track star; Sime won a silver medal in the 100-meter dash at the 1960 Summer Olympics in Rome.
But the sports background doesn't end there, as Christian's uncle Billy McCaffrey played college basketball for both Duke and Vanderbilt. Then there's Christian's brothers. Older brother Max spent two seasons in the NFL as a wide receiver for the Jaguars and 49ers in 2017 and 2018, respectively.
And younger brothers Dylan and Luke are college football quarterbacks at Michigan and Nebraska, respectively. And, of course, the Panthers just made Christian the highest-paid running back in the league.'=
Ed McCaffrey's NFL career and beyond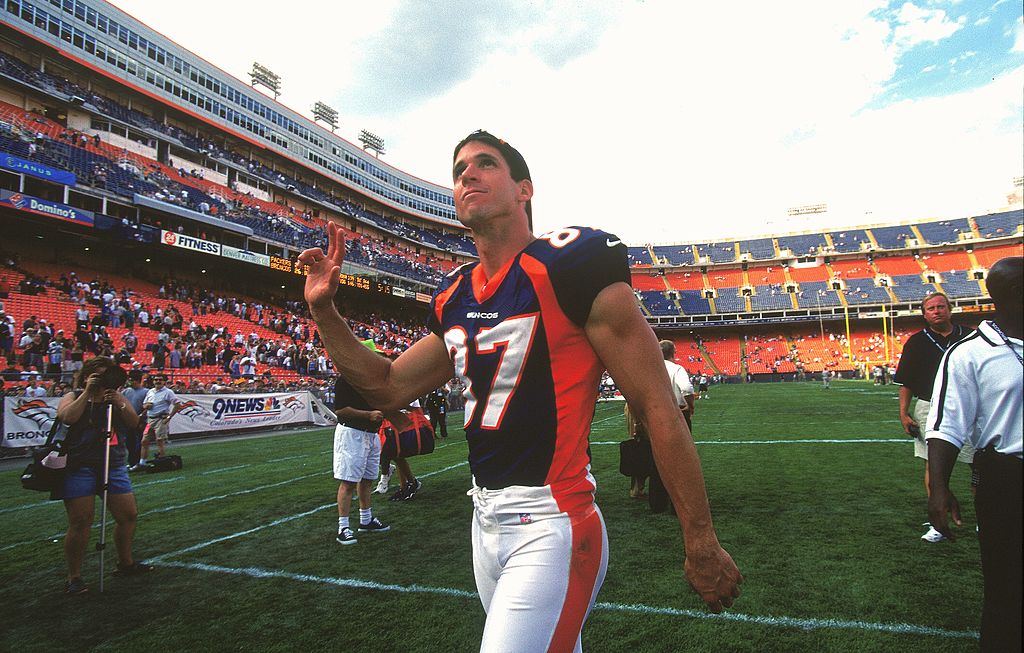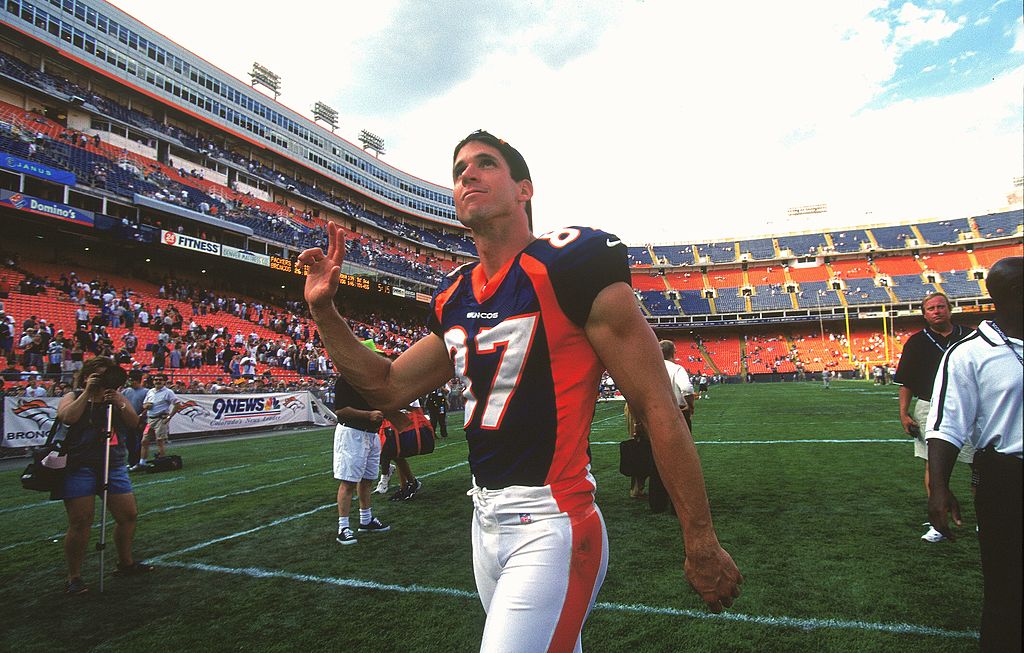 After Ed played four years at Stanford, the Giants selected him in the third round of the 1991 NFL draft. He went on to have a 13-year professional career, spending his first three seasons with the Giants before going to the Giants for the 1994 season.
In 1995, Ed joined the Broncos and enjoyed the biggest success of his career. He spent nine seasons in Denver until he retired following the 2003 season.  The wide receiver amassed 7,422 career receiving yards on 565 receptions, 55 resulting in him scoring a touchdown. Ed made the Pro Bowl in 1988, and he finished 10th in the league with 1,317 receiving yards and 82.3 receiving yards per game in 2000.
The patriarch of the McCaffrey clan has three Super Bowl rings, having been part of the 49ers' title-winning squad in the '94 season and the Broncos back-to-back championship runs in the '97 and '98 campaigns. Ed retired in February 2004 after having a disappointing 2003 season that was hampered by injuries.
Ed remained in football after ending his playing career through running football camps and, more recently, coaching. Valor Christian High School in Colorado named him its head coach in February 2018. As Yahoo! Sports reported, he left to take the same post at the University of Northern Colorado in December 2019.'
Christian McCaffrey and Max McCaffrey in the NFL
Max had a short and nondescript NFL career, appearing in six games — without a start — in his two seasons in the league. He had just one target in a regular-season game, which he caught for four yards. Christian's career has been anything but nondescript.
The now-23-year-old only started in 10 games for the Panthers in his rookie season in 2017, totaling nearly 1,100 yards from scrimmage. Christian broke out when he became the full-time starter the following year. He ran the ball 219 times for 1,098 yards and seven touchdowns, adding another 867 receiving yards and six scores on 107 catches.
Christian made his first Pro Bowl last season when he ran for 1,387 yards and 15 touchdowns on 287 carries, along with 116 receptions for 1,005 yards and four touchdowns through the air. His 403 touches, 2,392 yards from scrimmage, and 19 touchdowns were league highs in 2019.