How Tall Is Antonio Brown?
Antonio Brown has had a remarkable career. He's in his 12th season in the NFL and still performs at a very high level. Even after Brown's knee surgery this past offseason, Tampa Bay Buccaneers head coach Bruce Arians said the wide receiver is as fast as he was three to four years ago. And four years ago, he led the league in receiving yards.
Here are some stats on Antonio Brown, including his height.
Antonio Brown: Height, weight, age, 40-yard dash time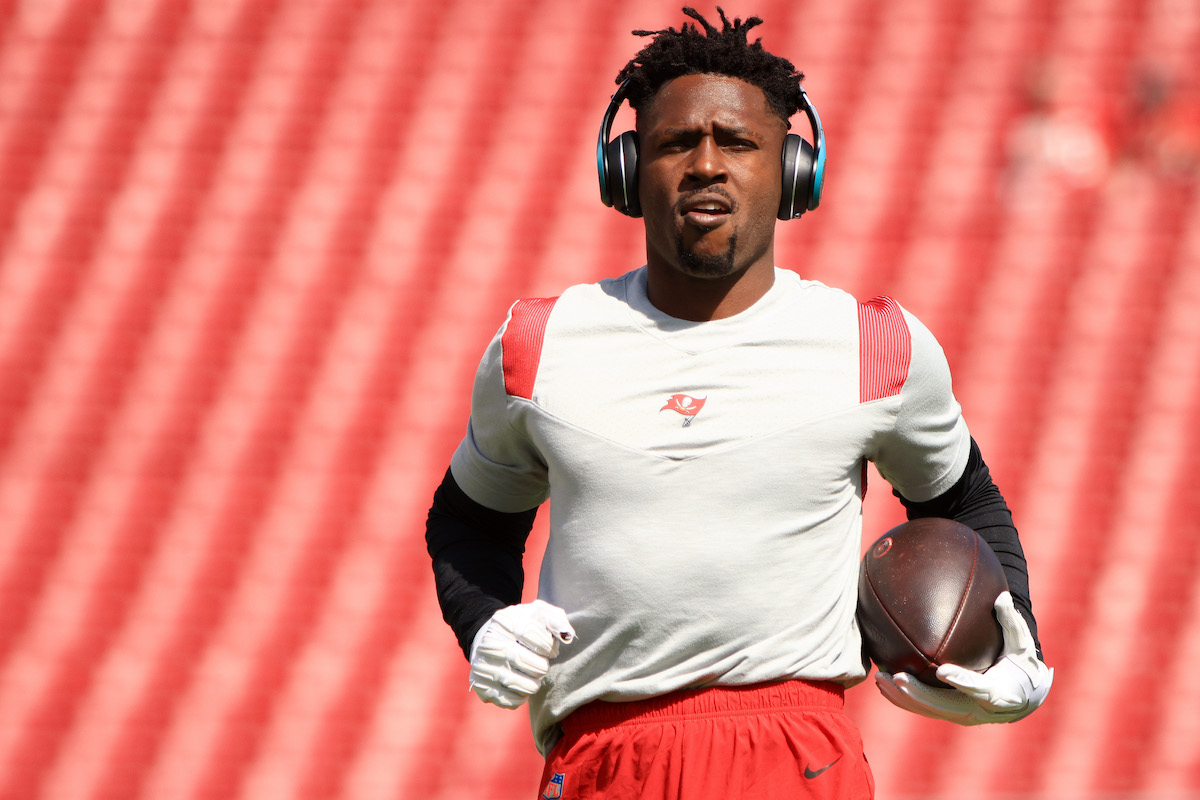 Brown was born in Miami, Florida, on July 10, 1988, making him 33.
He weighs 185 pounds and stands 5 feet 10 inches tall, Britannica reports. The wide receiver also throws left-handed.
His arm length and hand size are 31 inches and 9 inches, respectively.
In the 2010 NFL Combine, he ran a 4.48-second 40-yard dash.
How does he measure up to other NFL wideouts?
According to research by a University of Idaho student, wide receivers stand about 6 feet tall and weigh 200 pounds on average. Though Brown is a couple of inches shy of that average, he is not the shortest wide receiver in the NFL.
Deonte Harris of the New Orleans Saints is 5 feet 6 inches tall. And Rondale Moore, receiver for the Arizona Cardinals, stands 5 feet 7 inches. At the other end of the height spectrum, DK Metcalf of the Seattle Seahawks is 6 feet 3 inches tall. And Buccaneers receiver Mike Evans is 6 feet 4 inches tall.
As for weight, Brown is among the lighter WRs in the league. That includes the Seahawks' Tyler Lockett, at 182 pounds, and the Steelers' Diontae Johnson at 183 pounds. Some of the receivers at the other end of that spectrum include Metcalf, who weighs 228 pounds, and Evans, weighing 231 pounds.
So although Antonio Brown is shorter and lighter than many other receivers, he has not let those numbers hinder him. If anything, his weight allows him to be a bit faster.
But let's hope he'll continue to rein in his diva-like behavior after seemingly turning over a new leaf this season. Because even though his height and weight might not hinder him, his behavior could — and has.
Antonio Brown: Career highlights
The Pittsburgh Steelers drafted Brown in 2010. He racked up more receptions than any other wide receiver in the league during his tenure with the Steelers.
In 2019, the team traded him to the Oakland Raiders, which released him soon after, and Brown didn't play any regular-season games.
Then the New England Patriots picked him up but cut him after only one game.
In 2020, he signed as a free agent with the Tampa Bay Buccaneers and helped lead the team to a Super Bowl victory.
According to the NFL, Brown has had 899 receptions for 11,947 yards and 80 touchdowns. And while in Pittsburgh, he even picked up 35 yards passing with one touchdown.
In his rookie season, he had an 89-yard kick return in his first game — also the first play of the game — which resulted in a touchdown.
The following season, he made a career-long reception for 79 yards, also resulting in a touchdown. The Steelers advanced to the Super Bowl in 2010 after Brown caught a game-winning 14-yard pass. Unfortunately, they lost the championship to the Green Bay Packers, 31-25.
RELATED: How Fast Is Antonio Brown?