How Tall Is Boban Marjanovic?
Boban Marjanović is one of the most unique characters in the NBA. Fans take a liking to him due to his size and background. In fact, the Serbian has become something of a Dallas Mavericks star as he reveals more of his personality.
Marjanović has come a long way from where he began his career, and he's still developing his game. Here's his story, including how he grew to his epic height.
Boban Marjanović becomes a fan favorite
It's not that viewers believed Marjanović was a bad NBA player; the center entered the league after an impressive career in Europe. He joined the 2015 All-EuroLeague First Team, earned Super League MVP honors three times in his native Serbia, and won championships in Serbia and Lithuania.
Marjanović did the work to earn a chance in the NBA. But once he debuted in America as a member of the San Antonio Spurs, his comically large body overshadowed his talents. The NBA is filled with players who tower over the rest of us. Even amongst this group, however, Marjanović's frame was astounding.
For a few seasons, the 7-foot-3 player was the tallest in the league — until Tacko Fall was drafted — and pictures of Marjanović holding things in his giant hands became a viral sensation.
The fact that Marjanović was a foreigner also gave him an exciting air of mystery. He seemingly came from out of nowhere to become a cult hero, all while looking like he could be the villain of a Rocky movie.
Marjanović's star got even brighter when he joined the LA Clippers after stints with the Spurs and Detroit Pistons. He parlayed his popularity into a role in John Wick: Chapter 3 – Parabellum, where he had the honor of being killed by Keanu Reeves in a visceral opening scene.
What does Marjanović bring on the court?
All of his goofy photos and cameos in blockbuster franchises shouldn't distract from Marjanović's skills as an NBA player. He's a very efficient scorer with a career effective field-goal percentage is 58%. He has excellent touch around the basket.
The 31-year-old's height makes it almost impossible to guard him in the post. He also has a decent jumper and takes advantage of fouls from the free-throw line. Marjanović is a career 77% shooter from the charity stripe.
On the defensive end, his lack of mobility is an issue, but Marjanović knows how to use his physicality to protect the rim and grab rebounds. Against teams that align more with traditional basketball, Marjanović can be a real asset.
Can Boban Marjanović survive in the modern game?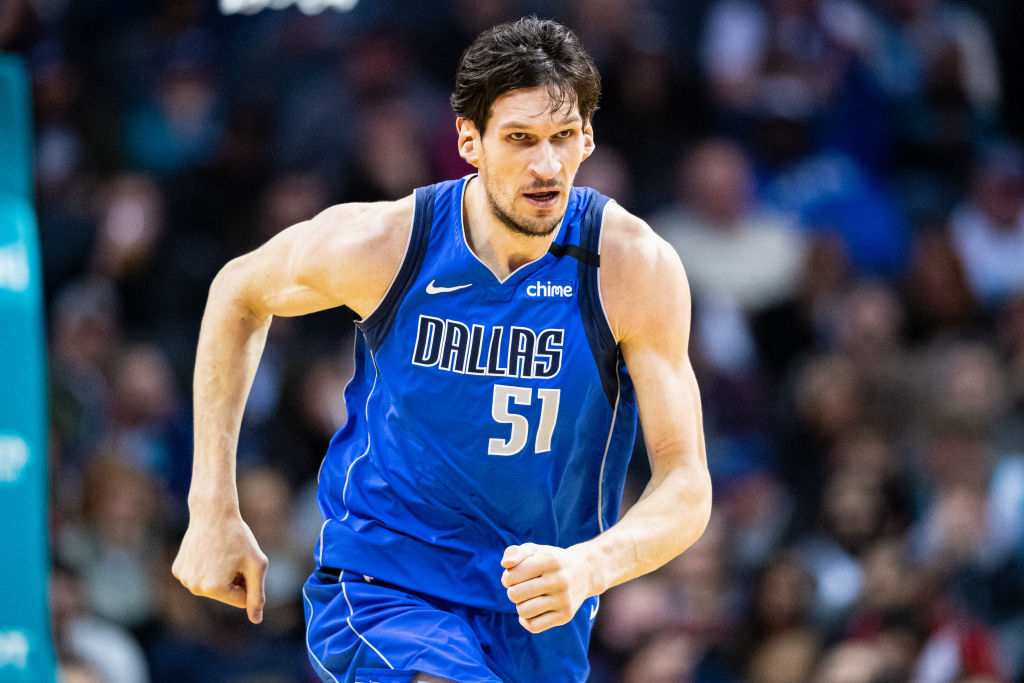 It's impossible to deny that the NBA is moving away from players like Marjanović. The league is getting smaller and faster by the year. The 7-foot-3 center just isn't playable on some teams, like the Houston Rockets. Any offense that prioritizes pace and space will make him look bad quickly.
Marjanović has taken some steps to evolve his game. He's taken nine three-pointers this season and hit three of them. This doesn't sound like a lot, but it's only one off his career-high for a whole season.
Marjanović will always have issues defending in the NBA. But if he can improve his scoring ability enough to align with current analytics, then he can be a useful role player for a few more years.
Time is not in the 31-year-old's favor. But even if Marjanović isn't able to stay in the league much longer, he'll be remembered fondly by basketball fans for a long time.
Follow more updates from Sportscasting on our Facebook page.