How Tall Is Cam Newton, and How Does His Height Compare to Other NFL Quarterbacks?
Cam Newton's NFL future is in its final chapter, if not over entirely. But we should remember that his prime was unlike that of any quarterback in the NFL at that time. Newton has the physical build of a defensive end (he's an inch taller than Myles Garrett), and he used his physical attributes to achieve feats no other player of his generation accomplished with such consistency.
Even as the creativity around offensive playcalling has evolved, Lamar Jackson is the only player whose dual-threat ability compares to the former MVP. Newton knew how to use his size as an advantage, but the careers of many other quarterbacks show that size isn't everything. So, how tall is Cam Newton?
Cam Newton's physique made him a uniquely dominant QB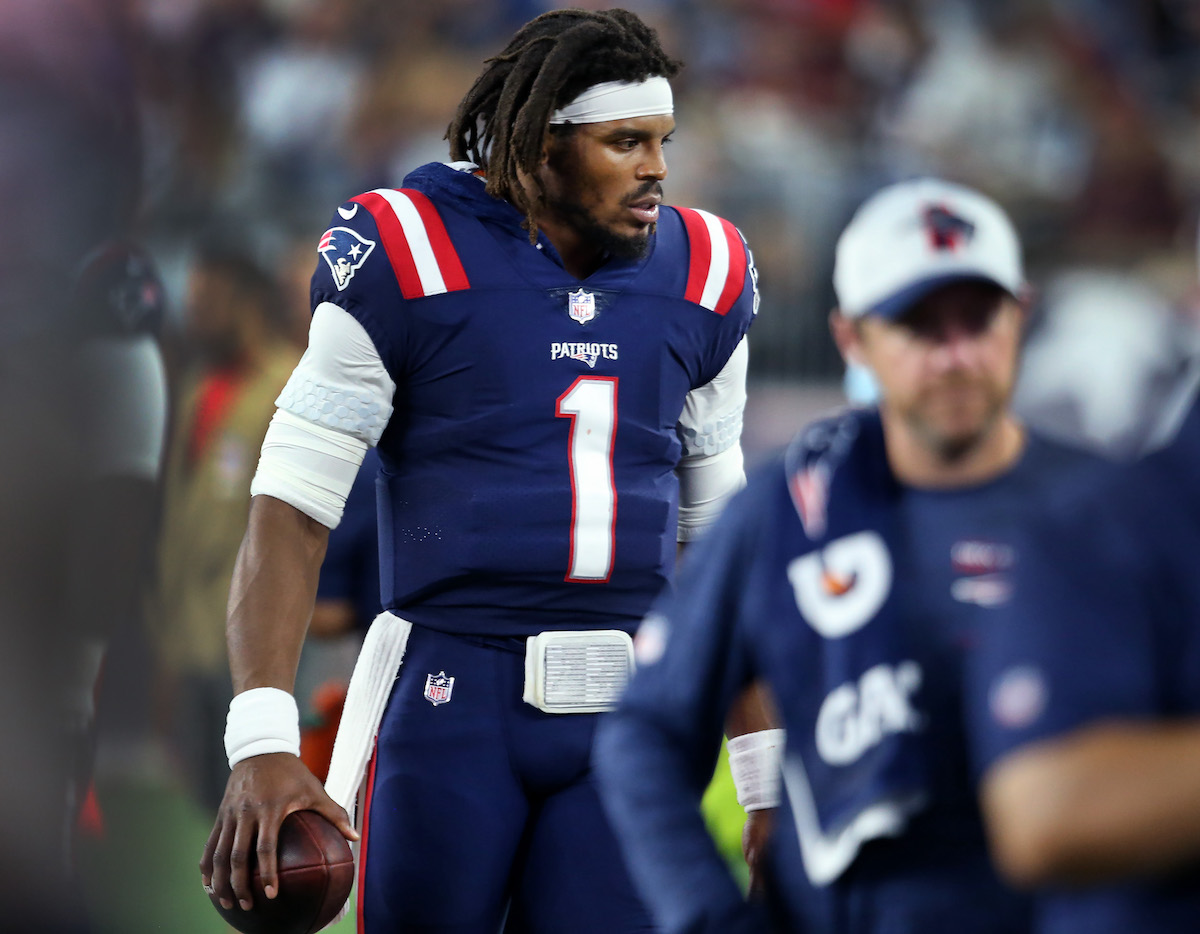 Given that his career might be over, it's important to recognize how incredible Cam Newton was at his peak. 
He saw a gradual build to his career, but he hit the ground running (and passing) during his rookie season. In his first game as a pro, Newton became the first rookie to throw for 400 yards in his first start. His entire debut campaign was historic. These are the records Newton set in 2011:
Most combined touchdowns for a rookie in NFL history (35)
Most combined yards for a rookie in NFL history (4,784)
First rookie to pass for at least 4,000 yards
First and only rookie to pass for more than 4,000 yards and rush for more than 700 yards
At times, coaches and analysts saw Newton's running ability as a problem rather than an effective weapon around which to build an offense. The idea that a quarterback could be the center of a powerful rushing attack startled more conservative coaches and analysts who needed decades to realize that an elite athlete under center could be a positive situation. (It's impossible to have that conversation without acknowledging the impact of racial stereotypes on this issue.)
How tall is Cam Newton?
But he is not built like a typical quarterback in any way. Cam Newton stands 6 feet 5 inches tall, weighs 245 pounds, and was faster than most players attempting to take him down.
In his 10 years in the NFL, he has run for over 10 touchdowns three times and averaged at least five yards a carry seven times. Newton is the only player in NFL history to have 10,000 passing yards and 2,000 rushing yards in his first four seasons and the first to have at least 3,000 passing yards and 500 rushing yards in four consecutive seasons.
The 2015-16 season saw his physical and mental abilities sync up to the fullest. Newton threw and ran for a combined 45 touchdowns, led the Carolina Panthers to the Super Bowl, and was named league MVP. 
He often celebrated his touchdowns like he was Clark Kent revealing he was Superman. For a time, comparing Cam Newton to a superhero from another planet was the only appropriate comparison. 
Will Cam Newton get another chance in the NFL?
Most players don't end their careers the way they want. They exit early as a cautionary tale or as a washed-up player who held on too long and is now the subject of internet memes that belittle an admirable career. Cam Newton is firmly in the latter camp. 
All of those hits came at a price. Newton overcame an incredible number of injuries — he fractured two vertebrae in a 2014 car crash and missed only one game. But his recent seasons signal a significant diminishment of his stardom. He played only two games in 2019, and once the Panthers let Newton go, he surprisingly became the starting QB for the New England Patriots. 
We must consider some extenuating circumstances for his season. Several starters opted out before the season began, and Newton tested positive for COVID-19, which might have affected his play following his return. But the statistics show Newton played the worst football of his career. It was the sort of season that makes it clear retirement is on the horizon, although Newton maintains he isn't ready to leave the field just yet. 
But he hasn't done much to help himself. Despite contracting the coronavirus, Newton wasn't vaccinated in training camp. That might have affected his release from the Patriots before the regular season, though Bill Belichick indicated otherwise. He still thinks he's a starter-level player, but the fact that no one has offered him a job yet speaks volumes. Still, as injuries pile up and coaches get desperate, there's a chance that nostalgia for Newton's best can earn him one last opportunity. 
Can you be too tall to play quarterback?
Cam Newton's height is an asset, but being that tall can hinder other quarterbacks. As explained in a piece by Robert Mays in The Ringer last year, QBs at 6-foot-6 or taller — the Brock Osweilers and Mike Glennons of the world — tend to be mediocre at best. The thinking is that taller players lack the mobility increasingly needed to make it at the game's highest level.
The tallest quarterback in NFL history didn't have much of a career. That Newton was one of the best athletes in the league while pushing the maximum height speaks to his unique gifts and his dedication to turning those tools into an elite skillset. 
The average height for NFL quarterbacks is 6-foot-3, but many have shown success as shorter players. Men's Journal put together a list of the top five quarterbacks under 6 feet, and the fact that two (Russell Wilson and Drew Brees) played or play in the modern era is telling. 
The current NFL is more willing to adjust its game plans to talented signal-callers who don't fit the archetype of what a quarterback looks like. Wilson, Jackson, and Kyler Murray wouldn't have been empowered in the same way if they had come through a few years ago. Even though they have vastly different body types than Cam Newton, his dominance likely made it easier for the smaller dynamos to become stars. 
RELATED: Cam Newton's Desperate Reversal Won't Save His Slim NFL Comeback Chances