How Tall Is Dale Earnhardt Jr., and How Does His Height Compare to Other NASCAR Drivers?
With an admirable NASCAR run, Dale Earnhardt Jr. lived up to his father's legacy. He cut a unique, successful path through the field before wrapping up his full-time career in 2017. The 15-time Most Popular Driver Award winner often towered over the competition, figuratively and literally, as evidenced by post-race appearances alongside other drivers. So, how tall is Dale Earnhardt Jr.?
The stature of Dale Jr.'s career casts a long shadow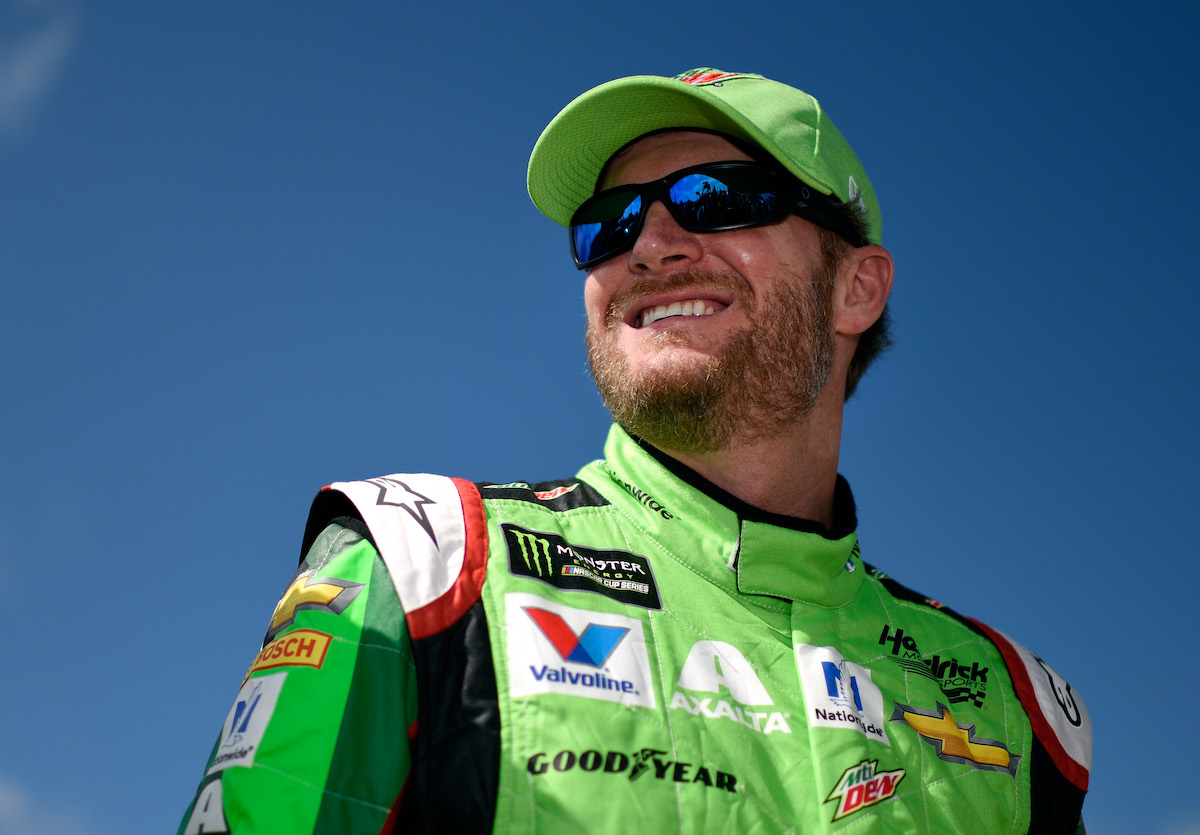 Earnhardt's name was familiar to NASCAR teams and executives through his father. But there's no room for pure nepotism in a sport that requires consistent success and millisecond-quick reactions. According to Sporting News, Earnhardt had to earn his career by competing in the Busch Series (now known as the Xfinity Series) in 1998.
He won his first title that year. Of 31 races, he made the top five an incredible 16 times. He wasn't just the Intimidator's kid, but an emerging NASCAR talent in his own right. 
The winning continued as Earnhardt climbed to the biggest stages of his profession.
His crowning achievement was winning the notoriously demanding Daytona 500 twice in two phases of his career. The first was in 2004, only three years after his father's death in the same race. 
Then, knowing his career was winding down, he achieved the rare feat of a repeat win with a challenging endurance run 10 years later.
How tall is Dale Earnhardt Jr.? And did his height put him at a disadvantage in NASCAR?
One curious thing that sticks out when watching races from Dale Earnhardt Jr.'s era is his height. He usually appears to tower over his competition. According to USA Today, Earnhardt is 6 feet tall. So one might question whether his size could hurt his competitiveness in the field. After all, when a tenth of a second is the difference between first and second place, wouldn't something like the size of the driver matter?
Building Speed took a deep dive into this myth. The site looked at drivers throughout NASCAR history to see if any discernible pattern showed an advantage for smaller drivers. Nothing definitive emerged. Because horseracing places weight limits on jockeys, one might think the same for NASCAR and its drivers. But in the world of stock car racing, a driver's height and weight aren't as important as talent and fast reaction times.
Still, the sport hasn't seen many enormous drivers. The tallest — Hall of Famer Buddy Baker — stood 6-foot-6. That's tall for a NASCAR driver and the average person, but it's normal for, say, an NBA player.
So being tall in NASCAR isn't necessarily a drawback — it just isn't a factor the way it is in some other sports.
How does Earnhardt's height compare to other NASCAR drivers?
Now that Earnhardt is retired from full-time racing, has the average NASCAR driver height dropped? Many of the biggest names still stand just above the average driver's height, which was two-tenths under 5-foot-10 in 2015, per Building Speed. And with Danica Patrick (5-foot-2) and Jeff Gordon (5-foot-8) retired, many of the remaining boldface names are about average in stature.
For instance, Kevin Harvick and Brad Keselowski, at 5-foot-10, would've helped Earnhardt look tall on television. On the other hand, Kyle Busch is at the higher end, at 6-foot-1. The same is true for the 6-foot-2 Joey Logano.
In racing terms, though, these figures don't matter much, so none of today's drivers should be concerned about compensating for being too large or too small for a racer.
RELATED: Dale Earnhardt Jr. Admits Hitting Fellow NASCAR Driver 3 Times in Anger Wasn't Enough: 'I Wanted to Hit Him Again'