How Tall Is Emmitt Smith, and How Does His Height Compare to Other NFL Running Backs?
Among all of the talented football players who have come and gone, Emmitt Smith is one of the greatest running backs in NFL history. During his 13-year career with the Dallas Cowboys, he broke several NFL records — many still stand today. However, Smith's height is somewhat diminutive compared to some of his football counterparts. Let's take a look at his stats and how he stacks up against other running backs past and present.
Emmitt Smith's NFL career
Smith was no stranger to breaking records even before he entered the NFL. He grew up in Pensacola, Florida, and became the second-leading rusher in high school football history while playing for Escambia High School.
The running back played three years for the Florida Gators, where he, again, set numerous school rushing records. After being named a unanimous All-American in 1989, Smith did not play his senior year and instead chose to play professionally.
As the all-time leading rusher in NFL history, reports Pro Football Reference, Smith retired after the 2004 season with 18,355 yards rushing. He also holds the record for the most rushing touchdowns in a career at 164. During his NFL career, he only failed to start in two games. The eight-time Pro Bowl selection entered the Pro Football Hall of Fame in 2010.
Smith wasn't your average running back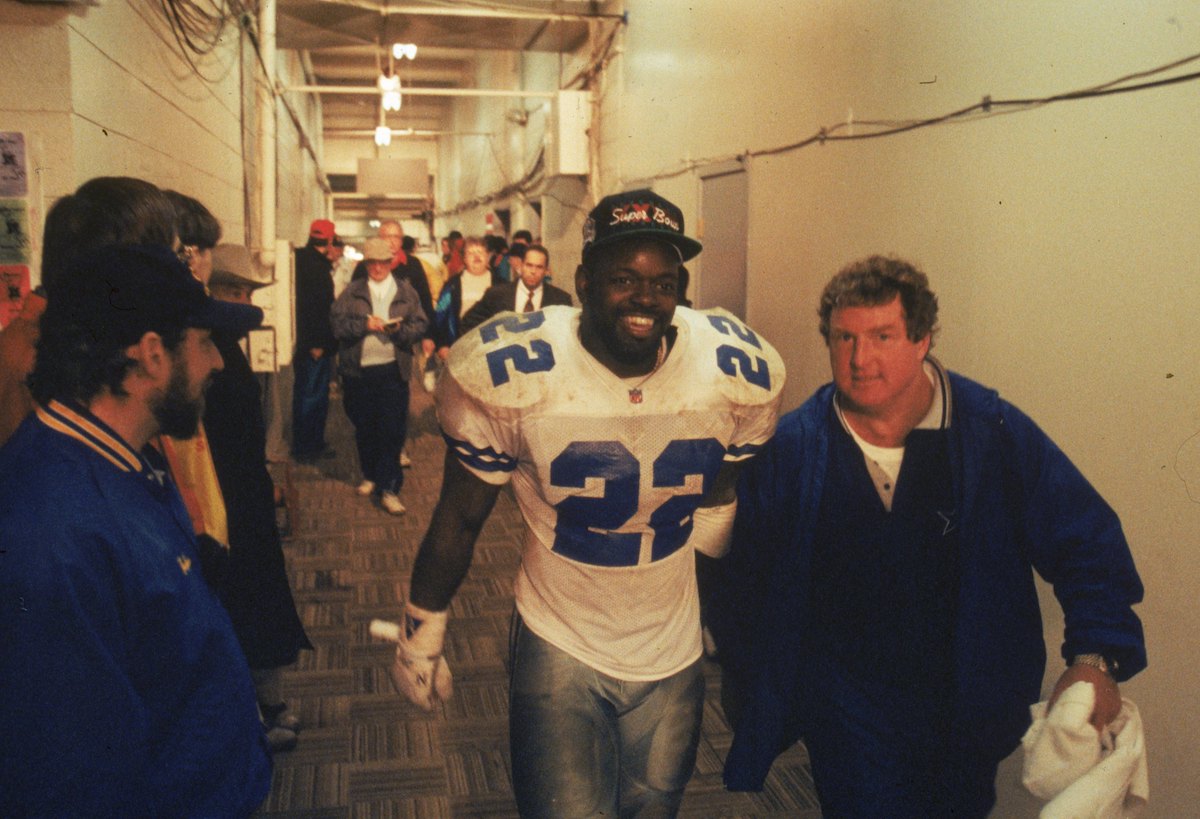 Standing at just 5-foot-9 tall and weighing 216 pounds, Smith is considerably smaller than other running backs. His story of perseverance and unequaled doggedness is unmatched in NFL history. Despite his seemingly diminutive size, Smith bested his taller counterparts. When compared to other running backs like Brandon Jacobs who stands 6-foot-4, Smith outperforms bigger running backs with his speed, agility, and tenacity on the field. 
A good example of his ruggedness is the story of the 1993 game against the New York Giants. Smith separated his shoulder during a play. Instead of sitting it out, Smith accomplished what players with two functioning arms would struggle with, rushing for nearly 170 yards and adding 10 catches for 61 yards. This is just one of many examples of Smith's durability as a running back.
The now-52-year-old has long since retired from the NFL. As of 2021, his net worth is $25 million. In 2021, he announced that he is joining the NASCAR Xfinity Series as a part-owner of Jesse Iwuji Motorsports. This new career move may well put his net worth much higher in the years to come.
How does Emmitt Smith stack up to other running backs?
Smith is in good company when it comes to his NFL colleagues. The average size of an NFL running back is 70.73 in height and 214.48 pounds, according to the University of Idaho. However, Alfred Morris, Doug Martin, and Frank Gore all equaled Smith's stature at 5-foot-9.
As it turns out, being on the smaller side for a running back can be an advantage. They are more agile and can maneuver more quickly. Having a low center of gravity helps to maneuver in the backfield and also affords the player to hide behind taller offensive lineman. 
Smith's football career was one of the most successful in NFL history. Despite his size, or indeed because of it, he was one of the most highly decorated players of all time. Many of his records stand to this day. Smith is a shining example of hard work and dedication paying off big. 
RELATED: A Media-Related Misunderstanding Sped up Emmitt Smith's Departure From Dallas