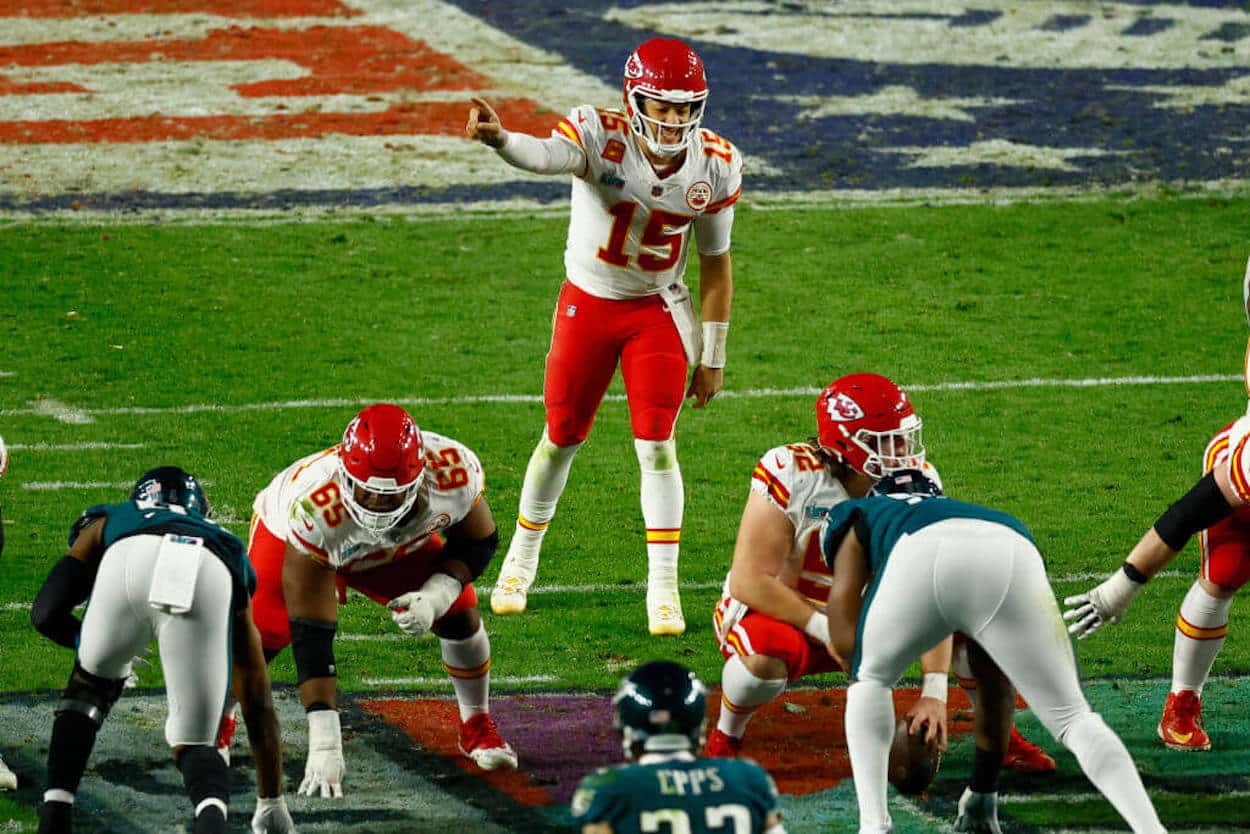 How Tall Is Patrick Mahomes, and How Does His Height Compare to Other Legendary QBs?
Conventional football wisdom says that size matters when it comes to quarterbacks. Does Patrick Mahomes fit into that trend?
When it comes to NFL success, having a good quarterback is pretty important. The man under center, after all, touches the ball on virtually every offensive play, meaning he plays a key role in how that unit performs. A good offense can also take the pressure off the defense, freeing them of the pressure to play a perfect game. And when it comes to modern quarterbacks, Patrick Mahomes sits pretty close to the top of any list.
Given the importance of a good signal-caller, scouts and front-office executives will search out every clue imaginable. Everything from small hands to bad footwork can be a potential red flag, suggesting that a given quarterback won't be able to handle the responsibilities of the position.
One of the most cliched places to look is height. A short quarterback, conventional wisdom dictates, will have trouble seeing — let alone throwing — over the mass of linemen in the trenches.
With that in mind, let's consider Mahomes' stature and see how he stacks up against other legendary signal-callers.
Patrick Mahomes' height clocks in at a respectable 6-foot-3, which puts him right among some other NFL greats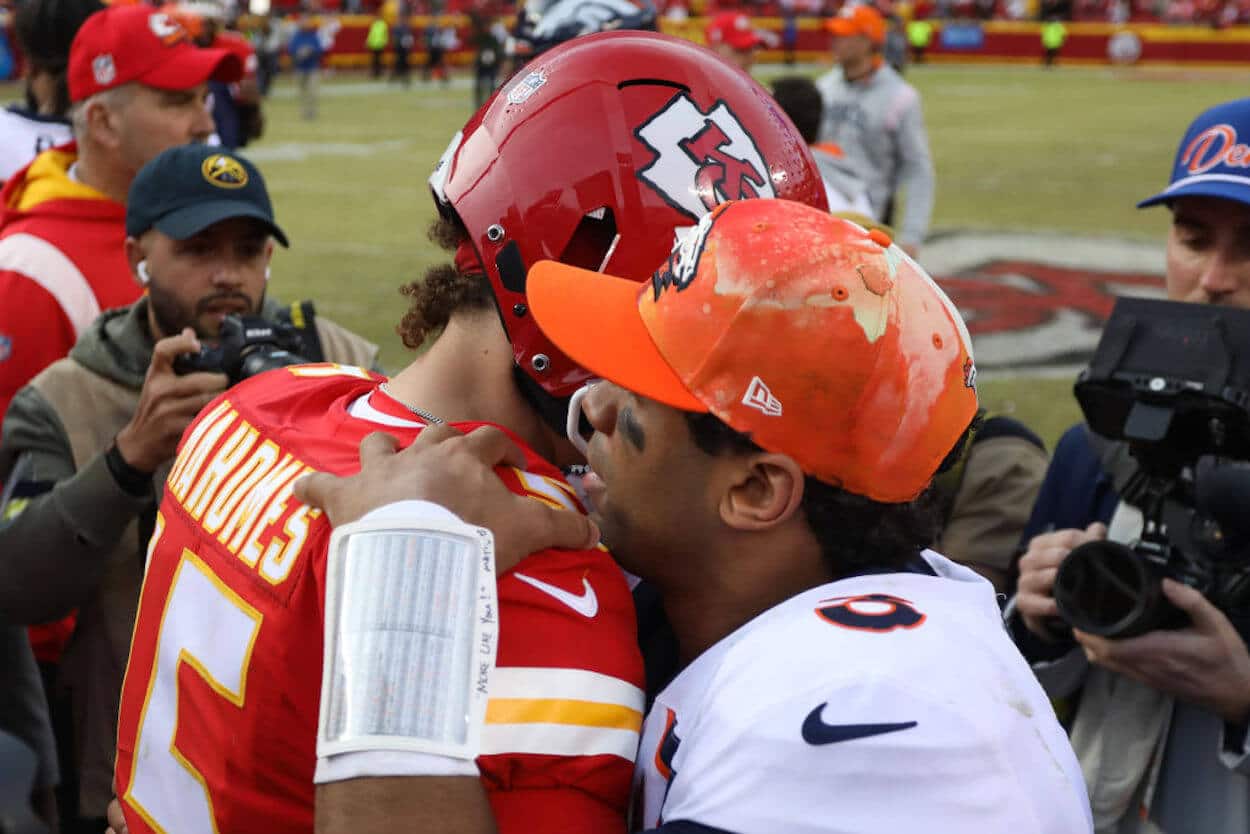 As mentioned above, most football purists prefer a taller quarterback. That reality — plus his incredible on-field performances — put Patrick Mahomes in good company. The Kansas City Chiefs star clocks in at 6-foot-3, which theoretically gives him a good balance of size and mobility.
So, how does that height stack up against some other star QBs? While there are too many to list, we've compiled a list below for comparison's sake.
Russell Wilson measures up at 5-foot-11. That's pretty short for a starting quarterback, but the NFL has seen smaller. In modern terms, Kyler Murray is 5-foot-10, and deeper in history, Davey O'Brien and Eddie LeBarron both stood 5-foot-7.
Stepping up the ladder, Drew Brees was listed at six feet tall during his playing career. That gave some teams pause during the 2001 NFL Draft, but he proved to be more than capable on the gridiron.
Aaron Rodgers, Brett Favre, and Joe Montana measure up at 6-foot-2. Is size the reason for their collective success? Probably not, but it doesn't hurt.
As mentioned above, Patrick Mahomes stands 6-foot-3. For good company, another AFC West star, John Elway, shared the same stature.
Tom Brady and Dan Marino are the next step up the ladder at 6-foot-4. Again, height probably wasn't the determining factor, but who are we to argue with TB12's resume?
Once we hit 6-foot-5, we've got some legitimately tall (and talented) names. They include Peyton Manning, Philip Rivers, Josh Allen, and Ben Roethlisberger.
While there have been some taller names over the years, 6-foot-6 is generally the top of the tall-quarterback spectrum. That's where you'll find Justin Herbert and Trevor Lawrence.
So, what conclusions can we draw from that list? For signal-callers, it's safe to say that size can help, but it ultimately doesn't matter.
Allow us to explain.
Patrick Mahomes is so much more than his height
At this point, I've devoted nearly 500 words to discussing the height of various quarterbacks. Now, using Patrick Mahomes as the perfect example, allow me to argue why that metric doesn't really matter.
When you hear that the Kansas City Chiefs signal-caller is 6-3, you'd probably imagine him as a Peyton Manning-style pocket passer, standing tall in the pocket and peering downfield. That, of course, isn't the case. While Mahomes has gotten better at staying patient and allowing things to develop, that simply isn't his game.
Perhaps you want to equate size to physical strength and argue that Mahomes' larger frame serves him well. While there could be some legs to that argument — No. 15 has been known to lower his shoulder when approaching the first-down marker or the goal line — I'd still contend that raw power isn't a key part of his repertoire.
Even if you've only watched highlight clips of Mahomes, you know the things that make him special. The Texas Tech product is an incredible athlete, capable of keeping a play alive with his legs only to throw a 50-yard pass with pinpoint accuracy. He's improvisational and creative, comfortable throwing left-handed, under-handed, or however else a specific situation requires. And, above all else, he's simply talented.
All of those attributes are separate from height. If anything, the signal-caller is aided by his stature; it's tough to imagine a (hypothetical) 6-foot-10 athlete being able to move like he does on the football field.
And, if you want further evidence that size isn't everything, take a glance at the list above. Russell Wilson and Drew Brees have found success in the NFL; Josh Allen and Peyton Manning have also done more than hold their own under center. Does it help to be tall? Sure, but that's not the end-all, be-all.
At the end of the day, talent is what matters. And, as Kansas City Chiefs fans can confirm, Patrick Mahomes has that in spades.