How Tall Is Rob Gronkowski, and How Does His Height Compare to Other NFL Tight Ends?
Rob Gronkowski, known to millions of fans as "Gronk," is a football tight end for the Tampa Bay Buccaneers. The four-time Super Bowl champ rose to fame with another high-profile team, the New England Patriots. Gronkowski has won a slew of awards and honors and set several NFL records. There's no doubt his imposing size and stature — along with his athletic talents, skills, and hard work — have bolstered his rise to prominence. But exactly how tall Is Rob Gronkowski, and how does his height measure up to other famous NFL tight ends? 
What is Rob Gronkowski famous for?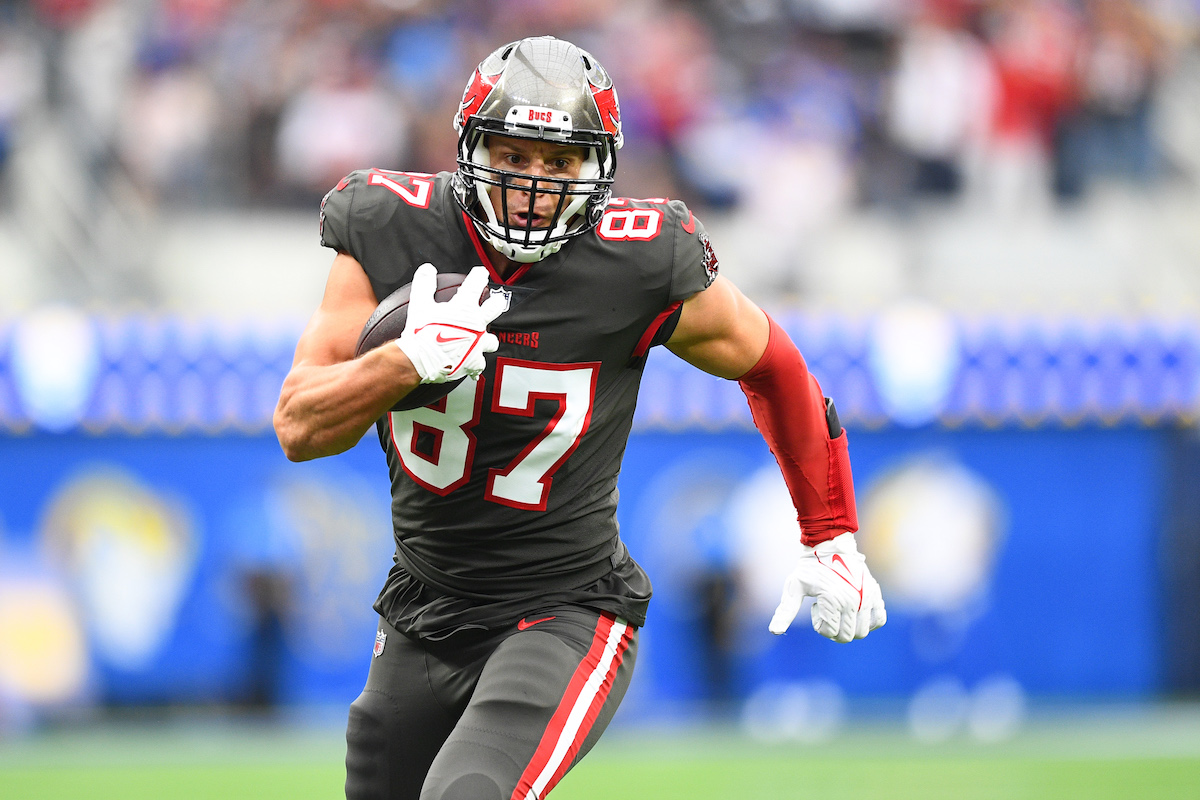 Rob Gronkowski began earning accolades during his college football career when he was with the University of Arizona. After playing two collegiate seasons and getting the nod as a Freshman All-American from Rivals.com, Gronkowski went to the Patriots in the 2010 NFL Draft.
Gronk made an impact right away, setting new goals for the team and becoming the only tight end in NFL history to reach 1,000 or more yards in the playoffs. A four-time Super Bowl champion, Gronkowski is also a four-time first-team All-Pro selection.
In 2016, he ranked as the 9th-best player in the NFL, making Gronkowski's decision to retire in 2019 that much more baffling. Gronk revealed he wasn't "in a good place" — the immense pressure to perform had affected his mental health.
Ultimately, his retirement lasted only a year. He chose to return to the game thanks to his improved health and some inspiration from his former teammate, Tom Brady, who had joined the Tampa Bay Buccaneers. In April 2020, Gronk, too, signed with the Bucs and hasn't slowed since. 
How tall is Rob Gronkowski?
Rob Gronkowski's imposing size and physical presence have factored into his energetic personality in pop culture and football.
Known for his goofy, outgoing personality, Gronk stands 6 feet 6 inches tall and weighs around 268 pounds, Britannica reports. But the 32-year-old is much more than just a hulking physical presence. He has a generous spirit and regularly lends his time and talents to a wide variety of charitable causes and organizations. 
Gronkowski has also revealed he's not much of a party animal, saying he likes to remain responsible and avoids drugs and excessive drinking. During his off time, Gronk spends time with his model/businesswoman girlfriend, Camille Kostek. 
What is the average height and weight of an NFL tight end?
Knowing Rob Gronkowski's size, fans might wonder if other notable football tight ends are also of similarly large stature. As reported by the American Football Database, tight end is a hybrid position with characteristics of a defensive lineman and a wide receiver. Therefore, tight ends should be somewhat physically large and intimidating to be effective blockers. 
According to a Webpages study, the average height for an NFL tight end is just under 6 ft 6 inches tall, while the average weight for that position is around 254 pounds.
A few other famous football tight ends include Tony Gonzalez, who played for the Kansas City Chiefs. Gonzalez stands at 6-foot-4, while Los Angeles Chargers tight end Antonio Gates is also around that height.
Ultimately, Gronkowski's larger-than-average size has likely helped contribute to his overwhelming success.
RELATED: Rob Gronkowski and Floyd Mayweather Face a Surprising $5 Million Lawsuit