How Tall Is Tom Brady, and How Does His Height Compare to Other NFL Quarterbacks?
Tom Brady has won the most championship rings of any NFL quarterback. No other can boast seven Super Bowl victories. In addition to his healthy eating habits and mental fortitude, the Tampa Bay Buccaneers QB also keeps himself in peak physical condition. But does the three-time Super Bowl MVP's height also give him an advantage over other quarterbacks? How tall is Tom Brady? Let's take a look.
Tom Brady shows no signs of slowing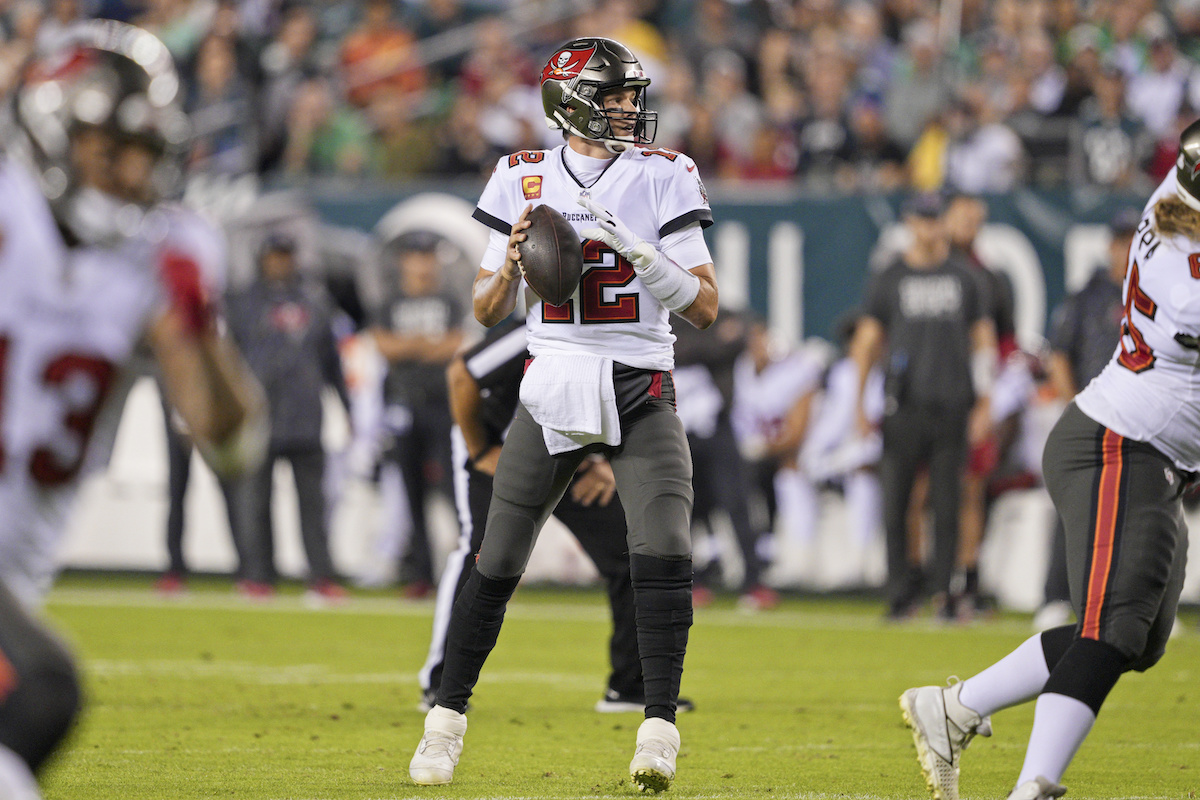 Brady entered the NFL in 2000 with the New England Patriots. He started as a backup to Drew Bledsoe, but an injury pushed Brady into a starting position in 2002. That's when he led the team to the first of six Super Bowl victories. 
He now boasts seven championships. In 2019, he went to the Tampa Bay Bucs, where he scored another Super Bowl win.
And the other stats during his 21-year career are equally mind-blowing. 
Brady has thrown 81,269 passing yards over his two-decade NFL career, Pro Football Reference reports. He also boasts 598 touchdowns and only 194 interceptions.
According to the Tampa Bay Buccaneers, his long list of accolades includes the following:
The only player to start a season and not lose
Largest win margin in a Super Bowl (Patriots beat the Titans 59-0)
Super Bowl MVP four times
14 Pro Bowls
Player of the week 30 times
Bert Bell Award for Player of the Year in 2007
That's only a fraction of what Brady has accomplished in his legendary pro football career.
How tall is Tom Brady?: Height, weight, age, and more
At 6 feet 4 inches tall, Tom Brady's height gives him an advantage when pumping out long passes. According to the NFL, he weighs a lean 225 pounds.
But that's not what's so impressive about him. It's that he has enjoyed a long career that stretches over 20 years. You don't find many 44-year-old starters in the NFL. Brady is still racking up touchdowns and game victories. 
What is the perfect size for a quarterback?
The NFL has seen many prominent quarterbacks of various sizes over the years.
One is Patrick Mahomes, who was drafted in 2017 by the Kansas City Chiefs. Mahomes is 6 feet 3 inches tall. He became a starter for the Chiefs going into the 2018 season and didn't disappoint with 50 touchdown passes and an MVP award. Retired NFL great John Elway also stands at 6-foot-3. 
Sharing Brady's height of 6 feet 4 inches is Dan Marino. The retired Miami Dolphins legend is one of the best quarterbacks of all time despite failing to win a Super Bowl.
And three quarterbacks beat Brady by one inch. Peyton Manning, Ben Roethlisberger, and Phillip Rivers all stand 6-foot-5. 
But not all excellent QBs are towering giants. A few even stand on the shorter side. For instance, the Seattle Seahawks' Russell Wilson is 5-foot-11. And retired football star Doug Flutie is one of the shortest quarterbacks in the history of the league. Coming in at 5 feet 10 inches, the 21-season veteran proved you can go far on skill and talent despite a relatively short stature. 
As for Tom Brady, his height might help him pull off big plays. But talent, skill, and sheer determination likely play more important roles in his immense success.