Former NFL quarterback and current Fox Sports commentator Troy Aikman sticks out among his peers. Long removed from his retirement from football, he's spent the last two decades in broadcasting.
Viewers who didn't grow up watching Aikman lead the last great Dallas Cowboys dynasty can probably clock that he's a former player nonetheless; the man towers over his peers literally. So how tall is the bigger half of Fox's top football commentary duo?
Troy Aikman's second career might be iconic as his first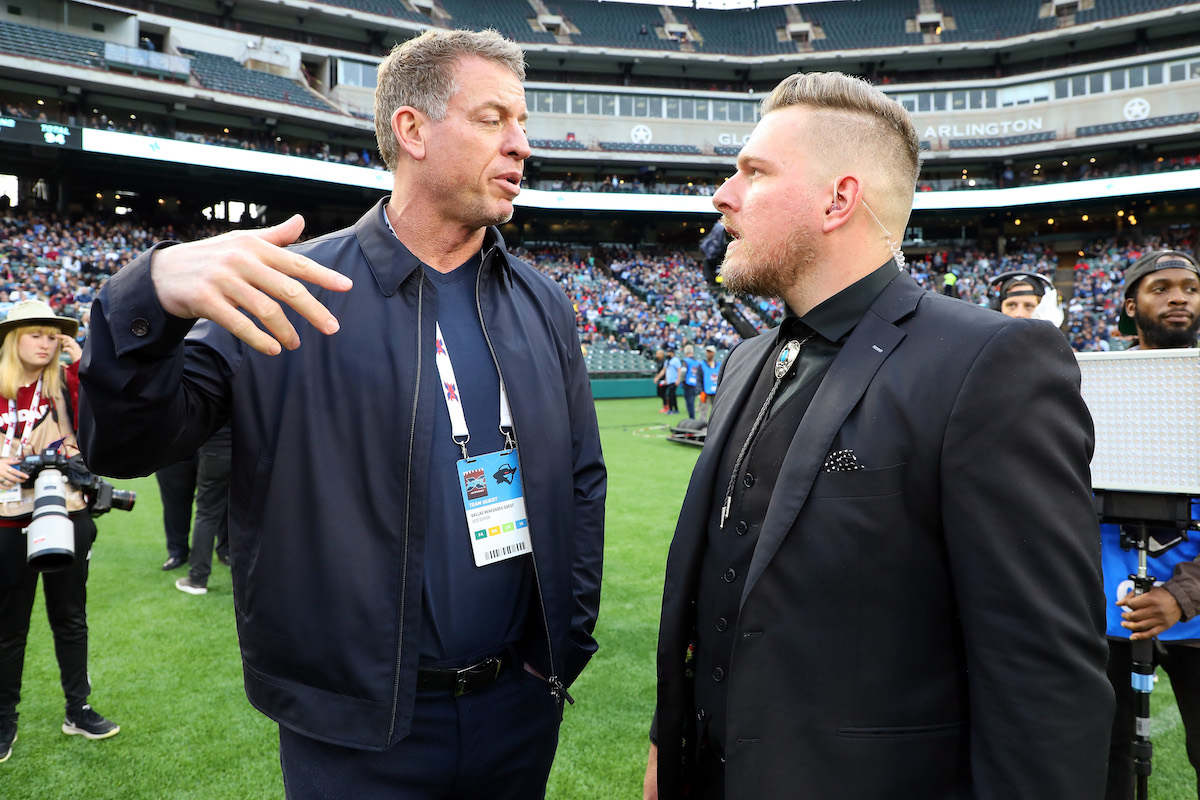 Aikman's retirement in 2001 came with some reluctance to leave. He was a waning talent, but not yet a disastrous one. According to an ESPN interview, he left the NFL behind due to chronic back pain only projected to get worse.
It didn't take long for the former Cowboys hero to get back on his feet. He was immediately offered football commentary work with Fox Sports, starting his now-beloved partnership with announcer Joe Buck. He spent those early years fielding offers to return to the NFL. But he ultimately stuck to developing his commentary skills.
The three-time Super Bowl champion may have had something to offer those teams for at least another year or two. But he probably made the right decision to stick to the booth instead of the gridiron. Aikman's long-running broadcasting career has been the source of most of the Pro Football Hall of Fame QB's wealth. His $50 million estimated net worth comes largely from massive contracts to keep him and announcer Joe Buck working together for Fox.
Aikman towers over most of his current colleagues
QBs are never the bulkiest players on an NFL roster. But many, Aikman in particular, still have a particular football look about them. They're a bit taller, a bit bulkier, and have an all-around striking presence compared to the average person. According to Britannica, the former Dallas legend stands at 6-foot-4, and weighs 219 pounds. That's a bit taller than most of the journalism and marketing types he currently works with.
Even Aikman's notably tall partner, Joe Buck, looks small in comparison. According to Healthy Celeb, the Hall of Fame announcer is an above-average 6-foot-1. Buck is a second-generation broadcaster, who never had the same career motivation as Aikman to fill out his lanky frame.
How tall is Troy Aikman compared to his NFL peers?
How They Play reports that the average NFL QB is just a hair shorter than Aikman: 6-foot-3. The tallest of all time was 6-foot-8 Dan McGwire, who joined the Seattle Seahawks in 1991. Generally, a classic QB build is someone well above average height, but not so tall that they're too slow to nimbly avoid sacks.
Height preference is so heavily associated with the position, that many of the best QBs were passed up due to being below average in height. The likes of Brett Favre and Drew Brees were both passed up until the second round of their respective drafts. Russell Wilson, at 5-foot-11, was heavily underrated by NFL scouts because of his height alone, Men's Journal reports.
So Aikman, towering as he does over his current colleagues, is actually somewhat average among his old peers. And obviously, many other NFL positions regularly feature even larger, bulkier body types as a rule. It's a phenomenon that truly puts things in perspective. To get anywhere near the NFL, one has to be a rare physical specimen, on top of developing a mental mastery of a notoriously complex sport.
RELATED: Joe Buck and Troy Aikman: Which Super Bowl Announcer Has the Higher Net Worth?