How the Atlanta Falcons Paid the Best Team in the NFC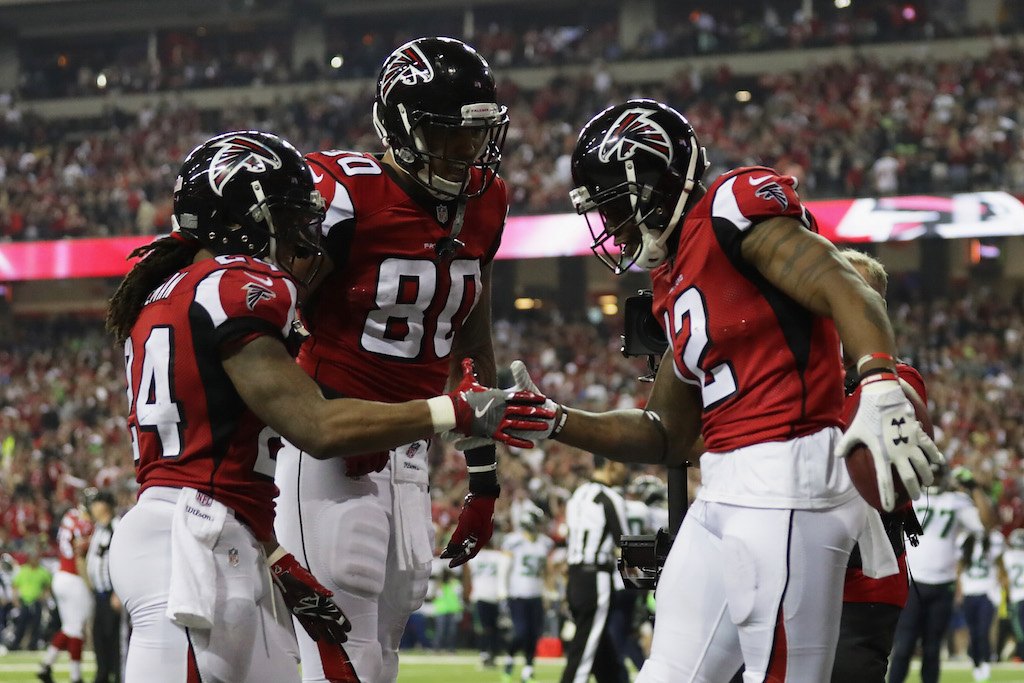 The Atlanta Falcons choked big time in Super Bowl 51. There's really no other way to put it. Despite leading by as much as 25 points against the AFC champion New England Patriots, the high-flying Falcons couldn't seal the deal. Instead, they let Tom Brady lead arguably the most insane comeback in sports history, ultimately falling in the first overtime in Super Bowl history by the score of 34-28.
This loss will sting for awhile. That's not a prediction; it's a fact. Instead of celebrating the first Super Bowl in franchise history, the Falcons must live with the fact that, on the biggest stage of their lives, this group dropped the ball. Literally and figuratively. Still, that doesn't mean we're going to completely overlook all the Falcons accomplished in 2016.
Atlanta finished the 2016 NFL regular season with an 11-5 record, took home the NFC South title, and blew through the competition on the way to the organization's second-ever Super Bowl appearance. This group didn't get the ending they wanted, but make no mistake, the Falcons were more than deserving of representing the NFC on Super Bowl Sunday.
The Falcons' rise to the top (of the NFC) was not by accident. The organization built a young and talented team with a bright future ahead of it. Of course, that doesn't happen without spending a pretty penny. Looking at each individual's cap hit, here's how the Falcons paid their players in 2016.
10. Robert Alford 
–

 $3,082,263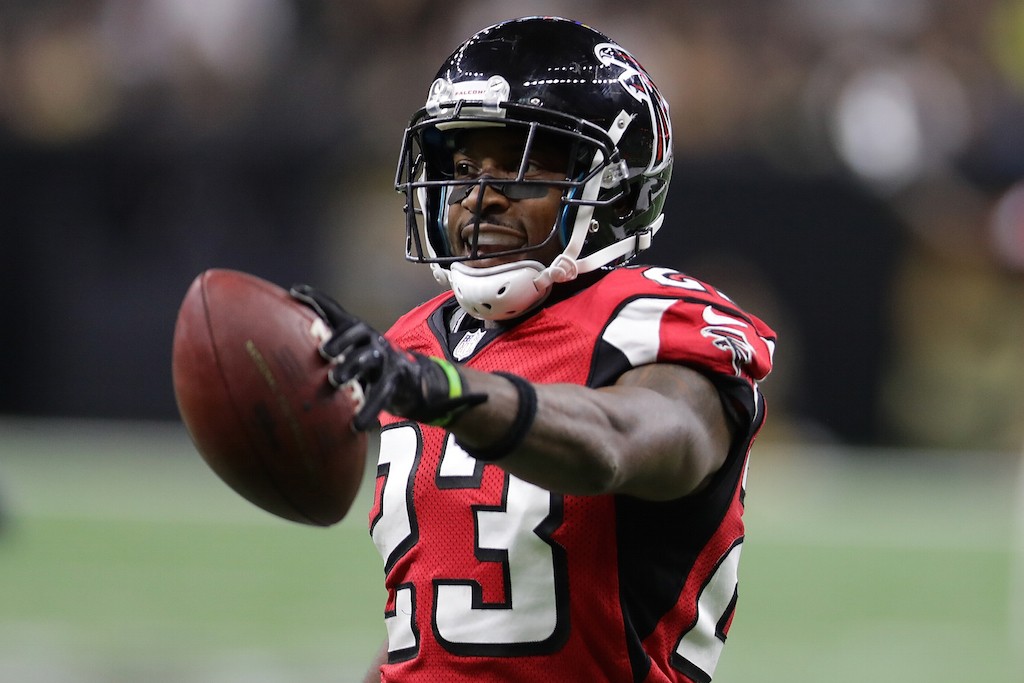 Contract details: signed a four-year, $38 million contract extension (through 2020)
The Falcons drafted Robert Alford with the 60th overall pick in the 2013 draft, and the move clearly worked out for them. Since then, the 28-year-old cornerback has started 45 games, made nine interceptions (including two in 2016), and become a cornerstone in Atlanta's up-and-coming secondary. For those reasons, among others, it's not surprising the team locked him up on a four-year, $38 million extension in December.
9. Matt Bryant 
–

 $3,183,333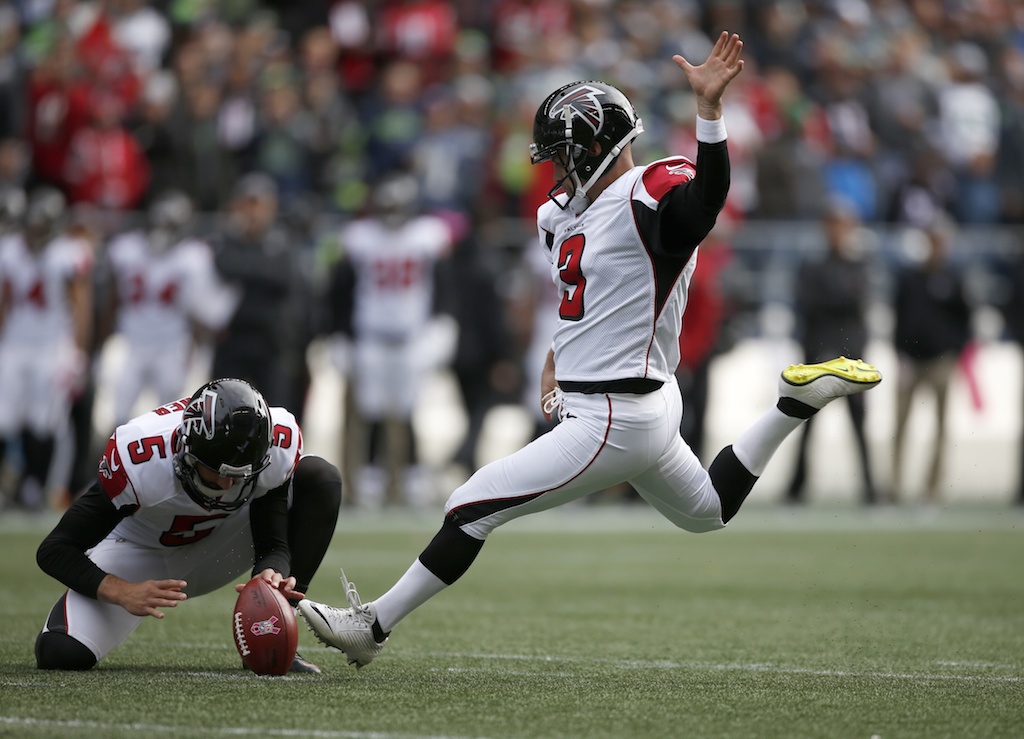 Contract details: in the second year of a three-year, $8.5 million contract
Life in the NFL is always easier when you have a reliable kicker. Fortunately, the Falcons have one in Matt Bryant. Despite being 41 years old in the 2016 season, the 15-year vet played all 16 games, made 91.9% of his kicks (34 of 37), and connected on 56 of 57 extra-point attempts. With those results, Atlanta was probably more than happy to pay Bryant his $1.55 million base salary in 2016 (amounting to $3,183,333 in cap space).
8. Vic Beasley 
–

 $3,294,370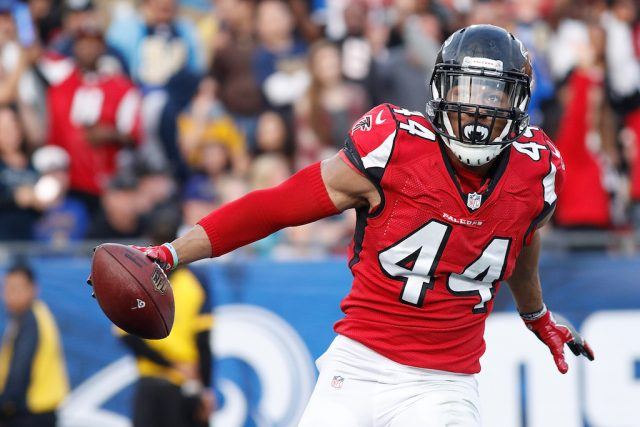 Contract details: in the second year of a four-year, $14,495,228 contract
Following a relatively disappointing rookie season in 2015, Vic Beasley returned with a vengeance in his sophomore campaign. The former Clemson standout led the NFL with 15.5 sacks while joining the Pro Bowl and earning First-Team All-Pro honors.
Due to this being Beasley's rookie contract, the Falcons only had to pay him a base salary of $525,000, which resulted in a cap hit of $3,294,370. If the young defensive end continues to produce at this level, Atlanta will have to shell out serious bucks in his next deal.
7. Brooks Reed 
–

 $3,440,000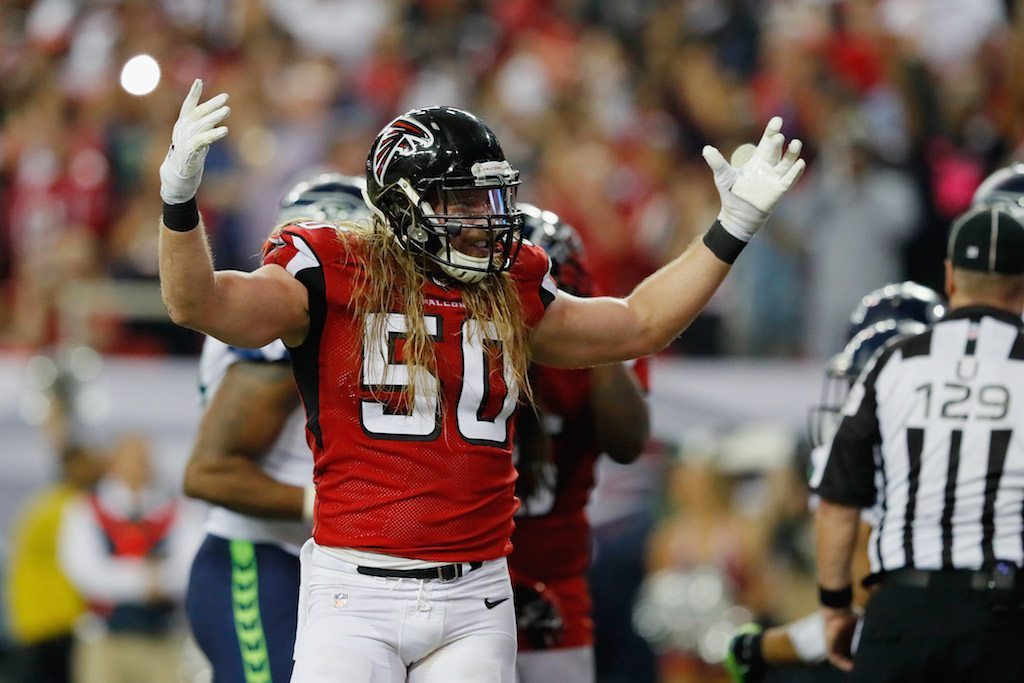 Contract details: in the second year of a five-year, $22 million contract
Brooks Reed joined the Falcons on a five-year, $22 million back in 2015. In two seasons with the club, the 29-year-old linebacker has played 28 games (starting in 12) and registered two sacks. His play in 2016 was better than it was the year before, but it probably wasn't worth the $3.44 million cap hit. For Atlanta's sake, hopefully Brooks regains his form in 2017, when he accounts for $5.04 million against the cap.
6. Alex Mack 
–

 $4,050,000
Contract details: in the first year of a five-year, $45 million contract
The Falcons definitely feel good about the offseason acquisition of center Alex Mack. After the former Cleveland Brown signed a five-year, $45 million contract, Mack quickly rewarded the franchise by playing in all 16 games and earning his fourth trip to the Pro Bowl. Mack's overall contribution was well worth the $4.05 million cap hit.
5. Jake Matthews 
–

 $4,480,773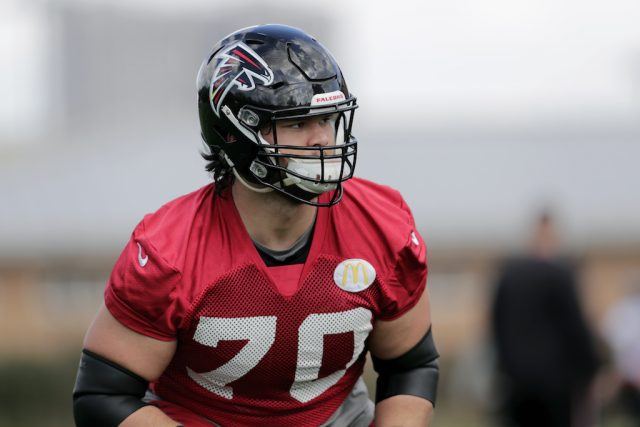 Contract details: will enter 2017 in the final year of a four-year, $16,429,501 contract (club option available in 2018)
The Falcons selected Jake Matthews with the No. 6 overall pick in the 2014 draft, and he's been about as reliable as they could've hoped. Over three seasons, the young tackled has played in 47 games and started each and every one of them. In 2016, Matthews earned a base salary of $600,000 and counted for $4,480,773 against the cap. He enters 2017 on the fourth year of his rookie deal. However, the Falcons have a club option available for 2018.
4. Andy Levitre 
–

 $5,375,000
Contract details: in the fourth year of a six-year, $46.8 million contract
Andy Levitre might have struggled to live up to the six-year, $46.8 million deal he signed with the Tennessee Titans back in 2013, but the Falcons aren't complaining. Since acquiring the 30-year-old guard — via trade — during the 2015 preseason, Levitre has evolved into a steady presence on the Falcons' offensive line.
Over the last two years, Levitre has played, and started, in all 32 regular-season games. All it cost Atlanta was $2.875 million in cap space in 2015 and $5.375 million in cap space in 2016.
3. Tyson Jackson 
–

 $6,350,000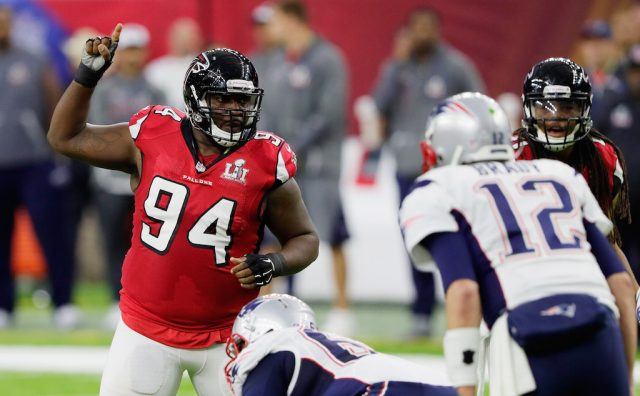 Contract details: in the third year of a five-year, $25 million contract
We'd love to say Tyson Jackson lived up to his $6.35 million cap hit in 2016, but that wasn't the case. Instead, despite playing all 16 games, the former No. 3 overall pick had just 13 combined tackles and failed to record a single sack. Those looking for a silver lining will be happy to know that Jackson counts for only $5.85 in cap space in 2017. Hey, not all silver linings are created equal.
2. Julio Jones 
–

 $15,900,000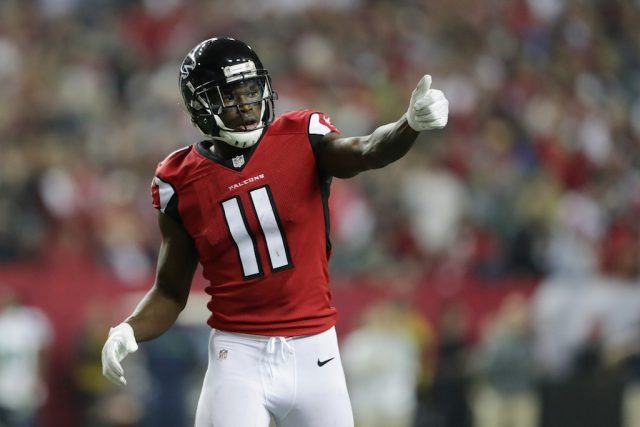 Contract details: in the first year of a five-year, $71,256,045 contract extension (through 2020)
Julio Jones, on the other hand, was worth every penny. The superstar wideout, who accounted for $15.9 million in cap space in 2016, caught 83 passes for 1,409 receiving yards and six touchdowns and led the NFL with 100.6 receiving yards per game. Imagine what the All-Pro would've been able to accomplish had he played in all 16 games. Yeah, we know, that's a scary thought.
1. Matt Ryan 
–

 $23,750,000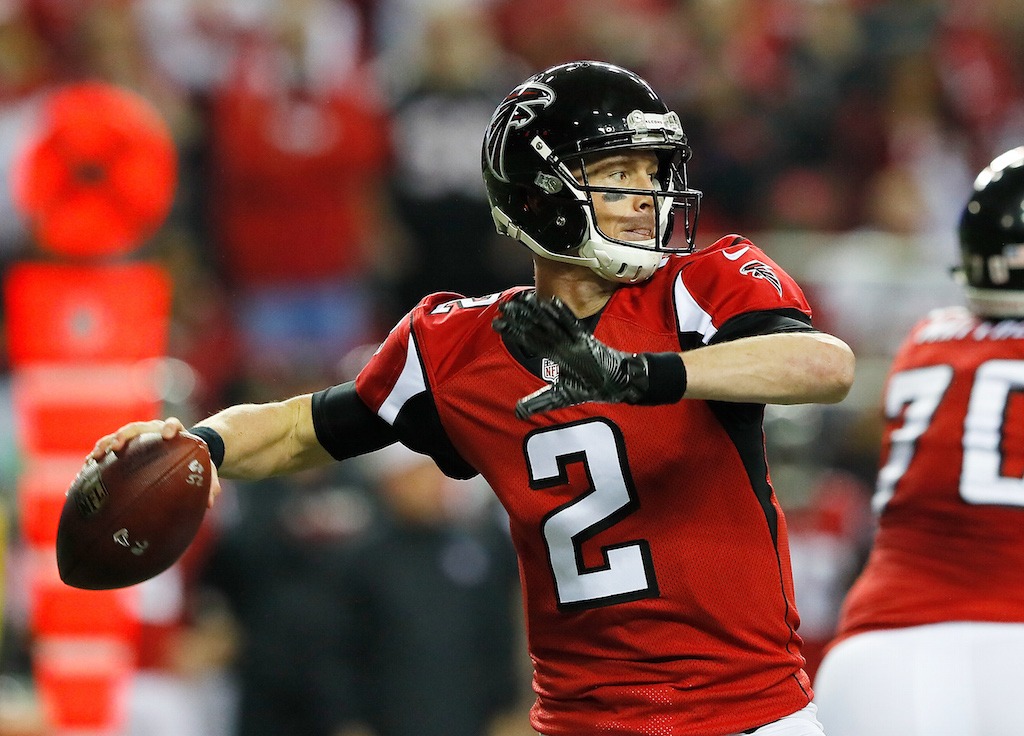 Contract details: in the third year of a five-year, $103.75 million contract extension (through 2018)
In the finest season of his career, Matt Ryan completed 69.9% of his passes, threw for 4,944 yards and 38 touchdowns (and just seven interceptions), and led the NFL in passing yards per attempt (9.3) and quarterback rating (117.1). He earned a trip to the Pro Bowl (fourth of his career), was named First-Team All-Pro, and cruised to his first-career MVP award.
Although Ryan was unable to lead the Falcons to Super Bowl glory, he definitely lived up to the $23.75 million cap hit.
Data, salary details, and information courtesy of Spotrac and Pro-Football-Reference.