How the D'Angelo Russell Trade Brings in a New Era for the Golden State Warriors
Steph Curry is already one of the greatest point guards of all time. Another championship ring and an NBA Finals MVP award last season would have only added to his legacy, but the basketball gods had other plans in 2019. Golden State lost Kevin Durant to a ruptured Achilles in Game 5 of the NBA Finals and Klay Thompson to a torn ACL in Game 6, eventually going on to lose that game and the series to the Toronto Raptors.
Durant's decision to sign with the Brooklyn Nets and Thompson's injury forced the Warriors to make a drastic move this offseason to bring in D'Angelo Russell via a trade. That trade could only be facilitated by dumping Andre Iguodala's salary, officially bringing an end to the Golden State dynasty era.
Golden State has lost two NBA Finals MVPs
The impact of losing a player of Kevin Durant's ability can not be overstated. Durant was sorely missed in the NBA Finals against Toronto and was the team's Finals MVP in both 2017 and 2018. The Warriors were a fantastic team that had been to back-to-back NBA Finals before Durant arrived, but it wasn't until after Durant joined the team that the Warriors became a dynasty.
While the impact of losing Durant on Golden State will be obvious to even the most casual basketball fan, the loss of Andre Iguodala will have a significant impact as well. Iguodala didn't light up the stat sheet on a team loaded with elite scoring options, but the potential future hall-of-famer did provide excellent leadership and defense during his six-year tenure with the team. The veteran small forward earned the NBA Finals MVP award in 2015 when he averaged 16.3 points, 5.8 rebounds and four assists per game in Golden State's victory over the Cleveland Cavaliers.
D'Angelo Russell will help keep the Warriors afloat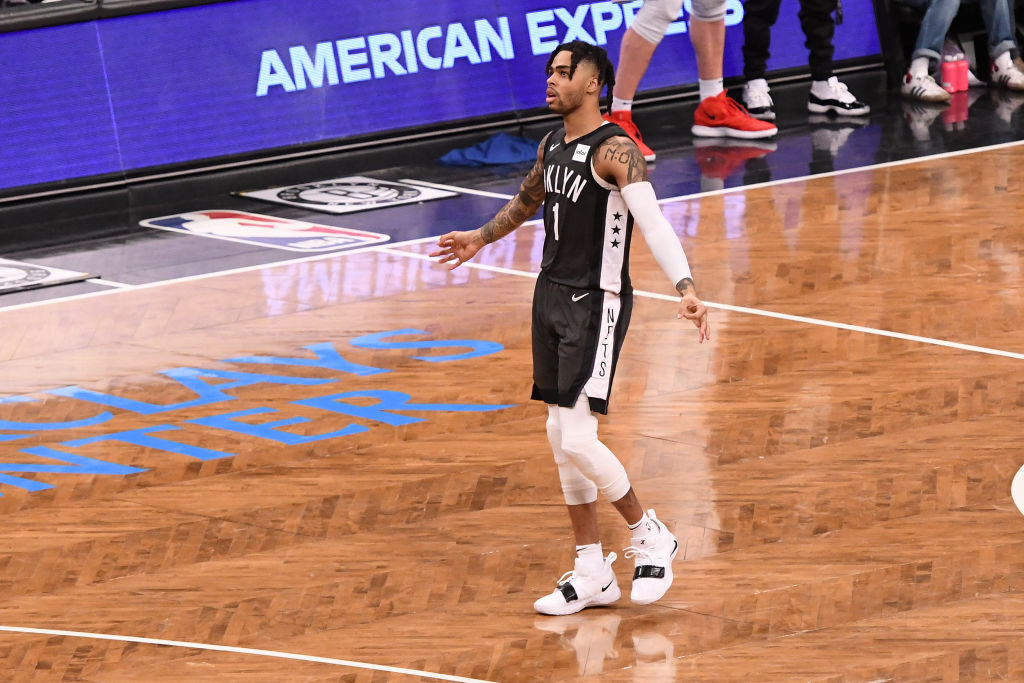 Determined not to lose Kevin Durant for nothing, the Warriors made a risky move in executing a sign-and-trade for D'Angelo Russell, who is now on the books for a four-year, $117 million contract. Golden State gave up a future first-round pick in the deal.
In Russell, the Warriors pick up a talented 23-year-old coming off of a career year in which he led the Nets to the playoffs averaging 21.1 points and seven assists per game. With Klay Thompson expected to be out until at least March rehabbing his torn ACL injury, Russell gives Golden State a much-needed weapon in the short term to help Steph Curry and Draymond Green keep the team in playoff contention.
In the long term, it is difficult to see Russell being a part of Golden State's future plans. The Warriors are likely gambling that they can find a trade partner for Russell next offseason after Thompson has returned healthy, potentially bringing in some pieces to build around the Splash Brothers moving forward.
The Warriors' future belongs to the Splash Brothers
Outside of re-signing Kevin Durant, Golden State's top priority this offseason was to lock up Klay Thompson long term. They did exactly that on July 1 as the injured star agreed to a five year, $190 million max contract.
Next offseason, the Warriors will need to figure out whether or not Draymond Green is a part of their long term plans, and they'll also need to try to get the right return on their investment in D'Angelo Russell. But one thing is for certain; with Andre Iguodala's leadership and Kevin Durant's elite talent gone, this Warriors team now belongs to Steph Curry and Klay Thompson for the foreseeable future.