How the NBA's Female Team Owners Made Their Fortunes
Of the 30 NBA teams, only four have had female owners for a number of years: the Denver Nuggets, Los Angeles Lakers, Utah Jazz, and San Antonio Spurs. Here's a look at these four women and how they were able to own their teams.
Ann Kroenke, Denver Nuggets
According to Forbes, Ann Kroenke is worth $7.7 billion. Her wealth comes from inheriting her father's share in Walmart after his death in 1995. Her father, Bud Walton, helped his brother Sam Walton, found Walmart.
Kroenke's husband, Stan Kroenke, is also a billionaire via commercial real estate holdings. Ann owns the Denver Nuggets, while her husband owns the Los Angeles Rams, Colorado Avalanche, Colorado Rapids, and Arsenal Football Club.
Stan bought the Nuggets in 2010 from Bill and Nancy Laurie (Ann's sister). The NFL doesn't allow owners to have majority control of pro teams in multiple NFL markets. So, after his 2010 purchase of the Rams, he transferred both the Nuggets and Avalanche to Ann by 2015.
While Ann has owned the team, the Nuggets won their division title once, in 2019. They last won under her husband's ownership in 2010. In 2013, their son, Josh Kroenke, took over day-to-day operations of the Nuggets and Avalanche.
In 2018, the Kroenke's bought David and Victoria Beckham's $33 million Beverly Hills house in 2018. They also own homes in Malibu and Aspen, ranches in Montana and Texas, and an estate in Columbia, Missouri.
Jeanie Buss, Los Angeles Lakers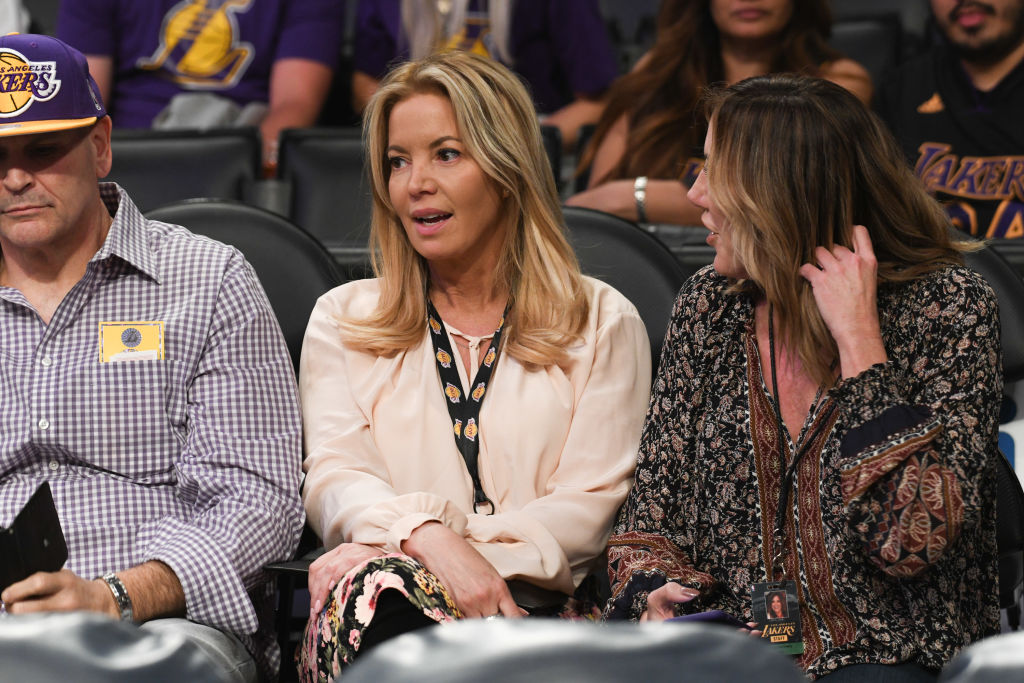 With a net worth of about $500 million, Jeanie Buss has worked for the Lakers organization since 1995, according to Fansided. She became its president and part owner in 2013. Buss lives in Los Angeles and has two homes there.
Jeanie's father, Dr. Jerry Buss, a real estate investor, bought the Lakers in 1979. After his death in 2013, the majority owner became the Buss Family Trusts, including Jeanie and her five siblings. She became the controlling owner of the Lakers in 2013, working to rebuild the team.
Jeanie's moves include firing her brother, Jim Buss, then-executive vice president of player personnel. During her time, the team has acquired LeBron James but LA hasn't won a conference title or championship since 2010.
Gail Miller, Utah Jazz
According to Forbes, Gail Miller has a net worth of $1.7 billion. She and her husband, Larry Miller, started with one Toyota dealership in 1979 and grew the business to an empire of more than 60 dealerships as well as other companies.
Gail is currently the owner of the Larry H. Miller Group of Companies and Chair of the Board of Directors of Larry H. Miller Management Corporation. Together, the Millers bought the Utah Jazz in 1986. Then, after her husband's 2009 death, Gail became the sole owner. In 2017, she placed team ownership into a family legacy trust.
During the Millers' ownership, the team has come close to winning the championship several times. The Jazz won the conference title in 1997 and 1998 but lost the finals to the Bulls both times. Most recently, the team won a division title in 2017. Gail lives in Salt Lake City.
Julianna Holt, San Antonio Spurs
Julianna Holt's husband, Peter, is an owner of HOLT CAT, the largest Caterpillar dealer in the U.S. In 2017, she filed for divorce from her husband. Their wealth is unknown, but it's estimated that the Holts' share of the San Antonio Spurs is about $620 million.
Julianna moved with her family to San Antonio in 1988. She also owns the Cross Triangle Ranch near Little Blanco River in Texas.
The Holts became the Spurs majority owners in 1996. Julianna was the chairman and co-chief executive officer of Spurs Sports & Entertainment from 2016-19. She followed her husband and was succeeded by her son.
The Holt family has owned the Spurs for more than 20 years. During this time, the team won five championships (1999, 2003, 2005, 2007, and 2014) and conference titles in all of those years plus 2013.
Two more women recently became NBA team owners. In 2018, Gayle Benson gained ownership of the New Orleans Pelicans after the death of her husband, Tom Benson. Jody Allen gained ownership of the Portland Trail Blazers after the death of her brother, Paul G. Allen.
Follow more updates from Sportscasting on our Facebook page.