How the Top 5 NBA Teams Owners Made Their Money
There are few constants that run deeper in sports fandom than the fantasy, however brief and tempered, of owning a professional team. It's sort of part and parcel with enjoying a sport that's governed by organizations — the thought experiments that arise whenever a team refuses to go over the luxury tax or signs off on a free agent, or launches an ill-timed slogan like "Something2Prove," which was the Miami Heat's '08-'09 rallying cry (and also, possibly, an unreleased Prince B-side). Everyone wants to be an owner, but few people actually possess the fiscal ability to get there.
There's also the fact that the waiting list for the NBA is fairly cutthroat, especially in the wake of the Donald Sterling episode. If the sale actually ever goes through, Steve Ballmer will have paid a reported $2 billion for the Los Angeles Clippers, a mark that eclipses the previous league record, also set in 2014, a $550 million deal for the Milwaukee Bucks, just a notch above the Sacramento Kings' $525 million price tag from 2013. This is exclusively expensive, regardless of where your team is, or whether they're any good.
But do you have to be the former CEO of a technology giant to find yourself in a position to purchase an NBA team? Not necessarily. We took a look at the best owners and ownership groups around the league — best in this case meaning a combination of the team's successes and the "risks" the ownership takes with holding onto the franchise. So, basically, if the team was as good as the Oklahoma City Thunder but saddled with the same sort of notoriously cheap and ethically suspect ownership, they don't make the list. Sorry, Kevin Durant and Russell Westbrook, but you guys have some lame people in charge. Rankings are based, somewhat, on how the team fared in the most recent NBA playoffs.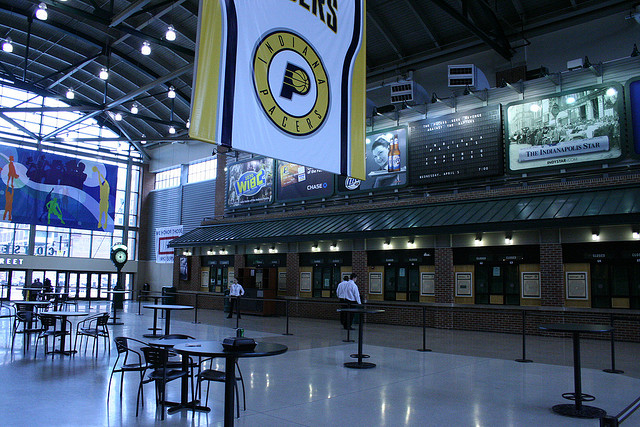 5. Herb Simon, Indiana Pacers

The Indiana Pacers are not nearly as bad at basketball as their current history would have them bear out — with two sets of talented but ultimately underachieving teams in the last ten years, with the Hibbert/Stephenson/George lineups going out with much the same sort of deflation that defined the Artest/Jermaine O'Neal/Stephen Jackson squad, although the earlier team was cut short via the Malice in the Palace, rather than simply collapsing. They are, however, a small market team that struggles with attendance, and their ability to craft a contender around those limitations (Free agents aren't predisposed to consider Indiana over other NBA markets.) is a sign of how solid their front office is, and how well the ownership does in picking front office people. Consider Simon the Anti-Dolan.
Simon made his money co-founding the Melvin Simon & Associates, a mall development company, in 1960. It would later become the Simon Property Group, now is one of the largest commercial real estate companies in the U.S., in 1993, the same year he purchased the Indiana Pacers for $10 million, a valuation the team has since eclipsed many times over.
4. Leslie Alexander, Houston Rockets

Alexander has consistently put his team in the running for success by being involved, but not meddlesome (again, think about the opposite of James Dolan). After graduating from NYU in 1965, he began trading bonds on Wall Street before starting his own investment company in 1980. Several worthwhile investments later, Alexander had enough money to buy the Rockets in 1993, and they have won two NBA championships and been, at worst, a good team ever since.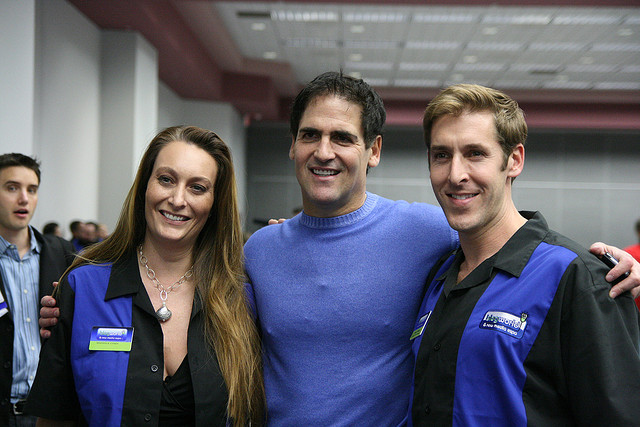 3. Mark Cuban, Dallas Mavericks
If you want to follow the Mark Cuban model, you might be wise to find a gig bartending. That's what the Dallas Mavericks owner did after he graduated from the University of Indiana, pulling down double duty behind the bar and working as a computer sales person. Cuban eventually founded MicroSolutions, a company that, in his words, saw him act as "a PC consultant." "I sold software and did training and configured computers," he said. "I wrote my own programs. I immersed myself in the PC industry and studied Microsoft and Lotus and watched what the smartest people did to make things work." He got the money to fund Micro-Solutions, incidentally, by being fired for leaving his sales job to pick up a commission worth $15,000.
From there, Cubes got deeper and deeper into computers, selling MicroSolutions to CompuServe and another venture, Broadcast.com, to Yahoo. Then, in 2000, he paid $285 million for the Dallas Mavericks, and the team has enjoyed a steady course of winning seasons and postseason runs of varying length, with two Finals appearances and one championship. As the NBA's most visibly involved owner, and unafraid to take risks in spite of their salary cap implications, Mavs fans have been treated to a decade of tremendous basketball all because Mark Cuban is far from an awful team President.
2. Micky Arison, Miami Heat
Docked a slot for the amnesty of Mike Miller that might have given the Heat that extra push they needed to beat San Antonio in the Finals (well, not really. No one was beating the Spurs except for, maybe, Dallas), Micky Arison and the Miami Heat had the presence of mind to let Pat Riley do his thing, a course that won them one championship in 2006, lead to a lockout-causing free agency heist in 2010, and another pair of rings in 2012 and 2013. Arison's the son of the founder of Carnival Corporation, you know them for their cruises, and was the CEO of that company from 1979 until 2013.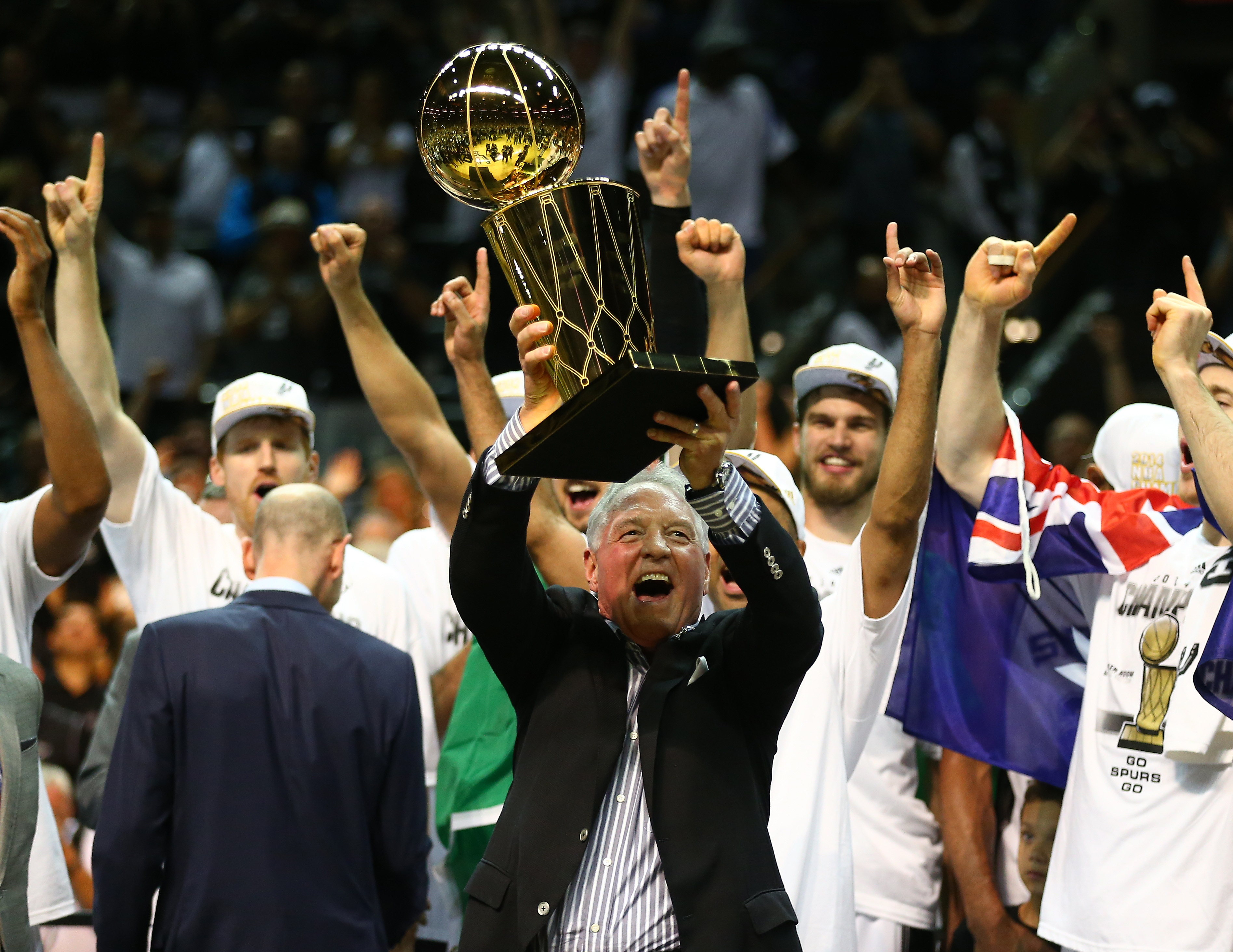 1. Peter Holt, San Antonio Spurs
Between Greg Popovich and R.C. Buford, the San Antonio Spurs have crafted a front office and coaching staff that is one giant amoeba of victory, a glob of success, and a unified entity that has become the envy of the rest of the league. Holt, who held season tickets for five years before purchasing the team in 1993, has been the kind of owner to let his front office do what they need to do while concerning himself with league affairs, as the onetime head of the NBA's Board of Governors. He lets his front office do their thing, while reinforcing out the foundational principles that make the Spurs the Spurs.
Holt was born into the tractor industry, as his great grandfather started what would eventually become Caterpillar Inc. Using the funds built from that, specifically HOLT CAT, his own branch of tractor and heavy equipment, he was able to purchase the Spurs. With a personal worth of 'only' $80 million, Holt is the head of the most successful franchise in the NBA despite being one of the poorest. Poor being relative, of course.