How the Indianapolis Colts Clinch an AFC Wild Card Berth in Week 18
The Indianapolis Colts have a simple objective in Week 18 against the Jacksonville Jaguars. A win not only erases the stench of their Week 17 loss to the Las Vegas Raiders at home but it will, without a doubt, secure their spot in the playoffs.
At 9-7 with this last game to go, if the Colts get a win, they're in. That's not the only scenario that will see Carson Wentz, Jonathan Taylor, and company in the playoffs, though.
Easy enough: If the Indianapolis Colts win, they're in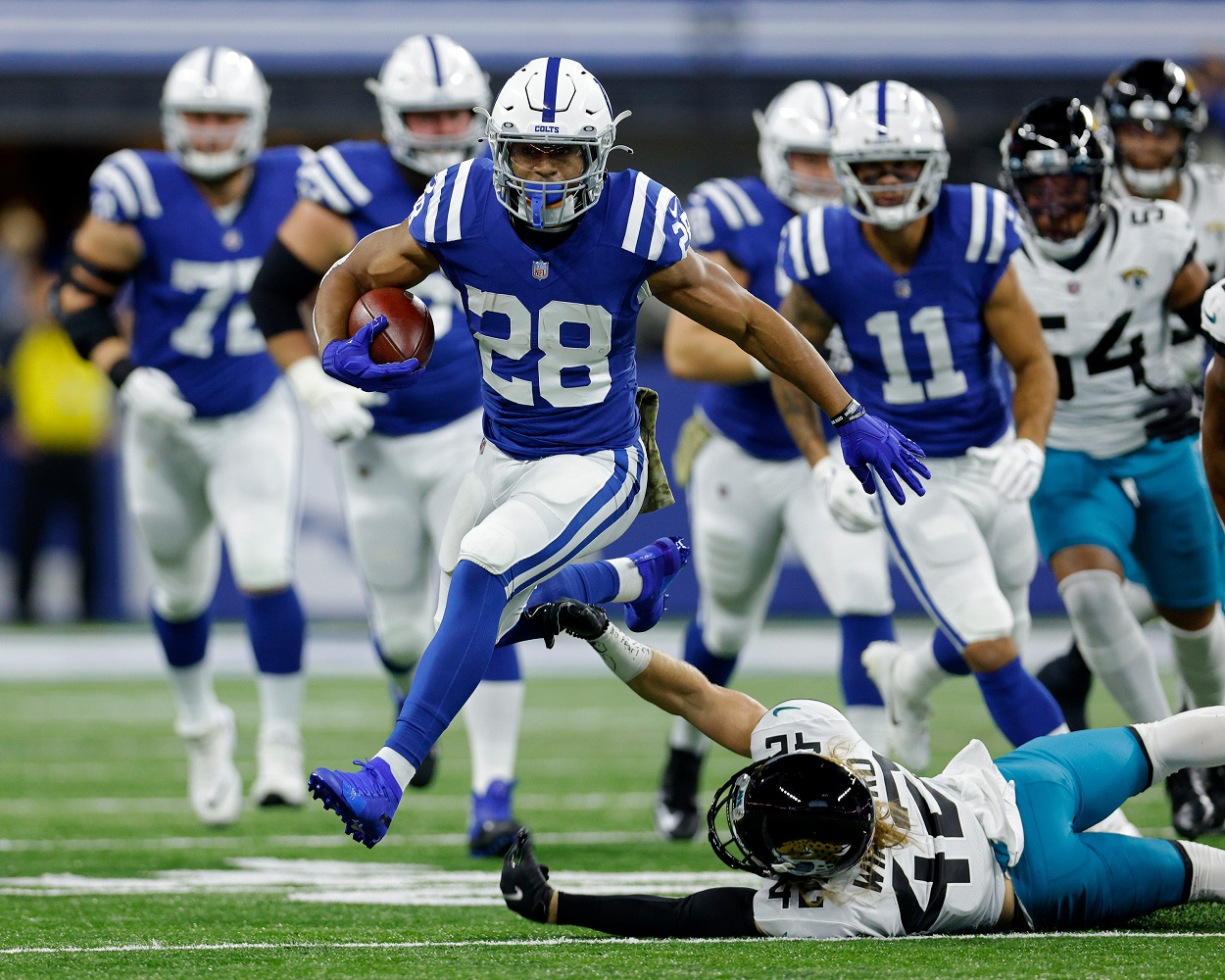 No team wants to backdoor its way into the playoffs, and the Colts will be no different in that regard. There is still a way for Indianapolis to make the playoffs if they don't beat the Jaguars, but how confident would anybody be in this team if they enter the big dance on a two-game losing streak, with one of the losses at the hands of the 2-14 Jaguars?
Simply put, if the Colts go out and beat the Jaguars, which they should, then they will be in the playoffs. They control their own destiny in that regard, which has to be somewhat comforting, especially when realizing that the Jaguars are on an eight-game losing streak.
While winning guarantees the Colts a playoff spot, their seeding in the playoffs will be determined by other results across the league.
Here's how it looks simplified. This is according to the Colts website:
Patriots, Bills, Raiders win: Colts are No. 7 seed
Patriots, Jets, Raiders win: Colts are No. 6 seed
Patriots, Jets, Chargers win: Colts are No. 5 seed
Patriots, Bills, Chargers win: Colts are No. 6 seed
Dolphins, Bills, Raiders win: Colts are No. 6 seed
Dolphins, Jets, Raiders win: Colts are No. 6 seed
Dolphins, Jets, Chargers win: Colts are No. 5 seed
Dolphins, Bills, Chargers win: Colts are No. 5 seed
Colts tie: Colts are No. 7 seed
The Colts should win, but what if they don't?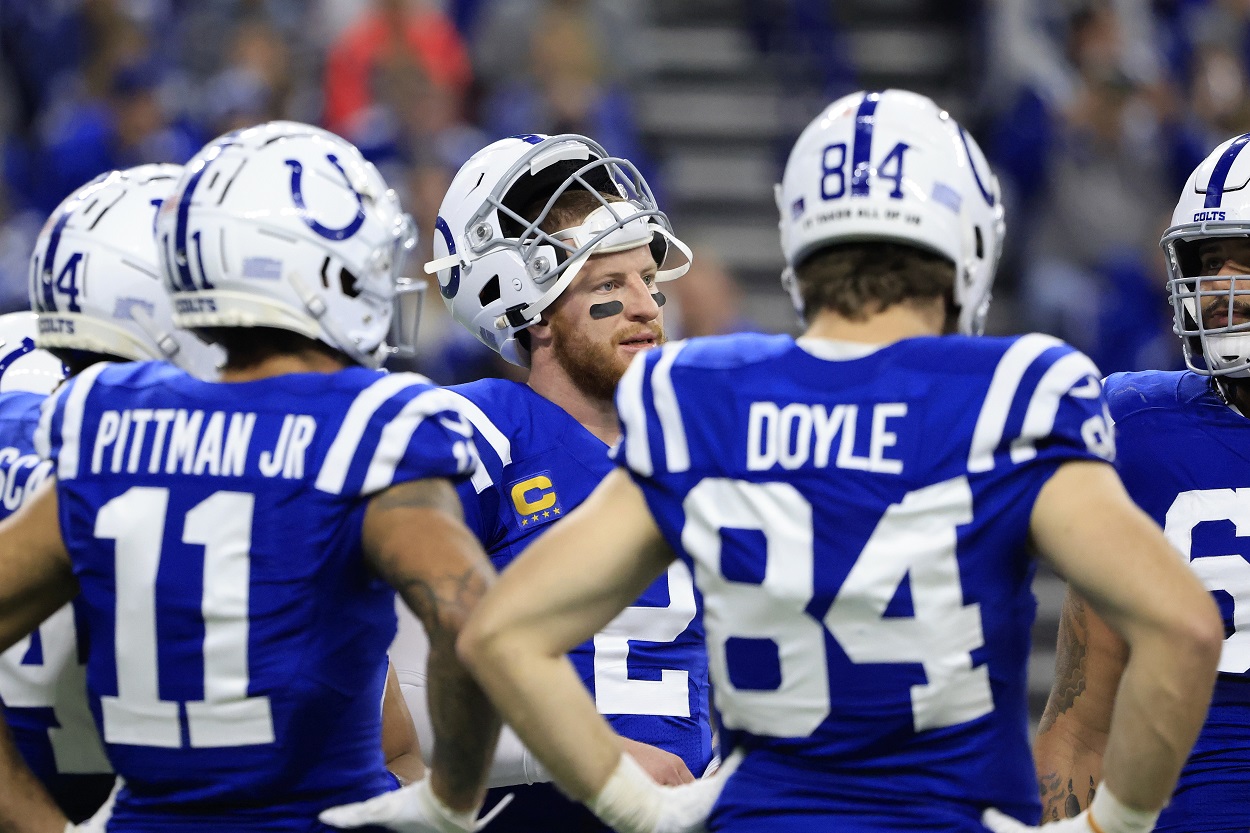 All signs are pointing to Indianapolis heading down to Jacksonville and pulling out a win.
Even if the Jaguars weren't on a massive losing streak and even if they didn't fire Urban Meyer midseason, these are just two very different teams.
One is pretty good, and the other is, well…pretty bad.
The numbers flesh that out heading into this contest, and that's because they are so stark.
The Colts score 27.5 points per game, which is in the top 10 league-wide. The Jaguars are the very worst team in the league in that category, scoring just 14.2 points per game.
Defensively, the Colts are in the top half of the league, giving up 21.2 points per game. The Jaguars have the second-worst defense in the NFL, giving up 27.9 points per contest.
This is a mismatch in every which way, but what if the Colts were to shockingly tie the Jaguars or even lose?
Believe it or not, Indy could backdoor its way into the playoffs. 
If the Colts tied and finished at 9-7-1, that would still be enough for them to finish with the 7th seed. A loss and a 9-8 record would put things out of their hands, but the Colts could still actually squeak into the playoffs.
If Indy loses, it will need the Dolphins to beat the Patriots, the Raiders to beat the Chargers, and the Ravens to beat the Steelers to still make the playoffs.
The best-case scenario for the Colts
It's worth noting that the Colts haven't won in Jacksonville for years. They've dropped five games in a row to the Jaguars while playing in Jacksonville, and it would be six if you wanted to count the Colts' loss to the Jaguars in London in 2016. 
That's a curious stat, especially considering just how bad Jacksonville has been lately. Rest assured, it is something the Colts have on their mind heading into this game.
"It's something that we acknowledge as a team," safety Khari Willis said, according to ESPN. "We acknowledge it. Our head guy acknowledges that we haven't won down there since they've been here. That's a big deal for us, and we're pretty sure it's a big deal for them. It's one of those things. It's the elephant in the room. 
"So we accept the challenge, we take it personal and we're going down there to try to take care of business."
Losing streak aside, Indianapolis has to go into this Week 18 game with the sole focus of winning. Even a one-point win will do it. With that said, there is also a real possibility that the Colts can blow out the Jaguars and get a little bit of rest in before Wild Card weekend.
The Jaguars have lost their last eight games by an average of 17 points. Notably, one of their closer games in this stretch was a 23-17 loss to Indianapolis, but that was before Meyer was unceremoniously fired. Things were bad at that point, but they've gone downhill since.
Jaguars fans are planning on dressing as clowns for this game, which tells you everything you need to know about the current state of the organization. They're doing this as a protest, hoping to make a statement to owner Shad Khan that general manager Trent Baalke needs to go.
That's the backdrop of this game. Indianapolis needs to win. Jaguars fans are dressing as clowns. What else do you need to know?
The blueprint is simple. Indy needs to get points on the board as fast as possible, use Taylor to wear down a defense that's giving up 127.1 yards per game on the ground, and get out of there with an easy win with as little wear and tear as possible heading into the playoffs.
From there, anything can happen. 
Stats courtesy of ESPN and Pro Football Reference.