How to Score More Than 60 Points in a Football Game and Still Lose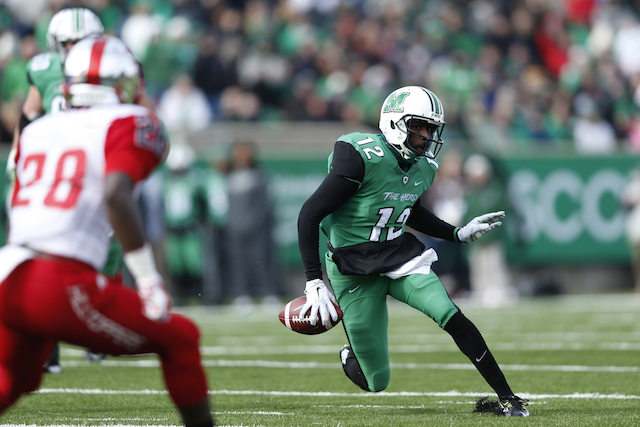 The Marshall Thundering Herd's undefeated 2014 football season came to a stunning halt Friday when Marshall dropped a heartbreaker in overtime. The visiting Western Kentucky Hilltoppers prevailed on the final play of overtime when head coach Jeff Brohm made the gutsy decision to go for two and the win. WKU came out on top by a single point, but the real story of the game was the incredible amount of scoring. The Hilltoppers had roared to a 49-42 halftime lead and the final margin was a jaw-dropping 67-66.
Marshall became one of the rare teams to score more than 60 points in a game and lose. In fact, the all-time FBS record for most points scored in defeat is only one point more than the Herd put on the board: 67.
Here is a list of the eight other teams besides Marshall that have scored more than 60 points in a game in this millennium (since 2000) and still not been able to come away with a victory. All data comes from sports-reference.com, and teams are listed in ascending order of points scored, ending with the record-holder at 67.
2001 Eastern Michigan
The Eastern Michigan Eagles came up short in a November 2001 game against MAC foe Akron, falling 65-62 to the Zips in triple overtime. Akron's Bobby Hendry rushed for five touchdowns in the game, which, coupled with more than 300 yards through the air for Zips QB Charlie Frye, was enough to edge EMU despite six touchdown passes from Eagles QB Kainoa Akina.
2007 North Texas
The November 10, 2007 game between Navy and North Texas is still in the FBS record books, as it represents the most combined points for two teams in a regulation game. Six different Midshipmen rushed for touchdowns that day, as Navy piled up 572 yards on the ground en route to a 74-62 win. North Texas quarterback Giovanni Vizza had a career day in defeat: 478 passing yards (completing 40 of 50 throws) and an unbelievable eight touchdowns.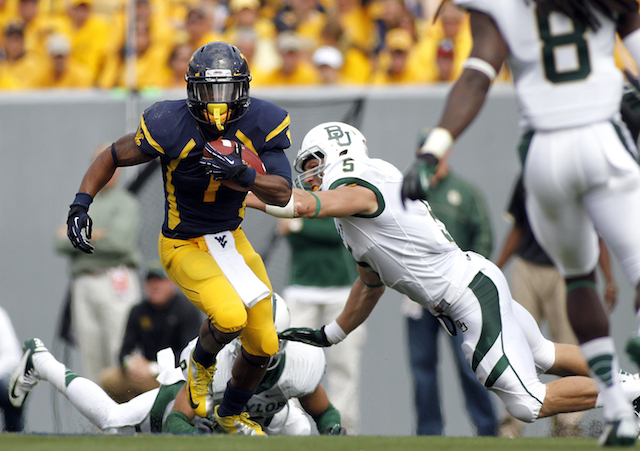 2012 Baylor
Major-conference teams have fallen into the 60+ and losing club' as well, including the 2012 Baylor Bears. Baylor, who was ranked in the Top 25 at the time like this year's Marshall squad, dropped a 70-63 decision at West Virginia (pictured) that September. Mountaineers star Geno Smith completed eight touchdown passes without a pick and threw for a school-record 656 yards to overshadow Baylor's Nick Florence, who only had 581 yards and five scores. Both teams had more than 700 yards of total offense, which makes sense in a game featuring a combined 19 touchdowns.
2003 Kentucky
In 2003, Kentucky and Arkansas played one of the longest games in NCAA history, needing seven overtimes to decide a winner. The Razorbacks ended up winning the thriller by a score of 71-63, even though the score was only 24-24 at the end of the fourth quarter. Arkansas scored touchdowns on six of its seven OT possessions. Multiple-overtime games for the Hogs were nothing new, though: Arkansas won a 7-OT classic over Ole Miss in 2001 and lost to Tennessee in six extra periods in 2002.
2004 Rice
One hundred thirty-three points and no field goals: In 2004, San Jose State rallied from a 27-point first-half deficit to outlast Rice 70-63 in a game the Spartans never led until the final touchdown. Rice put up 63 points despite only throwing for 64 yards, while SJSU did its damage through the air, rushing for just 83 yards. Both teams committed five turnovers in the contest, which featured 10 different offensive players scoring touchdowns.
2011 Western Michigan
In a league known for #MACtion, it should come as no surprise that Mid-American Conference teams recently played into the 60s with no overtime needed. The Western Michigan Broncos jumped out to a quick 14-0 lead at Toledo, but that was just the beginning on a crazy night of scoring. When the dust had settled at the Glass Bowl, the home team edged WMU by a score of 66-63, thanks to more than 800 yards of total offense. Western Michigan signal-caller Alex Carder threw for seven touchdowns in the game, but it wasn't enough.
2010 Illinois
The 2010 Illinois Fighting Illini are one of only two teams in FBS history (before Marshall-WKU of 2014, that is) to score more than 63 points and lose. The Illini failed on a two-point conversion in the third overtime that would have tied the game, which gave visiting Michigan (pictured) a 67-65 victory in Champaign. After the teams finished regulation tied 45-45, the Wolverines were able to execute in OT and win a game where they turned it over five times (compared to just one giveaway for Illinois).
2007 Nevada
Last, but not least, it's the 2007 Nevada Wolf Pack and a record nobody wants to hold. Nevada, led by a young quarterback named Colin Kaepernick making his first career start, hung with Boise State on the Smurf Turf in October all the way into overtime No. 4. (Boise had forced overtime with a field goal on the final play of the fourth quarter that tied the game 44-all.) However, the visitors finally fell short on a 2-point conversion, allowing the Broncos to escape with a 69-67 win and improve to 5-1.