Here's How to Watch the 2019 NFL Draft if You Don't Have Cable
Trending on our omnipresent handheld tech devices, the internet is buzzing about the 2019 NFL Draft. Fans, analysts, coaches and their staffs, and social media managers are all scrambling to prepare for draft day. The Oakland Raiders have a trio of first-round picks following a disappointing 2018 season and some well-planned trades. How will it all unfold? That's for NFL draft experts to predict. How can fans watch their favorite team make its draft picks? We're here to help.

A funny anecdote about the NFL draft
Similar to the secrecy coaches strive for in keeping their plays confidential during games, the same tight-lipped practices are also a part of the NFL draft.

After news broke that the Raiders sent their scouts packing over trust concerns and possible leaks, social media was on fire with plenty of jokes and pokes about that pre-draft decision. In one of the best examples, Leigh Mayock, daughter of Oakland general manager Mike Mayock, had Twitter in stitches with a story about her father.

In a tweet about how closely her father guards his potential picks, she posted a gem that went viral. The only secret she was willing to share on social media about her Dad's potential choices to wear the silver-and-black in the future was a hilarious revelation about her dad taking his draft notes into the bathroom with him.

While taking a handheld device into the restroom is relatively commonplace nowadays, it still speaks to the secrecy that's a top concern with the staff upstairs overseeing the future of this struggling franchise. When it comes to all of today's technology, can all tried-and-true fans still watch the NFL draft even if they're not wired with a cable connection?

Viewing options if you're not there in person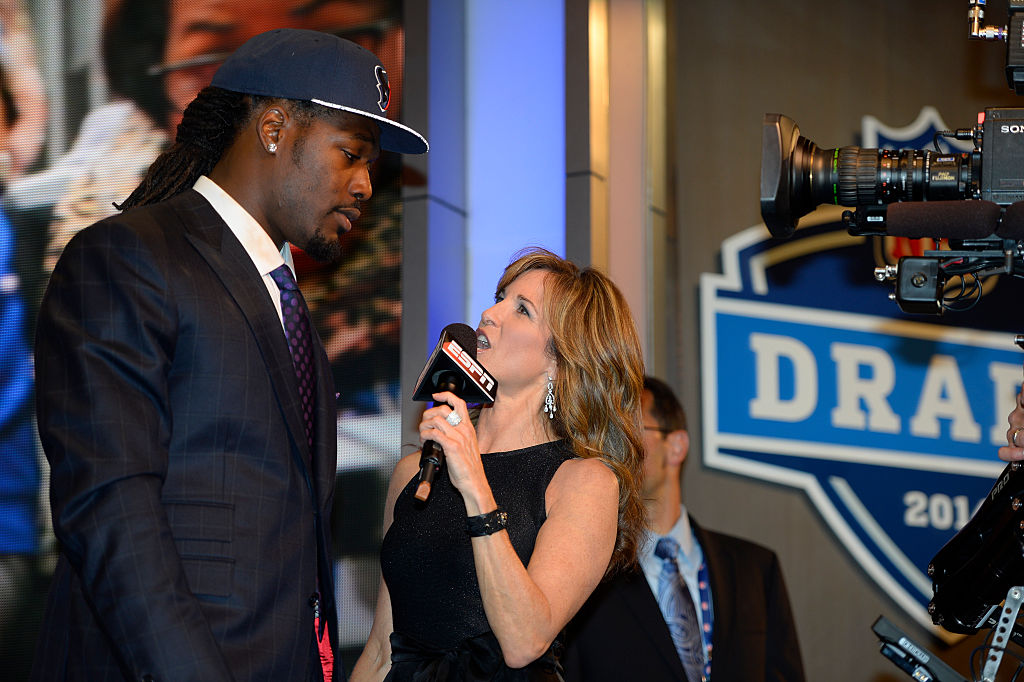 For those who are cable-free, there are still free options where viewers will be able to watch all the drama unfold during the 2019 NFL draft. As you'll see it's ABC all the way, but here are the official times and all the stations as published directly by the NFL including the ability to view it on their namesake platform:

Round 1 on Thursday, April 25 at 8:00 p.m. eastern: ABC, ESPN, NFL Network and ESPN Deportes
Rounds 2-3 on Friday, April 26 at 7:00 p.m. eastern: ABC, ESPN/ESPN2, NFL Network and ESPN Deportes
Rounds 4-7 on Saturday, April 27 at 12 p.m. eastern: ABC, ESPN, NFL Network and ESPN Deportes
In the worst case scenario, there are plenty of sports bars that will be broadcasting the NFL draft. Many football fans will literally be on the edge of their seats as the choices unfold on live TV. We'll be seeing plenty of stats-and-facts associated with players and these figures are just one of the many considerations facing those who will be making difficult decisions.

Making the tough choices
When it comes down to the many NFL draft dilemmas facing scouts, owners, management, and coaches, none of them are equipped with a crystal ball when it comes to the future of these young players. There's no way of predicting possible injuries that could occur in the future and exactly how some of this talent will make the transference from a college stadium to a professional playing surface.

Now that the results from the 2019 NFL combine are officially in the books, the fastest 40-yard-dash times and other measurables won't change. This year it was Safety Zedrick Woods of Ole Miss who brought in an impressive time of 4.29 seconds in the 40-yard dash after he completed his three trials. That capped off his last season nicely after he had 79 tackles, four pass breakups, and one defensive touchdown.

Predictions playing out
The NFL draft is all about predictions and favored choices. Sportscasters and other journalists commonly comment on the outcome of the event including their assumptions and top-10 lists. When it comes to these perceptions, let's take a quick look at the Raiders and NFL-bound Zedrick Woods to use as an example in this closing case.
It's highly unlikely Oakland's current coach, Jon Gruden, and his crew will be shopping to strengthen their safety lineup. It seems like they're already confident with their current group at the position. Some believe a talented wide receiver or a better backup quarterback are the best choices for the team. But, unless we're mind-readers or in the unlikely event we find ourselves sharing a restroom with Raider's GM Mike Mayock, we'll have to wait and watch for ourselves.