How Tom Brady Deals With Disappointment
At 44 years old and with 21 years in the NFL, Tom Brady has made himself into a living legend. The Tampa Bay Buccaneers quarterback will go down in the history books as one of the greatest to play the game after winning seven Super Bowl championships. And Brady still has a little left in the tank. The Bucs QB certainly still has the ambition to collect some more hardware before he says goodbye to the pros for good.
Though Brady has accomplished much throughout his playing career, the road to victory did not come without a few obstacles. Read on to learn more about Tom Brady's career and how the veteran quarterback deals with disappointment.
Tom Brady is widely considered the GOAT
Coming out of the University of Michigan, Brady was hardly on the radar of many NFL coaches. However, Coach Bill Belichick of the New England Patriots saw some potential in Brady and eventually selected the quarterback as the 199th pick in the sixth round of the 2000 NFL draft. For Belichick, this decision would turn out to be one of the best in his coaching career.
Brady would go on to play for Belichick and the New England Patriots from 2000 to 2019. During this time, Brady led the team to six Super Bowl victories. He also won four Super Bowl MVP awards, three NFL Most Valuable Player awards, and two NFL Offensive Player of the Year awards during his years with the Patriots.
After joining the Tampa Bay Buccaneers in 2020, Brady continued to find success. In his first season with the Buccaneers, the veteran quarterback led his team to a Super Bowl victory and won the Super Bowl MVP award.
Although Brady has collected a lot of hard-earned hardware over his career, the losses he has experienced still seem to stick out to him the most. So while he may be the greatest quarterback to ever play the game, that doesn't mean his career has come without its fair share of disappointment.
Brady has overcome many hurdles throughout his career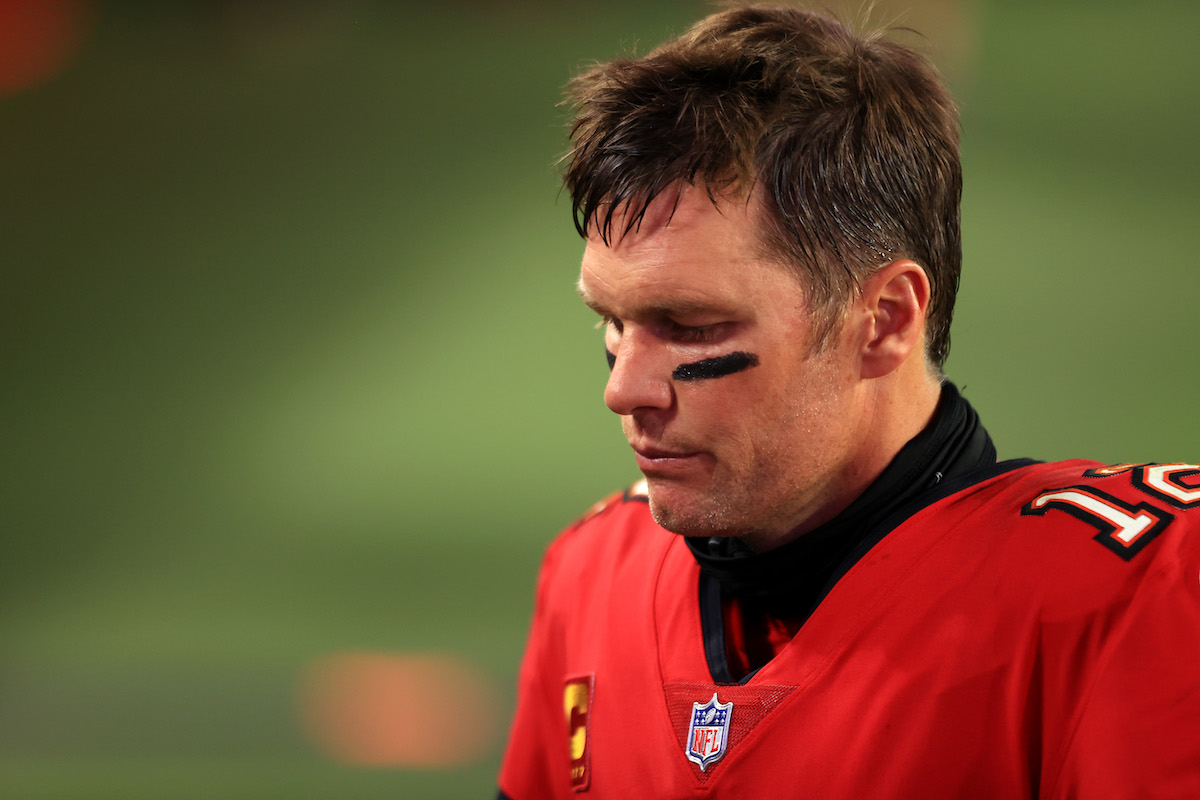 While the veteran quarterback led his teams to seven Super Bowl victories throughout his career, he also lost three Super Bowl championships. Having victory so close during those three championship games but watching it slip through his fingers was definitely hard for Brady to deal with. However, Brady has never let his setbacks hold him down for long.
After experiencing one of the worst losses in his career, Brady told ProFootballTalk, "We didn't play well in any phase of the game. Everyone's got to do a lot better. And it starts with me." This philosophy is what has kept Brady at the top for so long. The veteran quarterback is always ready to take responsibility for his mistakes and is always looking for his next path to victory.
Tom Brady focuses on staying positive and having gratitude through disappointment
One way Brady is able to keep his eye on the prize and not let loss or disappointment keep him down is through continually expressing gratitude. After his 2018 Super Bowl loss with the Patriots, Brady took to Instagram to talk to Patriot fans. According to Sports Illustrated, Brady's message to fans consisted of 200 words expressing gratitude for the lessons learned through this disappointing loss.
In part of his message, Brady wrote, "There are many emotions when you come up short of your goal. And they are all part of learning and growing in this journey of life. Learning turns everything into a positive. And the number one feeling I have had the past four days is gratitude."
The quarterback went on to express his gratitude to the fans, his team, the Patriots organization, and the Philadelphia Eagles team and organization for a well-played game. So, as it turns out, disappointment even happens to the greatest and most successful athletes of all time like Brady. So while the losses and disappointments still sting, the GOAT never lets these setbacks keep him down for long.
RELATED: Jerry Rice Believes Another Player Not Named Tom Brady Is the GOAT