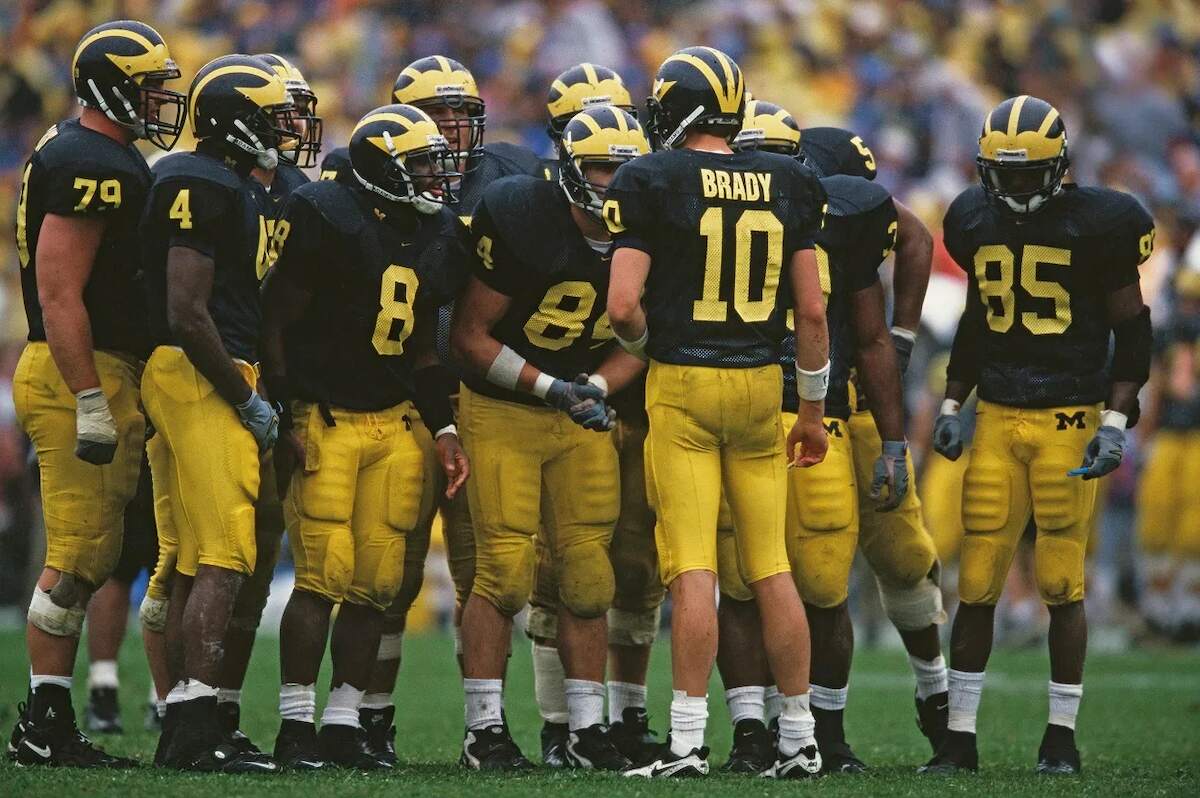 Tom Brady Once Snuck Onto the Campus of Notre Dame University and Got Himself Locked in the Stadium
Tom Brady was so willing to prepare for games that he once committed trespassing and got himself locked in Notre Dame Stadium for it.
Tom Brady's legendary NFL career makes his slide to the 199th overall pick in the 2000 draft all the more inexplicable.
Before entering the league, he led the Michigan Wolverines to two ten-win seasons and a victory in the 2000 Orange Bowl. Even then, his preparation and drive were higher than anyone else. During his junior year at Michigan, this very nearly got him locked up.
Tom Brady fights for the starting spot at Michigan
Tom Brady inherited the New England Patriots' starting quarterback spot in 2001 when Drew Bledsoe suffered a grievous chest injury. Three years earlier, as a Michigan Wolverine, Brady couldn't take over the starting role so easily. He'd have to fight for it.
Going into his junior season in 1998, Brady had seen very little playing time in his college career. He very nearly won the starting job the previous year, but head coach Lloyd Carr gave it to Brian Griese. Shockingly, Carr made the right decision. Michigan finished with a perfect record and won the national championship.
Griese graduated and declared for the NFL draft, leaving the starting spot open for Brady in 1998. Naturally, Brady studied, worked out, and studied even more film. He prepared for the new role with the same vigor and tenacity that would define his entire career.
Tom Brady sneaks into Notre Dame Stadium
Michigan's first game of 1998 was on the road against the Notre Dame Fighting Irish. It just so happened that a month before the season started, Tom Brady attended a friend's wedding in Chicago, less than 100 miles away from South Bend.
After that wedding, he took a detour and drove to Notre Dame just to get a feel for the campus. When he reached Notre Dame Stadium, he found an open gate and passed by several "NO TRESPASSING" signs to enter the hallowed ground.
"I just kinda took it all in," Brady told NFL Films in 2002. "I walked up to the top of the stands, stood on our sidelines, stood in the middle of the field real quick. It was cool."
When he tried to exit the stadium through the same gate, he found it closed and locked. All of the gates were locked. He'd been trapped in Notre Dame Stadium.
"It was getting dark, and I was starting to freak out," he told Sports Illustrated. "There was a 15-foot drop if you climbed over the wall, so finally I broke into a maintenance closet, found an extension ladder, threw the thing over the fence, and climbed down."
If Tom Brady thought he'd gain a competitive advantage from coming to South Bend early, he thought wrong. Michigan lost that game 36-20.