How Trent Tucker Changed the NBA With a Single Rule Change
For most of his NBA career, Trent Tucker was an afterthought. The shooting guard played nine seasons for the struggling New York Knicks. He led the team in win shares once (1985-86, when there were only 23 wins to share). In the twilight of his career, Tucker played the 1992-93 season with the Chicago Bulls. There, he contributed 17 points in the NBA finals over the Suns.
But Tucker isn't remembered for sharing the court with Michael Jordan; he's remembered for fundamentally altering the end of every close game.
Trent Tucker's infamous game
On January 15, 1990, Tucker received the ball against the Bulls with 0.1 seconds left. He heaved it at the basket, scoring from beyond the arc and giving the Knicks a 109-106 win. As any fan of '90s basketball expects, Bulls coach Phil Jackson went ballistic while Madison Square Garden went wild.
After appeals and complaints were filed, the NBA eventually caved and agreed it was unlikely any shot could be taken before 0.1 seconds expired. Entering the 1990-91 season, the NBA restricted teams with less than 0.3 seconds remaining to high-lob or tip-in shots, not full catch-and-release attempts like Tucker made.
The impact on the NBA has been immeasurable. Many games come down to the last play. This rule bans teams from making attempts from most places on the court during the last 0.2 seconds. Phil Jackson likely had a point. It's not possible to catch and shoot with 0.2 seconds or less, even if 0.3 does seem a little generous.
The line must be drawn somewhere, and NBA clocks don't track past the tenths digit. It's entirely possible that some trailing (or tied) team has been robbed of a potential comeback by this rule. But it makes sense, and it's difficult to imagine a more fair conclusion.
The strange Bulls-Knicks history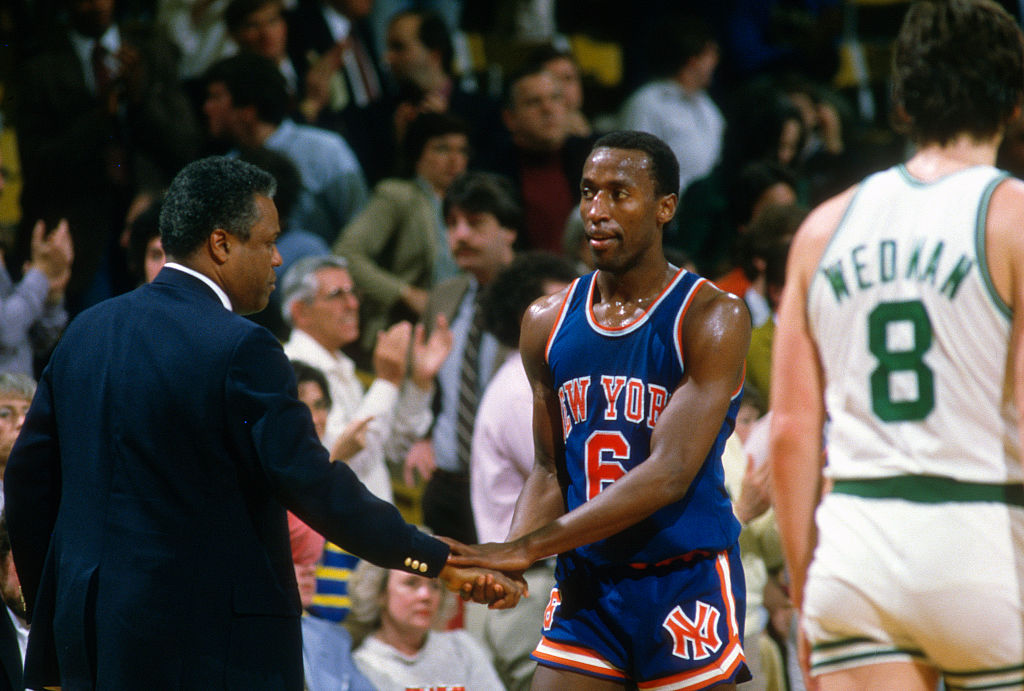 The Bulls and the Knicks have plenty of history, and Trent Tucker's shot was yet another entry in the book of their rivalry. Interestingly, Tucker joined Chicago only two seasons later, contributing to their first '90s three-peat.
But just like Jordan, Tucker retired after the 1993 win (to spend time with his family and work in sports radio, not to play for the Birmingham Barons).
Phil Jackson, who effectively created the Trent Tucker rule, won his two championships as a player with the Knicks in 1970 and 1973. After retiring (with 11 more rings) as a coach, he returned to the Knicks to work be the team president. Although the Knicks struggled mightily through the late 2010s, it didn't tarnish Jackson's stellar reputation as a coach.
The future of the Trent Tucker rule
Is it possible that a player could catch and shoot in under 0.3 seconds? Sure. On Sport Science, Jason Kapono showed he could do it in 0.22. However, confirming this requires technology the NBA doesn't currently possess or want to implement. But more teams are adopting new technology. Perhaps, time will be measured accurately under 0.3 seconds someday.
Technically, the rule shouldn't exist. As basketball rules go, you can shoot the ball until the buzzer sounds. It's pretty straightforward. But cameras that shoot 60 frames per second only capture every 0.033 of a second, which isn't always enough to accurately tell if a shot gets off in time.
It's entirely possible that a forward-thinking coach or GM will suggest a way to accurately track buzzer-beaters in the future. It would make the Trent Tucker rule obsolete. But for the time being, call those timeouts with 0.3 or more remaining.