How Warren Moon Took Tony Gonzalez From Nobody to NFL Star
Since his retirement in 2013, Tony Gonzalez has commentated for Fox Sports and hosted a podcast. His 17-year NFL career earned the tight end a lot of praise and a Pro Football Hall of Fame entrance in 2018. Many consider Gonzalez to be the greatest tight end in the game. He topped the charts with 1,325 receptions, 15,127 receiving yards, and 111 touchdowns.
However, the 14-time Pro Bowler's journey to success wasn't easy. Gonzalez overcame many struggles that threatened to hold him back from his full potential. Thankfully, former quarterback Warren Moon entered his life just in time to improve it.   
Tony Gonzalez, a man of many talents 
RELATED: Tony Gonzalez's Brother Saved His Life and Made Him Play Football
Gonzalez is recognized for his football talent. But he's a man of many skills. Way before joining the NFL, Gonzalez demonstrated promising basketball talent as he averaged 26 points per game in high school. Gonzalez's college basketball career at the University of California — Berkeley was less than impressive. He only averaged six points a game. Fortunately, he matured athletically in a way that later made him a household name. 
Many people were surprised by his decision to pursue football over basketball. They cited that it's more violent, the career span is shorter, and there are more potential career-ending injuries. Not to mention, Gonzalez's first love was basketball, and he was considered better at it than football. 
Declaring for the draft and facing huge expectations
It was no surprise when Gonzalez declared for the 1997 draft. By doing so, NFL teams could draft him. But it also meant he forfeited his eligibility to play college football again. The Kansas City Chiefs traded up from the 17th pick to make Gonzalez the 13th pick.
Drafting Gonzalez was a no-brainer after Carl Peterson reviewed his talents on the court and field. In response to his recent Hall of Fame induction, the former Chiefs president praised Gonzalez, saying he is "without question" the best tight end, and "I don't know that I've seen one better," according to Clutch Points. As a first-round draft pick, Gonzalez faced high expectations. He explained it further:
"Tight end is one of the hardest positions to play in football, It's right up there with quarterback and cornerbacks. You have to have the skills of a wide receiver and the strength of an offensive lineman, and it's not easy to balance those two."
The pressure heavily weighed on him in his rookie years, but the years that followed Moon's arrival would prove to be the defining moments in his career.
Warren Moon takes Tony Gonzalez from nobody to NFL star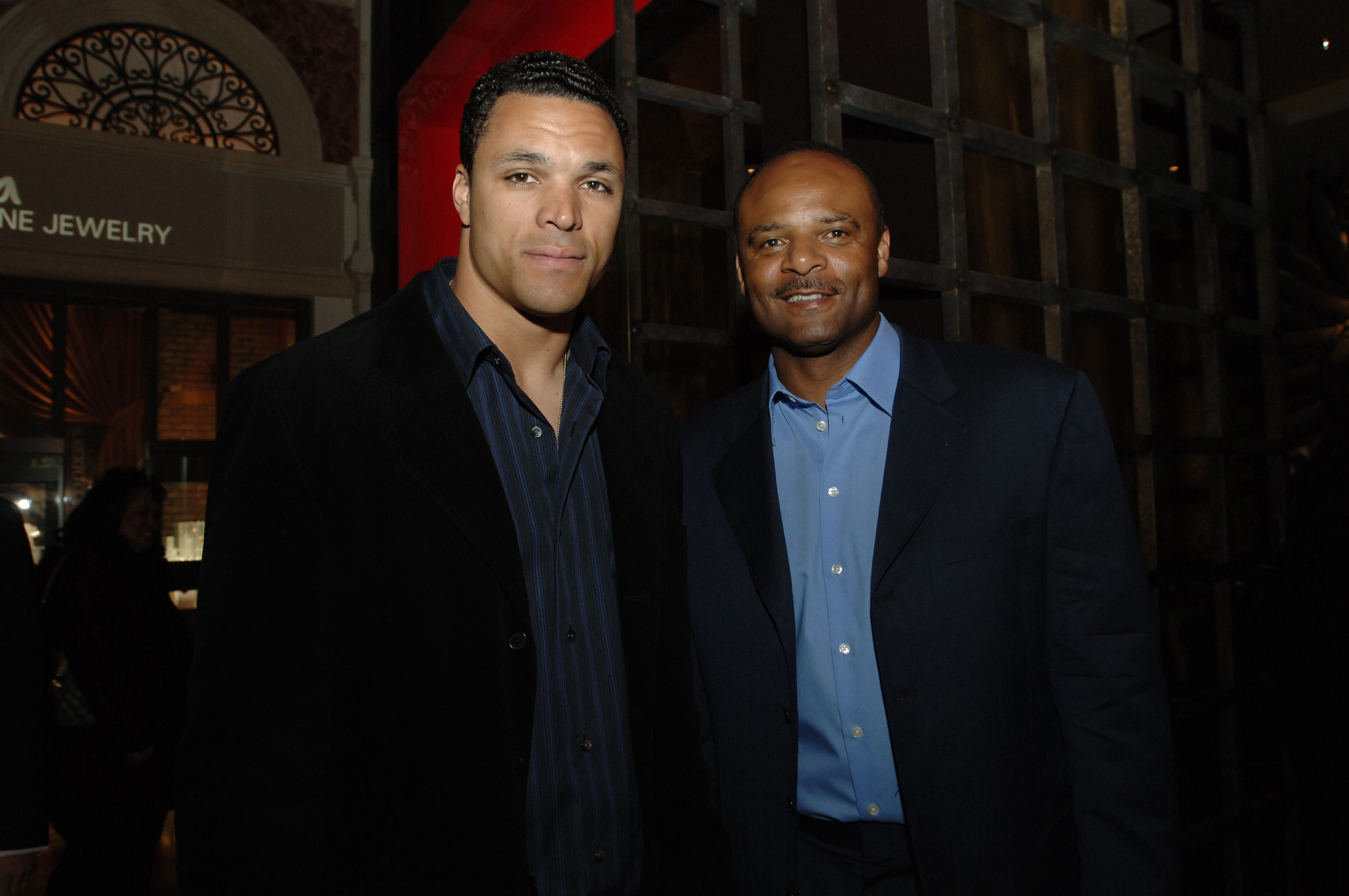 In the first few years of Gonzalez's Chiefs career, he struggled to meet expectations. The tight end finished with 59 catches and 13 drops in his second season. He earned a D-minus from sportswriters and led the league in dropped passes. People worried about what was in store for his future. He later told Sports Illustrated:
"I'd never gotten a D-minus in anything. People were stopping me on the street, calling me at home, asking what was the matter. I didn't have an answer. I'd never worked so hard preparing for a season. I'd put in all these hours in the weight room, out on the field, and I had nothing to show for it. I was confused." 
In 1999, Carl Peterson traded for Moon, and the tight end's luck on the field started to change. According to the Record-Courier, Peterson recalls Gonzalez telling Moon, "You're a great player, and you're probably going into the Pro Football Hall of Fame. What can I do to be the best tight end in the National Football League?"
Moon replied, "Well, there's a lot of things you can do, but one thing I'll do for you is stay after practice and throw 100 balls. We won't leave the field until we do that." No matter the weather conditions, he put in the time and dedication in order to improve. 
The 1999 season with Moon was a major breakthrough in the way Gonzalez played the game. Gonzalez led the Chiefs in receiving with 76 catches for 849 yards and 11 touchdown receptions. The tight end joined the first-team All-Pro for the first of seven times. Moon's guidance made an impact on Gonzalez, taking him from nobody to NFL star.