How Well Did Michael Jordan and Dennis Rodman Get Along?
Michael Jordan and Dennis Rodman's partnership is one of the more fascinating in NBA history. Although Rodman had a long career with two championship rings before he joined the Chicago Bulls, he is most synonymous with the team's second threepeat of the '90s.
As such, one might expect him to be close with Jordan and Pippen. But if Rodman is to be believed, this was never the case.
What did Dennis Rodman say?
In 2011, Rodman sat down with ESPN's Graham Bensinger to discuss his time with the Bulls and what it was like behind the scenes. It's a popular time for these interviews, as a 10-part documentary about the Bulls is set to air in June 2020, renewing interest in the team.
Rodman didn't paint a picture as someone who was close with his teammates in the way LeBron James, Dwyane Wade, and Chris Bosh were with the Heat. Instead, he painted a picture of a working relationship that didn't extend to the players' lives off the court.
"Me and Scottie and Michael never had a conversation in three years in Chicago. Only time we had a conversation was on the court, that was it. And nobody believes that," Rodman said.
This might make sense to those who know Jordan. It's well-documented that Jordan wasn't the easiest teammate to be around, and Rodman had his history of eccentricities. This doesn't mean the pair did not get along, however, as their on-court chemistry speaks for itself.
Michael Jordan and Dennis Rodman's working relationship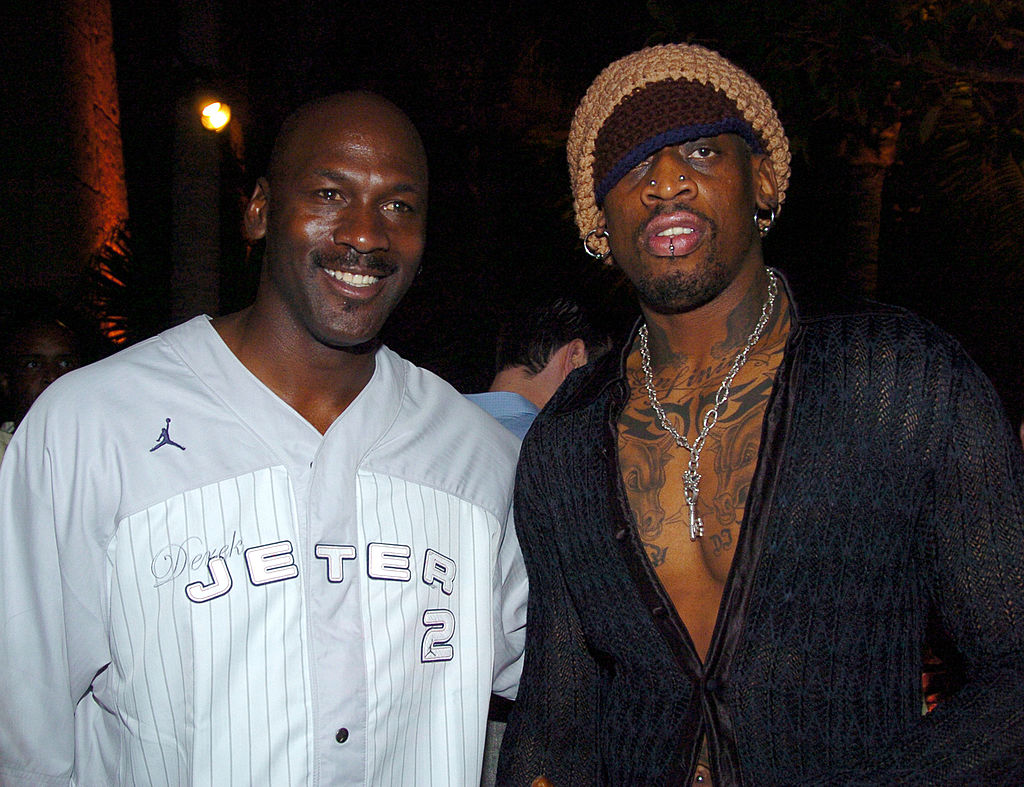 Jordan didn't measure his relationship with teammates based on their off-court friendships. Instead, he measured them by how much they gave on the court. Although there were concerns about bringing Rodman in, Jordan squelched them, reports the Chicago Tribune.
In an interview with Bleacher Report, Rodman claims he, Jordan, and Pippen were the original Big Three. "Me and Mike and Scottie revolutionized the game," Rodman said. "The way everyone plays now, that's how we played then. And now all of a sudden everyone's talking about Big Threes. Now? Really? We were the Big Three."
As he stated, the lack of communication as friends didn't mean the players silently threw the ball around. The Bulls constantly communicated, and Jordan earned his reputation as an on-court general because of this. He knew how to get Rodman to do what was best for the team.
With three rings and a team still lauded by many as the greatest ever assembled, the relationship worked as well as people would want it to. It eventually spilled into everyday life for the three athletes.
Do Jordan and Rodman get along today?
Rodman says the experiences the three had together have lasted. While the three will never be best friends, they all know they were the part of something special — a trio who never experienced defeat while together.
"[We] have so much love for each other now because we're not haters with each other. We embrace the fact that we had a chance to play with each other," Rodman said. "We're friends. We're not calling each other every day and hanging out, but when we see each other, we share the love."
Teams who win together don't necessarily have lasting relationships off the court, but this doesn't matter if it gets championships. Rodman and Jordan proved this by working together when it mattered. It's a far cry from the way teams work today, but perhaps that's why there's never been a team quite like the Bulls. 
Follow more updates from Sportscasting on our Facebook page.