How Will Kevin Harvick be Remembered? For His NASCAR Racing Talent or Temper?
Selecting the best Kevin Harvick feud is like picking the best episode of "All in the Family," the iconic 1970s television sitcom.
It's difficult. Each episode, after all, has its own subtle charm and plenty of one-line zingers. All one must do is mention Archie Bunker's name to anyone who lived in the era, and a snicker and head shake generally follow.
Start talking about Harvick's long feuding history, and NASCAR fans share a similar response.
Snicker.
Head shake.
Kevin Harvick's extended feud with Chase Elliott paved path to playoff exit
A future NASCAR Hall of Famer, Harvick's frustrating 2021 season officially ended when he missed Turn 1 at the Charlotte Motor Speedway Road Course last fall. His tires locked up, and the No. 4 Ford slid into the retaining wall.
The accident left Harvick out of the playoff chase. The Stewart-Haas driver finished the season with zero wins after claiming nine in 2020.
Guess who was driving behind Harvick at the time? Yup, Chase Elliott, the driver who drew his recent ire.
The Harvick-Elliott dustup at Bristol Motor Speedway went on for weeks, seeded from Elliott blocking Harvick, the race leader, from advancing unopposed along the short track. With Harvick denied and racing in dirty air, Elliott's Hendrick Motorsports teammate, Kyle Larson, rallied to take the checkered flag.
Harvick called it a "chickensh** move."
Later in the season Harvick bumped Elliott and told reporters, "sometimes real life teaches you good lessons."
It can.
But in the end, after Harvick lost focus and wrecked at the Charlotte ROVAL, Elliott's spotter, Eddie D'Hondt, declared over the team radio: "Karma."
Harvick: 'I love the controversy'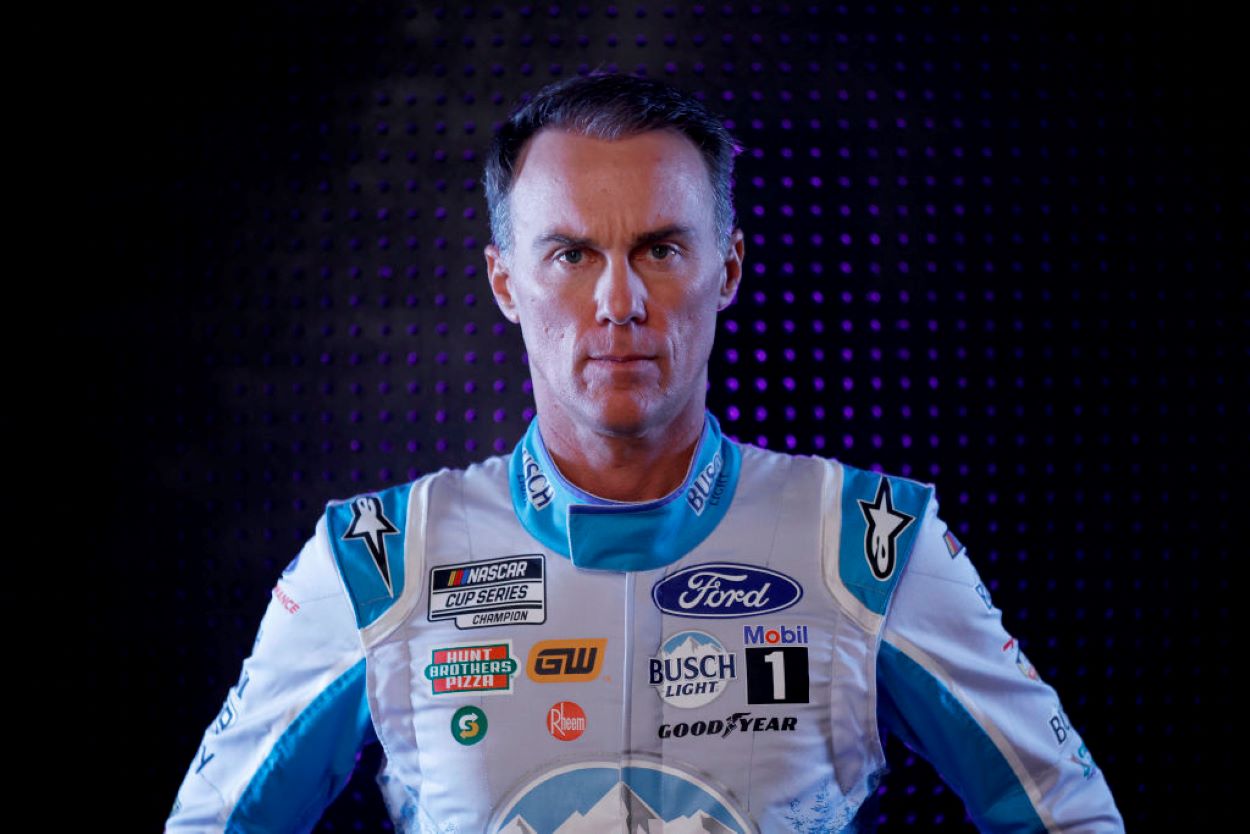 Harvick thrives on attention. With 58 career premier series victories, 47 on the Xfinity Series, and 14 on the Camping World Truck Series, Harvick stands with elite motorsports company.
He claimed the 2014 Cup championship and twice earned the Xfinity drivers' title.
When it comes time for Harvick to be inducted into the NASCAR Hall of Fame, a lot of attention will be pointed to his versatility and willingness to race two or three times on certain weekends. More attention will be pointed elsewhere.
Harvick's legacy remains linked to his much-publicized feuds.
"I love the controversy," he said in 2014, reported by Athlon Sports. "In the end, the difficult part for me is to go home and realize one day you're going to have to answer those questions to your son."
Harvick calls out his friend, Jimmie Johnson, for his team having 'a golden horseshoe stuck up their a$$'
Remember when he pushed Brad Keselowski into Jeff Gordon amid a heated discussion in 2014?
Remember the 2010 feud which led to Joey Logano's classic quote? "I don't know what his deal is with me," he said in an interview room, "but it's probably not his fault. His wife wears the firesuit in the family and tells him what to do."
Or the long-running feud with his long-time friend, Jimmy Johnson. In 2005, Johnson condemned Harvick's reckless driving and announced he should lose his seat. Ten years later, Johnson approached Harvick to talk about an earlier accident and got punched for the effort.
Another time, Harvick lost a close race to Johnson and told the media of what he thought of the breaks his friendly rival received. He said Johnson's team had a "golden horseshoe stuck up their a$$."
Harvick has engaged in several other noteworthy feuds. Go ahead and try to pick your favorite moment. It could prove about as tough as picking a top Archie Bunker moment.
Except for that one episode on Archie's favorite chair …
Snicker.
Head shake.
Like Sportscasting on Facebook. Follow us on Twitter @sportscasting19.
RELATED: Dale Earnhardt Jr.'s 2000 NASCAR Rookie Class vs. Kevin Harvick's 2001 Unit: Which Group is Better?