How Will Opting Out of the 2020 College Football Season Affect Texas A&M's Anthony Hines III?
Over the years, we've seen many fiercely recruited high school football players. In 2018, it was now-Clemson star quarterback Trevor Lawrence. Defensive tackle Rashan Gary generated huge amounts of attention in 2016, before picking the Michigan Wolverines. The next year, the most hotly recruited high-school player was undoubtedly Anthony Hines III.
Hines ultimately took his talents to Texas A&M. Despite being sidelined by a knee injury in his second year, the linebacker shows plenty of talent. Hines recently made headlines by announcing that he was opting out of the 2020 college season. Let's look at Hines' football career so far and unpack his reasons for sitting out.
Anthony Hines III's high school football career
RELATED: Utah State Football Coach Just Made a Big Mistake With His Opt-Out Comments
Hines grew up in Plano, Texas and attended Plano East High School. The 6-foot-3 linebacker played four years of varsity football for the Panthers, putting up impressive numbers along the way. In 36 total games over four years, Hines accumulated 364 solo and 276 assisted tackles, for a grand total of 640, according to Max Preps. He also racked up an impressive 27 sacks.  
Hines' high school performance was so strong right from the start that he quickly became one of the most recruited players of his generation. In fact, by his senior year, reports Bleacher Report, he had a whopping 90 offers from Division I teams — more than twice as many as most prospects. Despite being so heavily recruited, Hines was not a consensus five-star play.
On the contrary, only one of the four national recruiting sites ranked Hines with five stars. The other three all put him down as a four-star player. The biggest concern about Hines had to do with his physicality. Nonetheless, he ended up as the nation's top-ranked inside linebacker, which indicated that most scouts felt his shortcomings would be easy to overcome.
Choosing to play football at Texas A&M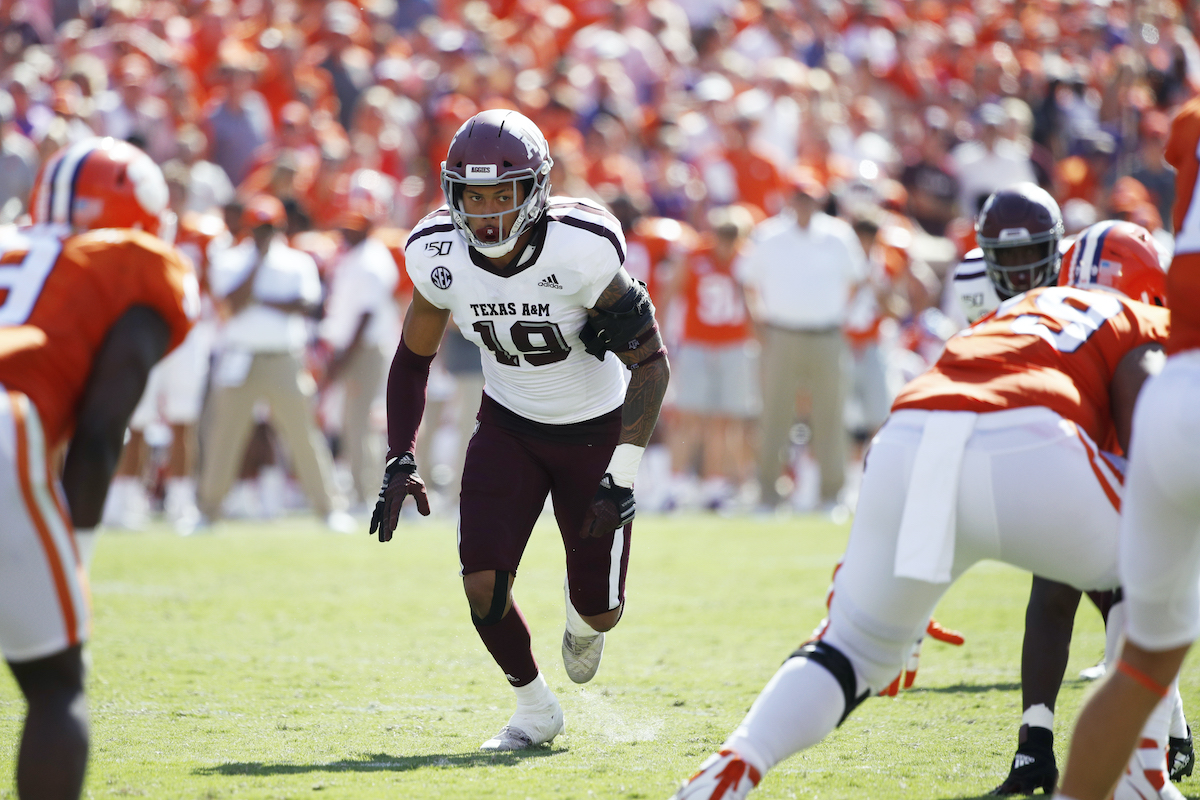 In the end, Hines opted to join the renowned football program at Texas A&M. His time there has been up and down, though not without flashes of his impressive talent.
As a freshman, he had 33 tackles and three sacks, while forcing one fumble in 13 games. His performance was impressive enough to earn him a place on the Freshman All-SEC Team. Hines' second year ended after a single game when he re-aggravated a lower leg injury, reports the Dallas Morning News. Instead of rushing to try and return, he redshirted that season.
Hines played his sophomore season in 2019 instead, breaking out in a big way. He started all 13 of the Aggies games and was second on the team with 73 total tackles: 39 solo and 34 assisted. He also proved to his doubters that he possessed the kind of physicality that can make him a high-impact player.
What opting out means for Hines' future
RELATED: Dabo Swinney's Clemson Staff Just Took a Beating From COVID-19
Less than a week before the Aggies were to play their season opener against Vanderbilt, Hines announced to world that he was opting out of the season. He made two statements about the rationale behind his decision, both of them via Twitter. In the first, he cited two general reasons: the pandemic and the "blatant injustices being committed toward people of color."
Rumors quickly started swirling that Hines had ulterior motives for the decision. The main theory was that he was opting out in order to declare for the NFL draft. Hines quickly shot down speculation with his second statement. This one was far more personal, details Saturday Down South, with Hines revealing that someone close to his family passed away from COVID-19. He clarified that his family's safety was his main priority, along with trying to "make an impact off the field regarding social injustice."
Most analysts feel that the decision shouldn't affect Hines' future in any major way. He is expected to return next year for his junior season. Of course, the odds that Hines will stick around for senior year have definitely gone down. Provided he can put together a solid season in 2021, many commentators expect him to join the NFL draft the following year.