Howie Long Outlined a 4-Word Mission for Jalen Hurts Ahead of His Primetime Showdown With the Dallas Cowboys
Jalen Hurts is about to get his first significant taste of what the Philadelphia Eagles' rivalry with the Dallas Cowboys really means.
But wait, you say, the Alabama and Oklahoma product started against the Cowboys late last season! That's true, but this matchup will occur on Monday Night Football with both teams hoping to secure a 2-1 record and first place in the NFC East division. Fox Sports analyst Howie Long views the primetime showdown as an excellent opportunity for Hurts to assert himself on a national stage.
Howie Long said Jalen Hurts can 'win the organization over' by defeating the Cowboys in Week 3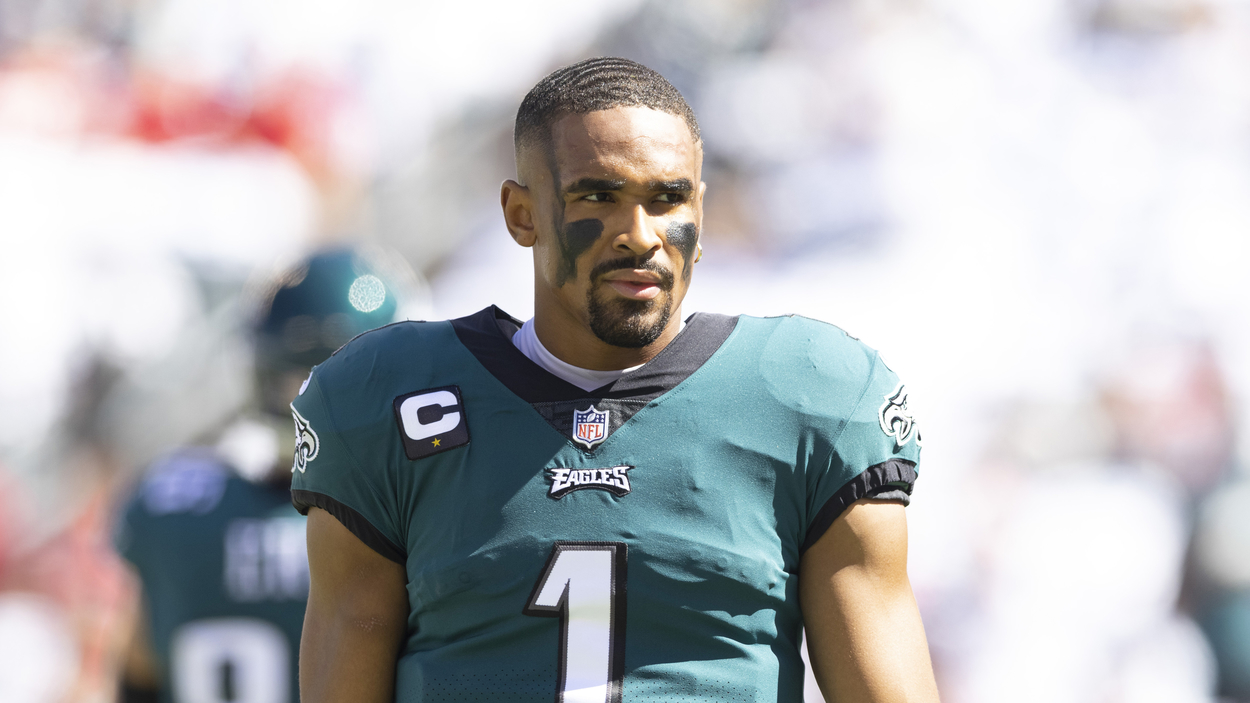 A segment of Philadelphia Eagles fans might exist who want to see yearly thrillers between Jalen Hurts and Dak Prescott, the Dallas Cowboys' star quarterback. However, some Eagles fans, and possibly those who work in the organization, might not be sold just yet.
Although the Super Bowl 52 champions were linked to a possible Deshaun Watson trade during the offseason, neither the Eagles nor the Houston Texans reportedly made any significant progress on such a move. Philadelphia instead latched its hopes onto Hurts, a second-round pick in 2020 who replaced Carson Wentz as the starting quarterback last December.
Hurts, who turned 23 in August, still only has six starts and a 2-4 record to his name. While previewing the Week 3 slate on the Sept. 26 episode of Fox NFL Sunday, Pro Football Hall of Fame pass-rusher Howie Long said the second-year quarterback could send a strong message about his future with the team if he wins on Monday night.
"There were a lot of rumors circling around what they were gonna do with the quarterback position. Jalen Hurts going down to Dallas against Dak Prescott, [getting a] big win, that would certainly win the organization over."

Howie Long
As of publication, Odds Shark listed the Eagles as +3.5 underdogs. The Eagles have not won in Dallas since Nov. 19, 2017.
Long sounds more optimistic about Hurts now than he did in 2020
Although it's a cliche to note how the NFL stands for Not For Long, we're going to do it anyway because it directly applies to Long, who shared his thoughts on the Eagles' quarterback situation last December.
During an appearance on The Colin Cowherd Show on Dec. 8, 2020, Long described the Eagles' decision to bench Hurts in favor of Wentz as a "cautionary tale." The eight-time Pro Bowler added that he felt the team didn't send a great message by drafting the Oklahoma product early.
Then, Long rhetorically asked how the Eagles and Wentz, a quarterback he viewed as a "top-10 talent," could patch things up. That proved to be a moot point when the team traded him to the Indianapolis Colts during the offseason.
The bulk of the discussion focused on Wentz and his future with the Eagles. Although the veteran analyst did not analyze Hurts' skillset during that conversation, he created the impression he felt the then-struggling team made the wrong move changing quarterbacks.
Hurts truly is in an excellent position to cement himself as the Eagles' long-term quarterback
A year from now, Watson could very well be leading the Eagles' offense out onto the field. For now, though, this team belongs to Hurts, and he's in no rush to give the keys away.
The second-year quarterback completed 67.2% of his passes in the Eagles' first two games for 454 yards, three touchdowns, and no interceptions. He also rushed for 144 yards and a touchdown on 8.5 yards per carry. He's still the same dangerous physical presence who led Alabama and Oklahoma to the College Football Playoff as a starting quarterback.
We're inclined to agree with Long here. If Hurts plays his heart out and leads the Eagles to a primetime rivalry victory, he'll go a long way in drawing more to his cause. The Wentz era is over, and it's on his replacement to ensure he's not riding the pine in 2022.
A victory and a 2-1 start would give the Eagles added momentum entering a four-game stretch against the Kansas City Chiefs, Carolina Panthers, Tampa Bay Buccaneers, and Las Vegas Raiders. The combined record of those teams, you ask? It's only 9-3, not that's a big deal or anything.
This five-game stretch will go a long way in knowing if the Eagles are still a potential playoff team when they suit up for an Oct. 31 road game against the Detroit Lions. If Hurts needed any extra incentive entering Monday's game, it's right there in front of him.
Betting odds courtesy of Odds Shark as of Sept. 27, 2021. How to get help: In the U.S., contact the National Council on Problem Gambling helpline at 1-800-522-4700.
RELATED: The Surprising Reason Jalen Hurts and DeVonta Smith Became Such Close Friends at Alabama Is Fantastic News for Eagles Fans