Howie Roseman and the Eagles Need to Keep a Close Eye on Notre Dame Safety Kyle Hamilton
The Philadelphia Eagles are still very much alive when it comes to cracking the NFC playoff picture. They're currently tied with the Washington Football Team (current No. 7 seed) with a 6-7 record and have the chance to overtake them with a Week 15 win.
However, that doesn't mean the Eagles shouldn't have one eye pointed toward the upcoming offseason. Projected to have three first-round picks during the 2022 NFL Draft, the Eagles have an opportunity to transform their roster completely.
What should the Eagles do with all these first-round picks?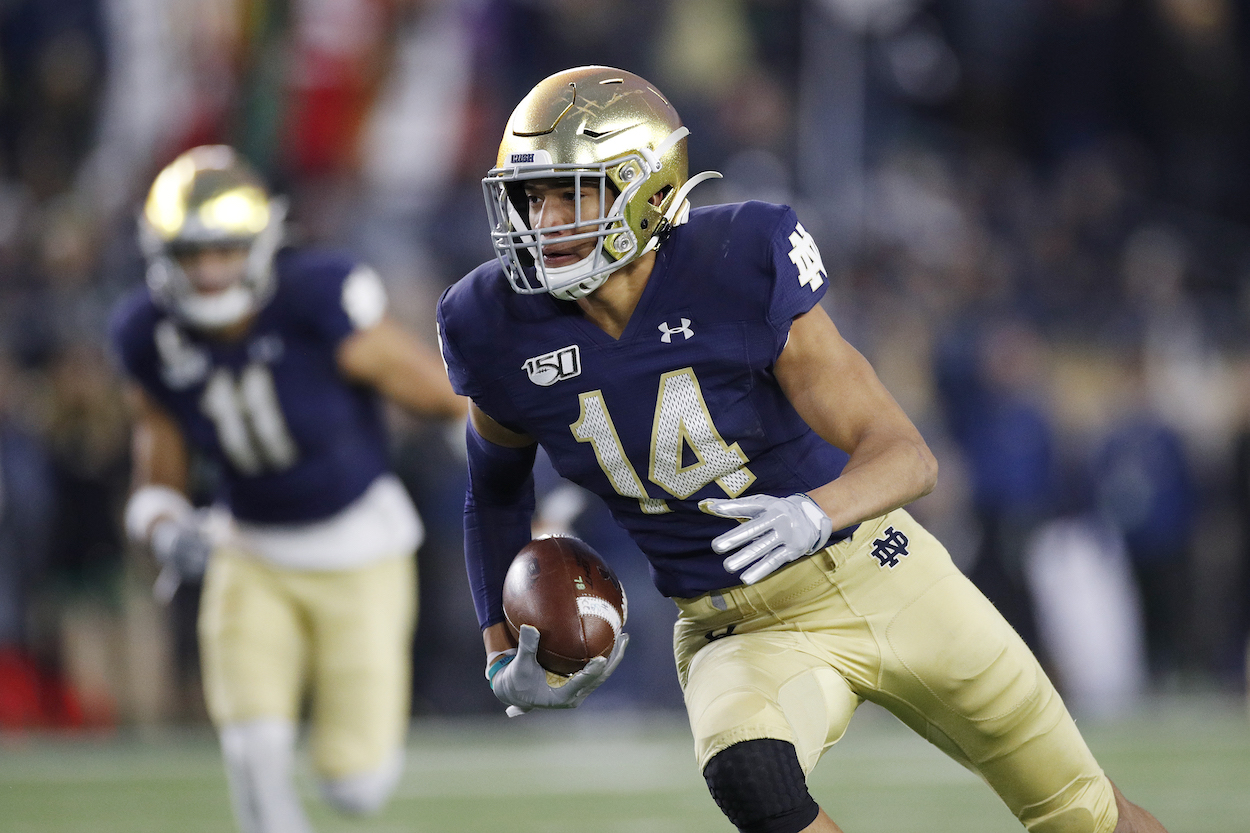 Before diving into the prospect who's the main subject of this article, it's essential first to acknowledge the Eagles' lack of a concrete plan at the moment. On the one hand, they could easily package all three first-rounders together and aggressively target a veteran quarterback like Russell Wilson or Deshaun Watson via trade.
The Eagles have been connected to both players for several months, and current starting QB Jalen Hurts hasn't done enough to justify keeping him under center for the long term.
On the other hand, the Eagles could just as easily justify using all three picks on promising rookies. The team's defense, in particular, needs blue-chip talent. The team has glaring holes at edge, linebacker, cornerback, and safety.
Potentially adding three first-round defensive starters would likely make the Eagles' defense a major strength moving forward.
Howie Roseman needs to keep an eye on Notre Dame safety Kyle Hamilton
Ultimately speaking, we may see Howie Roseman and the Eagles do several things with their draft capital. Roseman is known for his desire to trade up and down the board on draft nights. However, if they manage to hold onto a pick toward the top-10, Notre Dame safety Kyle Hamilton is undoubtedly a name that needs to be on Roseman's mind.
Not only do the Eagles have a major need at the safety position, but Hamilton looks like one of the best players in the entire draft. The Draft Network currently has him ranked as the No. 2 overall prospect.
Notre Dame safety Kyle Hamilton might just be the best NFL draft prospect I've personally studied since entering into the draft space in 2014. This is a unicorn-caliber player who is physically capable of executing a slew of roles and responsibilities and the Notre Dame program did a terrific job accentuating his versatility and allowing him to shine on all three levels of their defense. Hamilton's football IQ and instincts are simply on another level, too. He sees the game differently and that allows him to play the game with a rare patience before calling upon elite physical skills to transition and drive to the football.

Kyle Crabbs, The Draft Networkj
The Eagles should even consider trading up for Hamilton
While TDN has Hamilton pinned as the second-best player in the class, it's doubtful he actually goes No. 2 overall. Standout pass-rushers Aidan Hutchinson and Kayvon Thibodeaux feel like locks to go first and second overall, and there are several offensive line and quarterback prospects who will likely sneak their way into the top-10 conversation during the spring.
However, assuming Hamilton is hanging around that 6-10 range, the Eagles shouldn't be afraid to pounce on trading up for him. Both of their starting safety positions are set to be vacated this offseason due to expiring contracts, and Philly hasn't had a promising, young DB in quite some time.
Hamilton's presence in the secondary would simultaneously improve the team's cornerback and linebacker room, as he'd be able to take pressure off both positions.
Ultimately speaking, Hamilton-to-Philly is an idea with many factors attached to it. However, it's a route that Roseman and company need to consider seriously.
Like Sportscasting on Facebook. Follow us on Twitter @sportscasting19.