Howie Roseman and the Eagles Could Be Considering a Franchise-Altering Draft Move That Would Save Jalen Hurts' Job in 2022
All season long, the top conversation regarding the Philadelphia Eagles has been their starting quarterback position. Following the franchise's decision to part ways with former No. 2 overall pick Carson Wentz in the offseason, a significant level of uncertainty has been attached to the Philly QB job.
On the one hand, fan-favorite Jalen Hurts was seemingly provided an entire year to stake his claim for the position moving forward. On the other hand, the Eagles possess three first-round picks in next year's draft and have been heavily linked to trade targets Russell Wilson and Deshaun Watson.
Jalen Hurts hasn't secured the job yet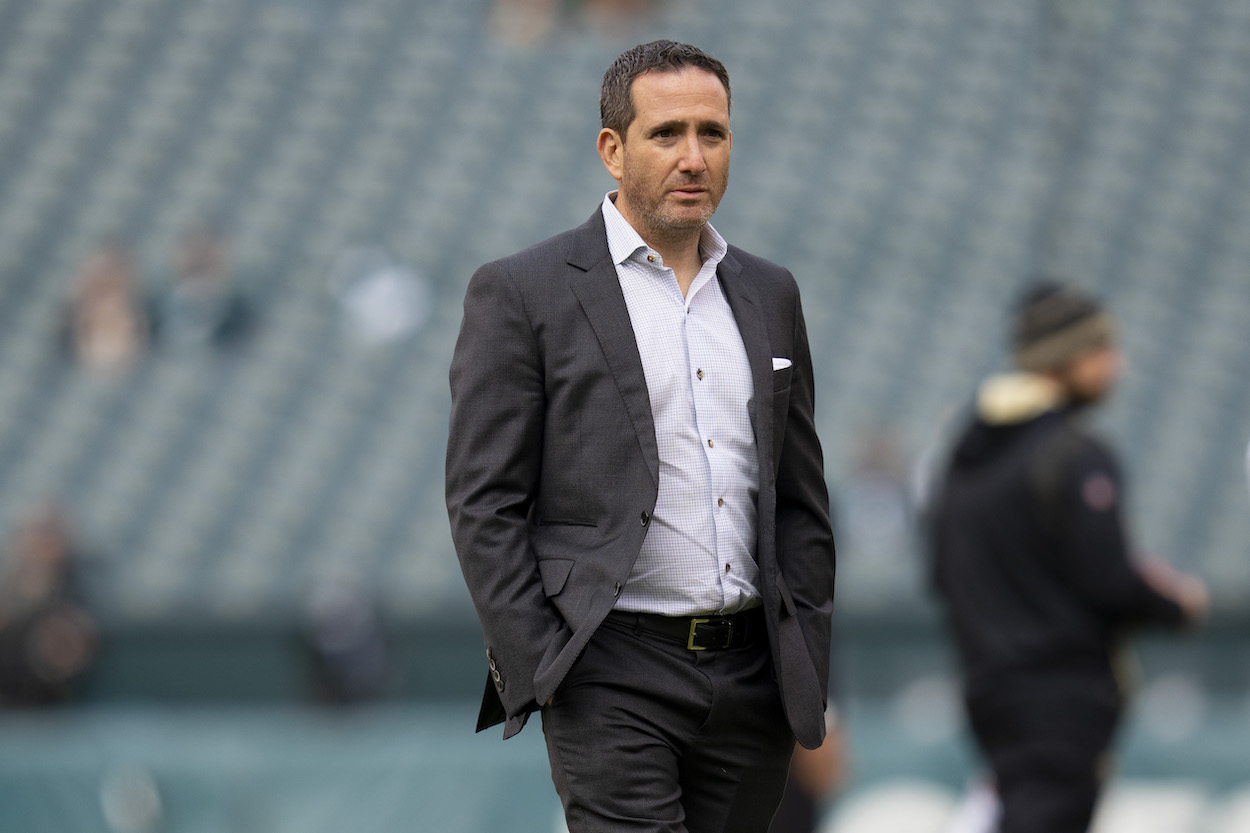 Despite what some of his more passionate fans may say, Jalen Hurts has not done enough to be named the future of the Eagles' quarterback position this season. His performances have been streaky and sporadic, and his ability to physically throw the ball still ranks toward the bottom of the NFL.
Hurts currently ranks 27th in passer rating, 21st in quarterback rating (QBR), and 28th in passing yards per game. No matter how you slice it, he has not been a good passer this season.
Granted, Hurts is a unique type of quarterback, seeing as most of his production has come via the ground. Operating within a run-first scheme that the Eagles implemented a few games into the year, Hurts has found a way to be productive despite his lousy passing numbers.
With that said, the NFL is a passing league. There's simply no way around that reality. All the best teams have a quarterback who's capable of making big-time throws when the pressure is at its highest.
The Eagles may want one more year to evaluate Jalen Hurts
Up to this point, the consensus in Eagles nation is that Howie Roseman and the rest of the Philly front office needed to conclude their QB position by the season's end. Either pursue a big-name veteran via trade, draft a rookie, or commit to a Baltimore Ravens-style offense around Hurts.
However, according to AP NFL Writer Rob Maaddi, that might not be the case. He was told that at least one NFL executive believes the Eagles could trade some of their prized 2022 draft capital to 2023, extending the evaluation process on Hurts.
Rob Maaddi of the Associated Press is reporting via an AFC Executive, that Roseman could continue that evaluation, giving Hurts another year as the starter, while moving his coveted 2022 assets in hopes of greener pastures in 2023. 

With the Dolphins, Colts, and Eagles all with 6 wins or more, the luxury of potential top-five picks has vanished and Philadelphia could be picking in the middle of the pack. 

If Roseman still has dreams of a more conventional downfield star passer, the 2023 draft could offer a lot more potential for Philadelphia and other teams to start targeting.

Glenn Erby, Eagles Wire
Should the Eagles wait until 2023 to figure out their QB situation?
On paper, the logic of Howie Roseman punting this quarterback issue down the road to 2023 makes sense. The Eagles clearly aren't sold one way or the other right now, and the 2023 draft class is expected to contain far better quarterback prospects.
However, the cons to such a move are prevalent. First, the Eagles will likely miss out on Russell Wilson, Deshaun Watson, and Aaron Rodgers. All three are generational talents at the QB position, and the Eagles are one of the few teams with enough current draft capital to acquire any one of them. They presumably won't continue to be available by the time 2023 rolls around.
Additionally, the Eagles are, in fact, kicking the can down the road on a pretty massive roster hole. There's no telling what the Eagles roster could look like by the time 2023 rolls around. For example, vital offensive linemen Jason Kelce and Lane Johnson are flirting with retirement. Slotting a rookie QB into a depleted O-Lins is never wise.
Ultimately speaking, the one person who should be thrilled at a report like this is Jalen Hurts. Another year of evaluation means another year of him being a starting quarterback on an NFL roster.
All stats courtesy of Pro Football Reference.