Howie Roseman Needs to Thank Gardner Minshew for Helping His Risky $57 Million Investment Shine
The Philadelphia Eagles looked noticeably different during their Week 13 game against the New York Jets. Gone were the countless quarterback runs and frantic scrambles. Thanks to a new face taking control of the offense under center, the team transitioned to a far more pass-dominant approach.
The Eagles withheld regular starter Jalen Hurts from the action due to a sore ankle, handing starting duties over to former Jacksonville Jaguars QB Gardner Minshew II. Making his first start for Philly since being acquired in the offseason, Minshew undoubtedly shined.
Gardner Minshew had an exceptional game against the Jets
Most knew Minshew gave the Eagles a better chance moving the ball through the air, and most understood the lackluster defense New York employs. However, no one was quite sure how good the Eagles would truly look with Minshew under center. He hadn't started an actual NFL game in quite some time and was only elevated to the backup role once Joe Flacco was traded (to the Jets, funny enough).
Minshew did exactly what a good backup is supposed to do despite all the uncertainty. In fact, one could reasonably argue he exceeded expectations. Minshew went 20-for-25 with 242 passing yards and two touchdowns. The Eagles scored points on every drive, putting up an eye-popping 33 on the Jets.
It was a commanding win for Minshew and the Eagles, one that already has some questioning whether he should remain the team's starting quarterback moving forward. While that will presumably be an ongoing discussion throughout the Eagles' bye week, general manager Howie Roseman should be feeling good about his acquisition of Minshew, especially when it comes to how he helped a $57 million investment shine.
Eagles TE Dallas Goedert exploded onto the scene with 105 yards and 2 touchdowns
Most fans knew a Dallas Goedert (the Eagles' starting TE) extension was looming. However, it was the size of the deal that surprised people. Roseman handed Goedert $57 million over four years, making him one of the highest-paid tight ends in football.
Goedert has always been viewed as a high-potential player. However, he'd yet to flash dominant potential…until Week 13 against the Jets.
Pairing up nicely alongside Minshew, Goedert exploded onto the scene with six catches for 105 yards and two touchdowns. Both TD receptions were vertical shots down the field, casting light on Minshew's ability to pass the ball downfield better than Jalen Hurts.
It was arguably Goedert's best game as a pro. His dominance set the tone early and ultimately guided Philadelphia to their sixth win of the season. Without Minshew's arm, it's hard to imagine this would've occurred.
The Eagles have a decision to make at QB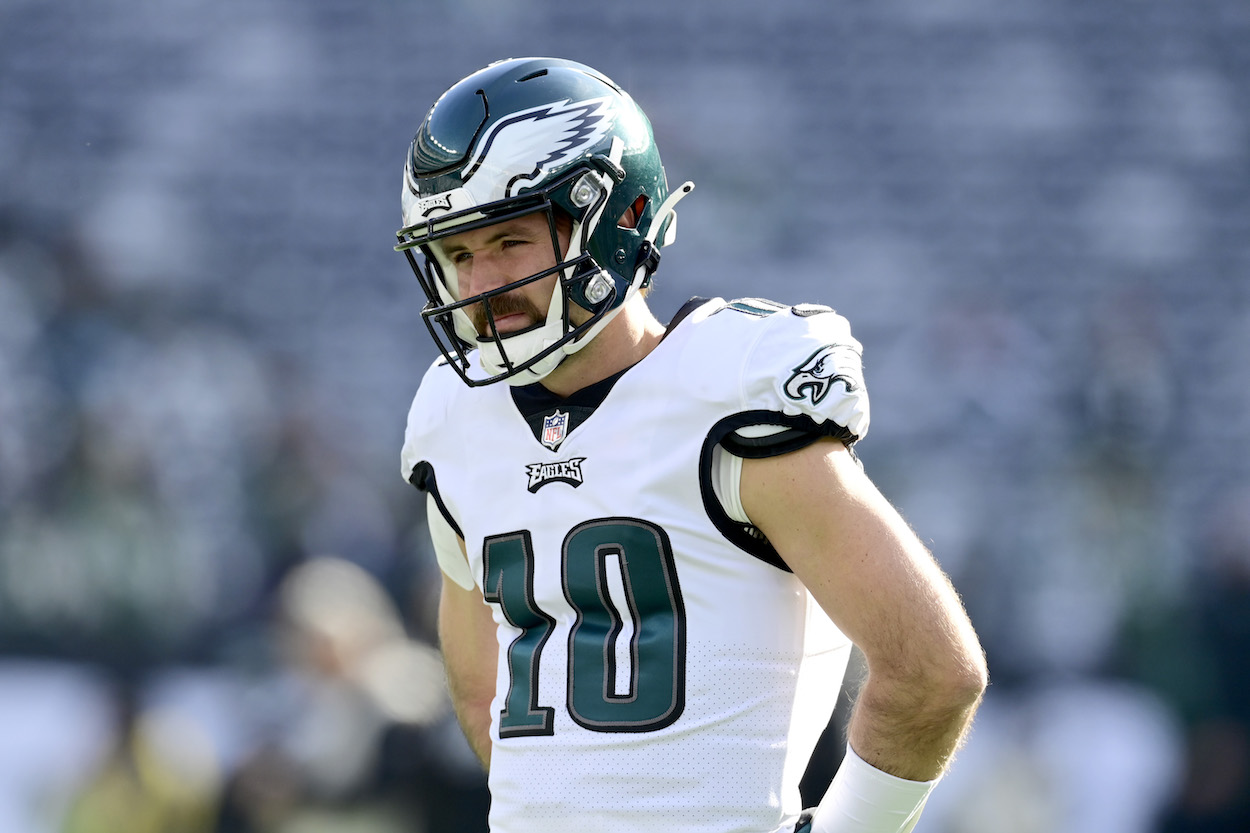 Eagles head coach Nick Sirianni has already publicly stated that Hurts will remain the Eagles' starter. However, an ever-intrusive Howie Roseman could quickly come in and change plans.
Roseman has to be feeling good about Minshew's ability to connect with Goedert, especially considering Hurts only completed one pass to Goedert the week prior against the New York Giants. Whether people like it or not, Minshew is clearly a better fit alongside the TE.
If the Eagles opt to roll with Minshew moving forward, and he continues to aggressively target Goedert in the passing game, that massive $57 million extension looks far more reasonable. Most teams would happily pay that type of money for 100-plus receiving yards per game.
Philly's direction at QB will undoubtedly be an interesting storyline to follow moving forward. It's unlikely a firm decision has genuinely been made on the matter.
All stats courtesy of Pro Football Reference.