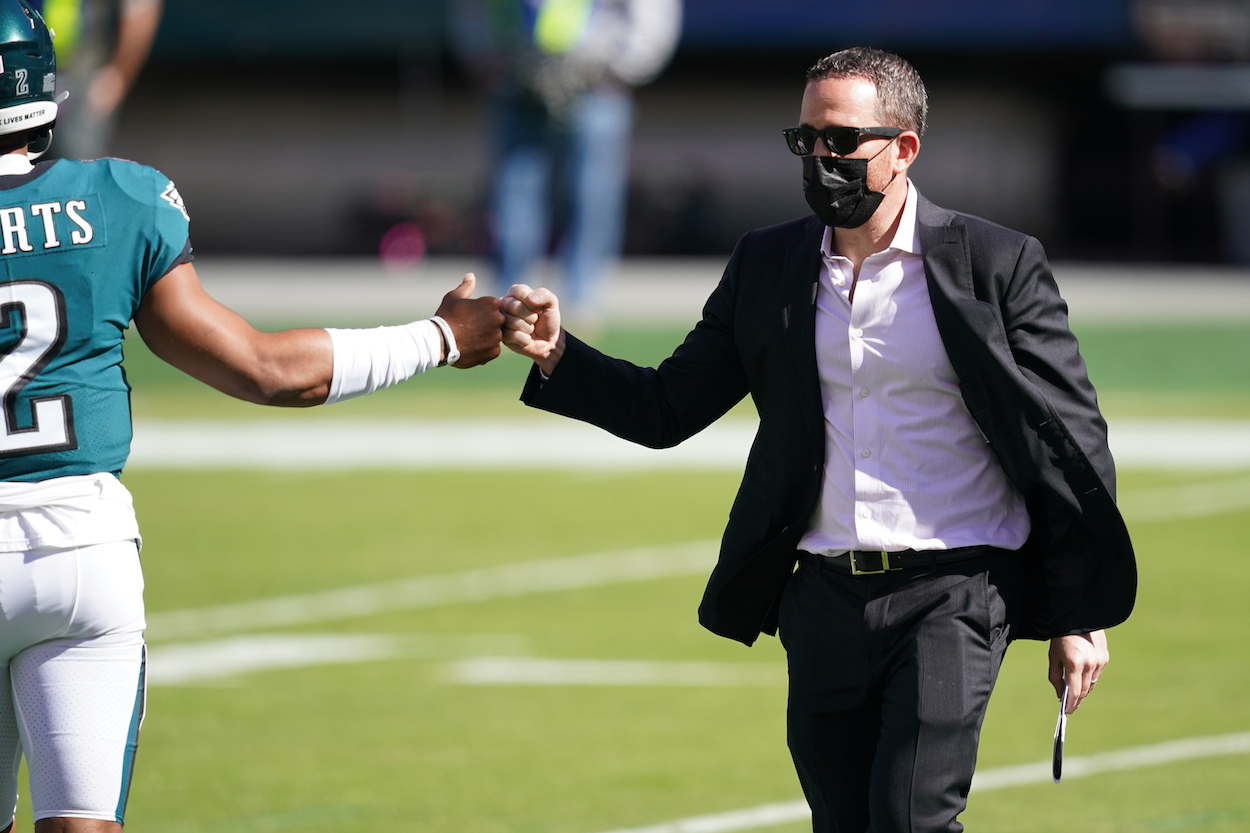 Howie Roseman's Commitment to Jalen Hurts as the Eagles 2022 QB Should Be Taken With a Grain of Salt
Howie Roseman publicly committed to Jalen Hurts for the 2022 season. However, such a commitment should be taken with a grain of salt.
Hot off a surprisingly productive 2021 NFL season, the question on everyone's mind regarding the Philadelphia Eagles has to do with quarterback Jalen Hurts.
On the one hand, Hurts led the team to a winning season and was named a Pro Bowl alternate. He was arguably the best rushing QB in the entire league this season. On the other hand, Hurts' lack of arm talent was a glaringly significant issue during the Eagles' embarrassing first-round exit in Tampa Bay. He threw two interceptions and didn't score any points until the fourth quarter.
With three first-round picks in hand, it's impossible to ignore the possibility of the Eagles front office aggressively pursuing a veteran QB via trade following Hurts' abysmal playoff debut.
Eagles GM Howie Roseman formally committed to Jalen Hurts
With so much uncertainty surrounding the Eagles' quarterback position, the topic was discussed heavily during the team's end-of-year press conference. For what it's worth, both general manager Howie Roseman and head coach Nick Sirianni formally committed to Hurts as the team's undisputed starter heading into 2022.
They didn't even mention the possibility of bringing in a veteran beyond Gardner Minshew to compete with Hurts like they did last offseason (Joe Flacco). Roseman and Sirianni flat-out stated Hurts was the starting quarterback moving forward despite his shaky postseason performance.
"We said we wanted to see him [Hurts] take the bull by the horns, and he certainly did that," Roseman said when he was questioned about Hurts' status.
Don't be so quick to believe everything Howie Roseman says
If you're an Eagles fan and all of this feels like deja vu, don't worry; you're not alone. Roseman said the exact same thing when questioned about Carson Wentz and his status with the Eagles following the disaster that was the 2020 season.
In fact, Roseman went pretty deep into his bag of tricks to sell the lie that he wanted Wentz to return last offseason. He compared losing Wentz to losing one of his fingers. Unless Roseman secretly sliced off his pinky and none of us noticed, this was a significant exaggeration and ultimately a straight-up lie.
Now, it's essential to acknowledge Wentz last year and Hurts this year aren't in comparable situations. Wentz was coming off the worst year of his career and was reportedly pushing for a fresh start himself. On the other hand, Hurts is coming off an encouraging season and presumably wants to remain in Philly.
However, it'd be extremely foolish to take Roseman by his word here.
Whether you like Hurts or not, the idea that Roseman won't be exploring external upgrades this offseason isn't realistic. The current plan might very well be for Hurts to be under center in 2022. However, if the Seattle Seahawks come calling about a potential Russell Wilson trade, Roseman will be picking up that call.
What should the Eagles ultimately do with Jalen Hurts?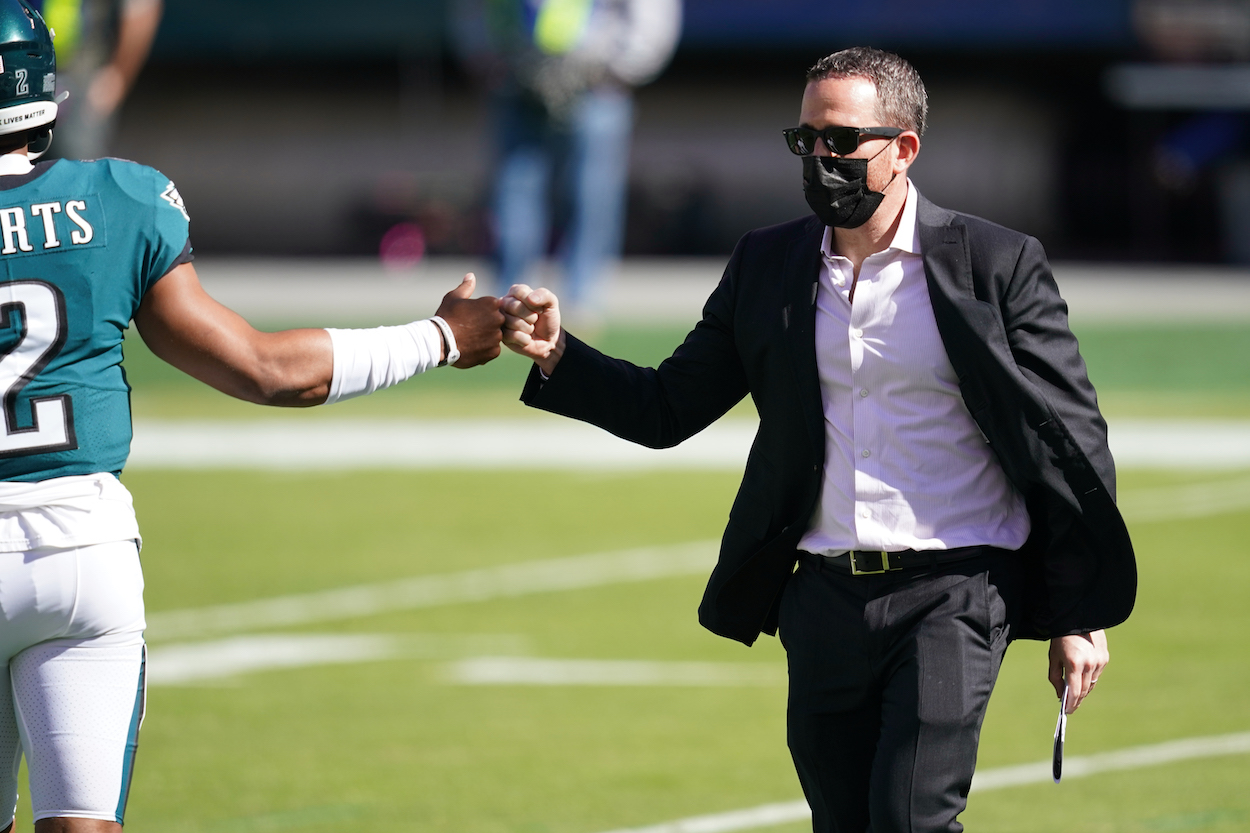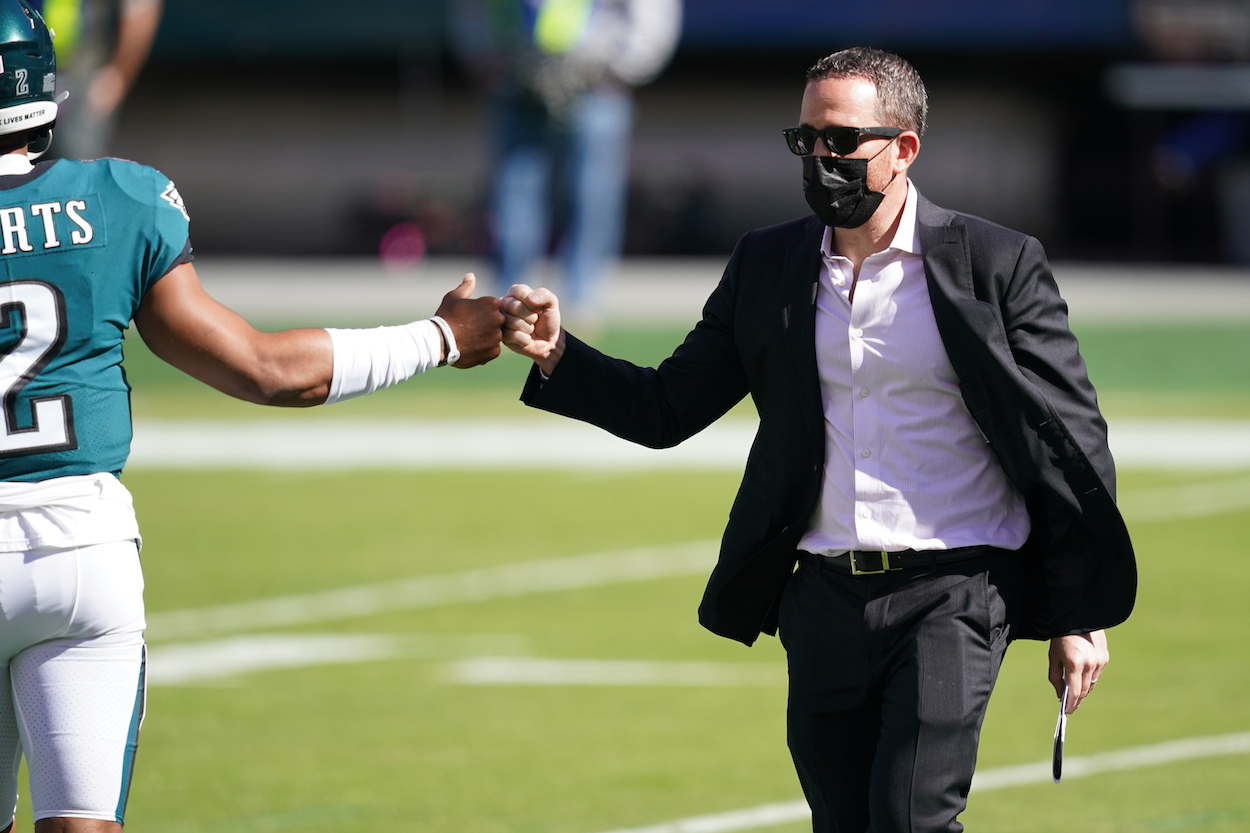 The Eagles are in a unique spot with their quarterback position. Hurts undoubtedly has potential. If this were a typical offseason, the decision to stick with him for another season would be an easy one.
However, this isn't a typical offseason. The Eagles have three first-round picks. They are one of the few teams in the NFL that could acquire a franchise quarterback like Wilson or Deshaun Watson.
The Eagles' uncertain QB job will likely come down to price. If Roseman can acquire Wilson or Watson for one or two first-rounders, it's hard to imagine him passing on it. If the Seahawks or Houston Texans want all three first-round picks for their prized QB assets, it'd make more sense for Roseman to rock with Hurts in 2022.
Either way, the QB controversy in Philly isn't done just because Roseman said so in a press conference. He has a longstanding history of lying and being deceitful to get what he wants.
Like Sportscasting on Facebook. Follow us on Twitter @sportscasting19.