Howie Roseman's Shocking $40 Million Offseason Gamble Has Created More Questions Than Answers for the Eagles
Heading into the 2021 season, the Philadelphia Eagles were at a pivotal point in their franchise's history. They were slowly but surely saying goodbye to the core of people responsible for winning a Super Bowl in 2017, paving the way for a new group of players to take over moving forward.
Carson Wentz was traded in the offseason. Zach Ertz was on the block (and would be traded to the Arizona Cardinals a few weeks later). Jason Peters was on the Chicago Bears. Coaches Doug Pederson and Jim Schwartz were no longer in Philadelphia. The list goes on and on.
The Eagles were finally moving on from their SB-winning season and starting the process of handing out big money to new faces.
The Eagles paid DE Josh Sweat $40 million this past offseason
Howie Roseman and the Eagles have handed out several contracts over the past few months. Jordan Mailata, Dallas Goedert, and Avonte Maddox all received big paydays at their respective positions. Thus far, Mailata is the only one who's undoubtedly played up to his new, expensive standards. Goedert and Maddox have both been solid, but nothing too special.
However, it's the fourth player the Eagles opted to hand a multi-year extension who deserves a second look. Roseman gave defensive end Josh Sweat a three-year/$40 million deal before the regular season. This deal made Sweat the 15th-highest-paid DE in the NFL in terms of annual average salary.
Sweat has long been viewed in Philadelphia as a high-upside player with boatloads of potential since being drafted in 2018. However, now the pressure is firmly on his shoulders to start producing like an elite pass-rusher. Thus far, the results have been mediocre.
Josh Sweat is having a shaky season
Despite being paid as one of the league's better pass-rushers, Sweat has only logged a measly 3.5 sacks this season. The odds of him recording double-digit sacks is improbable, and he may not even beat his previous career-high of 6.0 in a single season.
Eagles Insider Reuben Frank highlighted the issue in his latest column.
We're 12 weeks in now, and it's fair to wonder if the Eagles jumped the gun on Josh Sweat's contract extension. The Eagles in September paid Sweat $40 million over three years, including $26.9 million guaranteed. In terms of average annual salary, that made Sweat the 15th-highest-paid defensive end in the league. What have they gotten for that so far? Sweat has 3 ½ sacks – two against the Lions. He's tied for 60th in the NFL in sacks. The Eagles thought this would be a breakout year for Sweat, who had a career-high 6.0 sacks last year. But it hasn't happened. If anything, he's regressed.

Reuben Frank, NBC Sports Philadelphia
Did the Eagles jump the gun?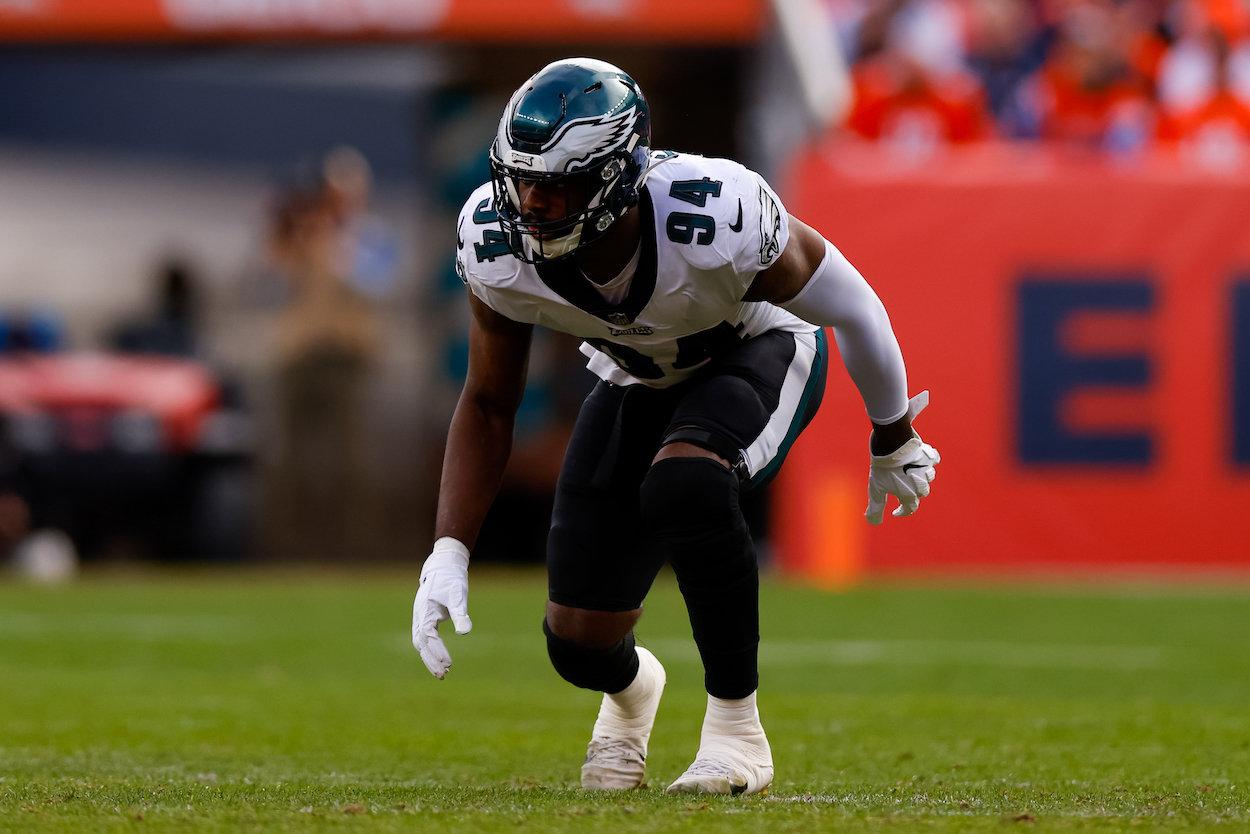 Eagles general manager Howie Roseman has established a reputation for paying players early, and it's backfired on more than one occasion.
It's still early into Sweat's extension. However, it's worth wondering if this is another example of Roseman needlessly handing big money to a player before he needed to. Roseman easily could've waited until the end of the 2021 season to negotiate a contract with Sweat, basing the value on his season performance. Instead, Roseman gambled with the idea of getting a discount at a premier position. Thus far, it hasn't paid off.
Ultimately speaking, Sweat's extension only creates more questions for the Eagles. Sweat is locked into a starting spot in Philadelphia for the next three seasons, but he's yet to display DE1-type talent. The Eagles need to fill that spot through the draft or free agency. Both routes require top-tier assets to be spent (first-round pick or cap space).
Josh Sweat is only 24 years old and should, in theory, get better as time passes. However, Roseman still paid him to be good now. The Eagles need to start receiving better production from him, or the contract will look like just another Roseman flop in hindsight.
All stats courtesy of Pro Football Reference.