Kyle Lowry Could Be the Big Winner of the Pelicans-Grizzlies Trade
On July 26, just four days before the NBA draft kicks off, the New Orleans Pelicans and Memphis Grizzlies agreed to a deal that sent Steven Adams and Eric Bledsoe, along with two first-round picks — including the No. 10 pick in this year's draft — from New Orleans to Memphis for center Jonas Valanciunas and the 17th overall pick in Thursday's draft.
It seems like a decent trade for both sides, but perhaps the biggest winner has nothing to do with either New Orleans or Memphis. The biggest winner in the deal could be free-agent point guard Kyle Lowry.
Why would Kyle Lowry be the winner of a trade he's not involved in?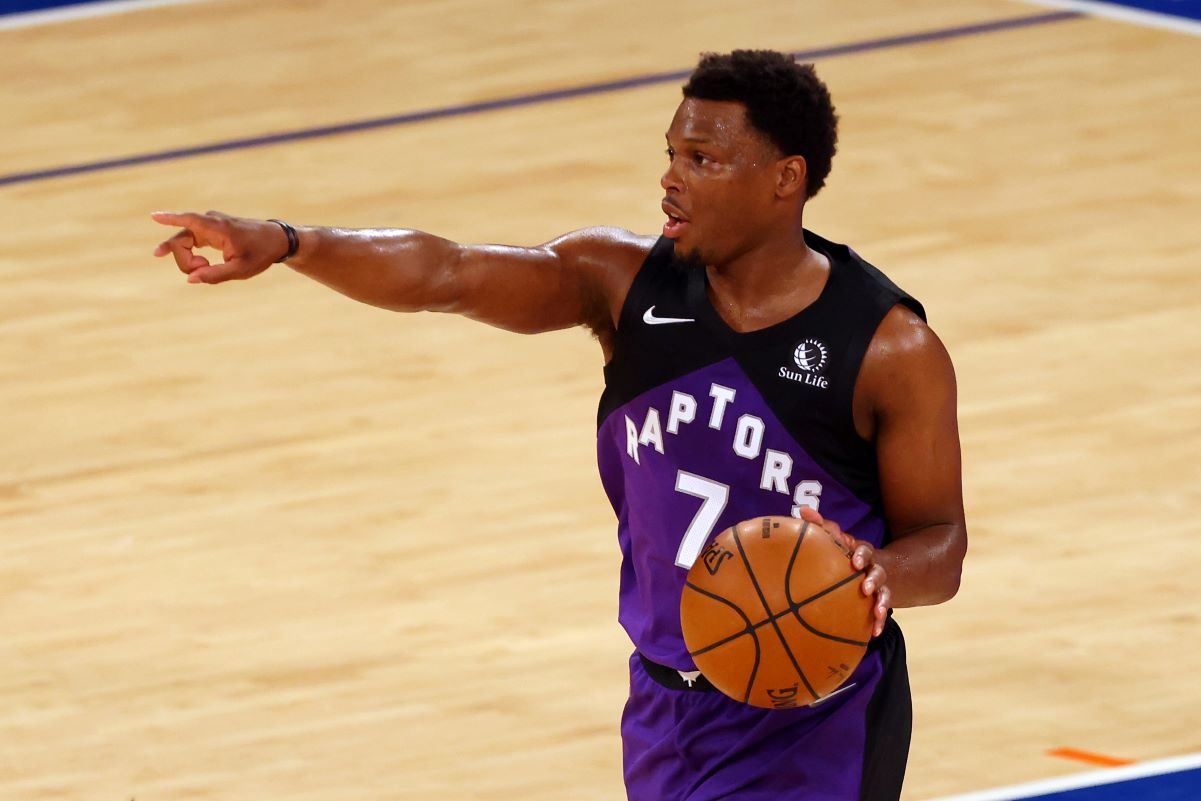 One of the biggest reasons for the trade from New Orleans' perspective is creating salary-cap flexibility. The Pelicans just brought in both Adams and Bledsoe as part of two separate deals last offseason, but by unloading both players and their respective contracts, and if the team elects to renounce its rights to guards Lonzo Ball and Josh Hart, New Orleans would have $36 million in available cap space, according to Spotrac.com.
The Pelicans have had a rough go of it the last few years, to say the least. But with a new head coach in Willie Green, 23-year-old Brandon Ingram, and franchise cornerstone Zion Williamson still in his NBA infancy, the basic building blocks are there for New Orleans to make a leap in 2021-22, provided it uses its available cap space wisely. Lowry, perhaps, could be the best player available to help the Pels make that leap.
According to CBS Sports, at the trade deadline last season, Lowry was looking for a 2-year, $50 million deal, which New Orleans could fit into that open cap space.
What would Lowry bring to the table for New Orleans?
According to Basketball-Reference, Lowry has career averages of 14.9 points, 4.4 rebounds, and 6.2 assists to go along with 1.3 steals per game over his 15-year career. Admittedly, Lowry is well on the downside of his NBA career, but last season with the Toronto Raptors, he still put up more than 17 points, 5 rebounds, and 7 assists per game.
Perhaps, more importantly for a young New Orleans team with a budding superstar in Williamson, Lowry brings championship experience after winning the 2019 NBA title with Toronto. The 15-year veteran also brings a steady leadership presence, solid defense, and a toughness that the Pelicans currently lack.
Lowry could have a Chris Paul effect in New Orleans
The Phoenix Suns' jump from a 34-39 record in 2019-20 to a 51-21 record and a spot in the NBA Finals last season shows what a smart, well-respected veteran point guard can do for a young roster. Chris Paul arrived in Phoenix and immediately turned the franchise into a contender, helping improve young stars like Devin Booker and Deandre Ayton.
Lowry could have a similar influence on Williamson, Ingram, and the rest of the Pelicans' roster, which has an average age of 24.8 years and eight players age 23 or younger. New Orleans had the sixth-youngest roster in the league a season ago.
Lowry will turn 36 during the 2021-22 campaign, which also will be his 16th year in the league. Paul was 36 this past season, which was his 16th year in the NBA. If CP3 can show up in Phoenix, improve the Suns' young stars and bring the team to its first NBA Finals in franchise history, why couldn't Lowry, already with an NBA championship under his belt, do the same for the Pelicans?
All stats courtesy of Basketball-Reference.