Hubert Davis, the New North Carolina Men's Basketball Coach, Played 11 NBA Seasons and Cashed in Near The End
Former New York Knicks guard Hubert Davis is getting his chance at the University of North Carolina.
An NBA teammate of Patrick Ewing in the 1990s, Davis is following the Knicks legend into the college basketball coaching world. Davis, who spent nearly a decade as Roy Williams' assistant, is replacing the three-time champion in Chapel Hill, N.C.
Before he donned a suit and coached in college basketball, Davis played 12 NBA seasons — and Tar Heels fans are rightfully hoping those experiences help Davis in his first head coaching role. 
Hubert Davis played 12 NBA seasons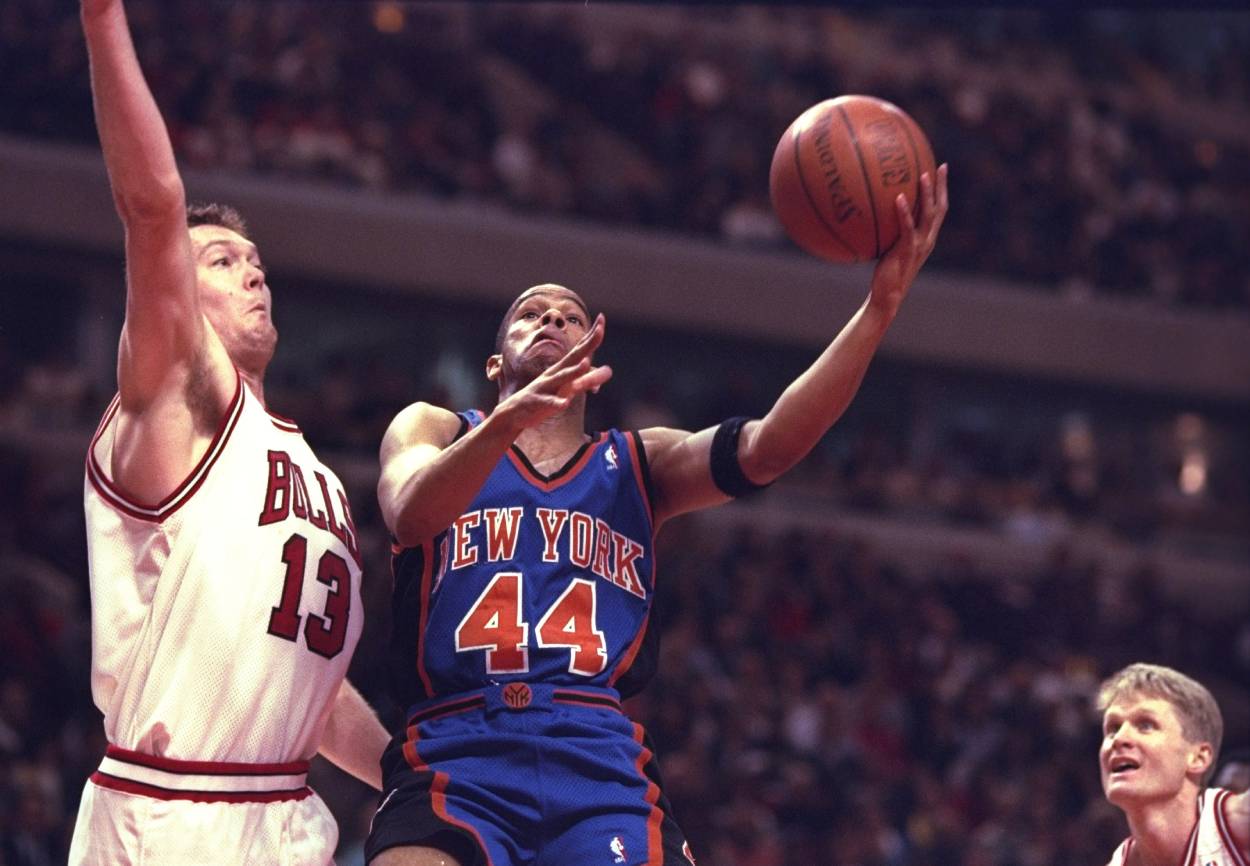 By the summer of 1992, the New York Knicks were preparing to become one of the Eastern Conference's top teams — at least, in the tier beneath Michael Jordan and the Bulls.
Patrick Ewing needed teammates, and Pat Riley needed bodies, though, and the team used the 20th overall pick in that year's draft on North Carolina guard Hubert Davis. Davis spent four seasons with the Knicks, averaging 9.5 points on 47.4% shooting in 262 games and 47 starts. Primarily a shooting guard, Davis drilled 44.9% of his 3-point shots with the Knicks.
The Knicks traded Davis to the Toronto Raptors for a first-round pick — one that the Knicks used on big man John Thomas — in the summer of 1996. After a year in Toronto, Davis officially began his new career as a journeyman reserve guard.
By the time Davis retired after the 2003-04 season, he had averaged 8.2 points on 45.8% shooting (and 44.1% from beyond the arc) in 685 games and 149 starts for six teams across 12 campaigns.
How much money did Davis make in the NBA?
Hubert Davis played 12 NBA seasons, and he made sure to cash in at the end of it.
According to Basketball-Reference, Davis earned $16.8 million in the NBA. Most of that money came in his final four seasons; Basketball-Reference lists Davis as making over $2.1 million in each of his final four seasons, including just under $3 million during the 2003-04 campaign.
Davis carved out a respectable NBA career, and he still ranks among the most effective 3-point shooters in league history. As of April 6, 2021, Davis and his 44.1% 3-point success rate trail only Steve Kerr, who still leads all players with a 45.4% from 3-point range.
Hubert Davis just took over at North Carolina
Nearly 20 years after his final NBA game, Hubert Davis has a massive task on his hands.
North Carolina promoted Davis, 50, to its head men's basketball coaching position on Monday. Davis replaces the legendary Roy Williams, who retired last week at age 70.
ESPN shared comments that Davis, who served as an assistant under Williams since 2012, made about taking over the Tar Heels. Davis made it clear how special the school is to his heart.
"I played here, I earned my degree here, I fell in love with my wife here, I got married here, I moved here after I retired from the NBA and I have raised my family here. I am proud to lead this team, and I can't wait for all that comes next."
Davis is the first Black head coach in North Carolina men's basketball history.
North Carolina went 18-11 (10-6 in the ACC) during the 2020-21 season. Wisconsin defeated North Carolina, 85-62, in the NCAA Tournament's opening round.
All stats courtesy of Basketball-Reference.